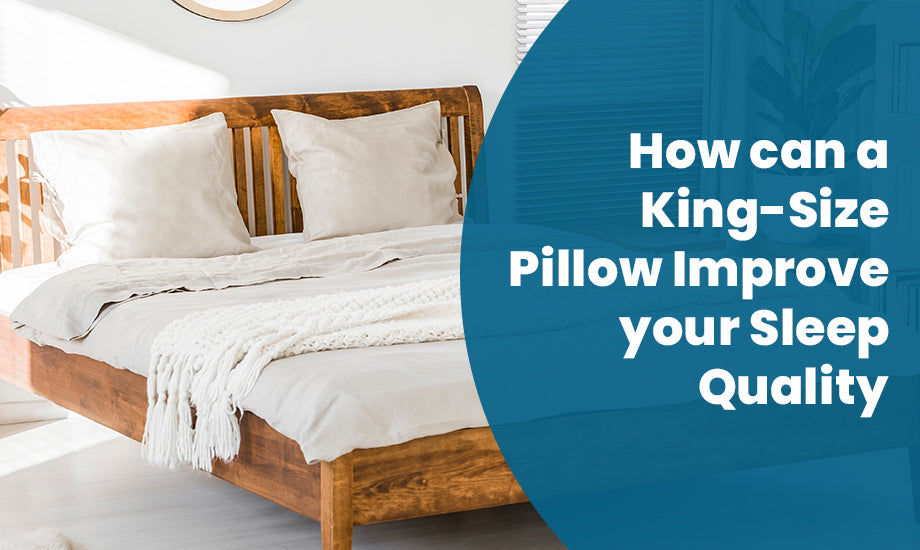 A decent night's sleep is necessary for both our minds and our bodies. Adults should get 7 to 9 hours of continuous sleep per night.
Consider reevaluating what you're sleeping on, starting with your pillow, if you're having problems achieving this aim or you wake up feeling exhausted or even in pain. Your ability to sleep well can be made or broken by the pillow you choose.
According to Ryan Fiorenzi, certified sleep coach and owner of Start Sleeping, "it is crucial to pick the correct pillow for your sleeping position so that you can have a more peaceful and rejuvenating night of sleep." The anatomy of your shoulder and neck region, as well as your weight, sleeping posture, and sleep temperature, all play a role in choosing the correct pillow.
According to Fiorenzi, there are a variety of ways your pillow could be to blame for restless nights, including:
You have a too thin or thick pillow.
Your sleeping position is not a good match for your pillow.
You either sleep too hot or perspire because of your pillow.
Your neck and shoulders aren't being supported properly by your cushion.
Analyze how effective your existing pillow is for you.
What is a king sized pillow?
A king size pillow is designed to fit a king-size bed. It's vital to keep in mind when purchasing sheet sets and shams that these pillows do require a larger king-size pillowcase. If you want to place a larger cushion on a smaller bed, one king-size pillow will just fit on a twin-size bed with about an inch on each side to spare. Two side-by-side king sized pillows, each measuring 20" x 36", are the ideal breadth for a typical king-sized bed.
Many customers prefer to sleep on their king beds with a smaller queen sized cushion since they find the extra length and weight to be burdensome. If so, you can use king-sized pillows for sleeping at night and hide them under the bed for the day while using decorative pillows for display.
What Are the Differences Between King, Queen and Standard Pillow?
Before deciding which pillow you should buy, it is important for you to understand what the three different sizes of pillow are that are available in the market. While you already know what a king size pillow is, here is the information you need to know about the other two sizes.
Standard size: The smallest of our sleeping pillows, measuring 20" by 26," are the standard pillows. Two standard pillows placed side by side fit well on a double bed, which is typically associated with twin or double beds.
Don't worry if you can't find any standard-sized pillow cases while selecting your pillowcases. Numerous pillowcases sold nowadays are marked with a general standard/queen size designation and are made to fit both options. Although there will be a slight overhang at the pillow's aperture, the case itself ought to fit well.
Queen Size: Queen pillows typically measure 20" by 30," which is a little bit longer than a normal pillow. They are made to be the ideal width for a queen bed when placed side by side. The length of a queen pillow is preferred by many of our clients who have twin or double beds, but pillows are purely a matter of taste.
You could also choose a standard/queen size when choosing your pillowcases, and it would fit just as well with a little less overhang on the edge.
What Are the Benefits of Using King Sized Pillows?
You should choose king sized pillows are perfect for the reasons listed below:
It is highly recommended for people who love to work
For people who spend the most of their time reading or working in bed, a king size pillow is the ideal option. These pillows offer the greatest level of comfort and back support. King-size pillows provide superb support for your back when you want to lean on something other than the headboard to read a book, work on your laptop, or simply watch your favourite movies in bed.
Helpful for those who have broad shoulders
People with broad shoulders should choose king-sized pillows since they offer more support. The alignment of the neck during sleeping, which can result in poor neck alignment for some broad-shouldered people, is one of the sleeping situations that tend to produce pain in these people. The appropriate inclination for a more comfortable sleeping position is helped with king-sized pillows.
Beneficial for side sleepers
Depending on how you like to sleep comfortably, you may want to consider the ideal pillow size. For someone who sleeps on their side, or a side sleeper, king-sized pillows are a suitable option. The majority of people sleep in this position. If not positioned properly, this could strain your neck and upper back all the way to your spine.
In comparison to other pillow sizes, king size pillows have more volume and a wider length, which helps support your head and shoulders in place while allowing your upper back and neck to rest comfortably.
How to choose the correct pillow for you?
You can receive the support and comfort you require at sleep by picking the appropriate pillow size. Finding the ideal fit is dependent on factors such as mattress size, sleep position, price, and the appearance of your sleeping area.
Before you buy your new pillow, pay particular attention to the following elements.
Mattress Size - This is important since it determines how well a particular pillow size will fit on your bed. You probably won't be able to fit more than one pillow across the width of a twin bed.
A king-size pillow will mostly cover the head end of the bed, whereas smaller pillow sizes may leave some open space on each side. Similar to how two standard pillows would appear small and leave a lot of open space on a king mattress, you might want to choose at least a queen size pillow in that situation.
Bedding and Elegance - In addition to comfort, your total sleeping space can affect the choice of pillow size.
Even if they just use one pillow when they sleep, many people want to have a variety of pillows for decorative purposes. Some people also love the look of pillows that fill the head of the bed completely, selecting the maximum size that their mattress will allow.
Sleep posture - Since some sizes are more suited to particular sleeping positions than others, this is likely the most important consideration when selecting your next pillow.
Since it can support any sleeping position, the standard size is usually the most flexible choice. The small size of a normal pillow makes it suitable for stomach and back sleepers, provided the loft isn't too high. For side sleepers who require a higher loft, a normal pillow can be folded or bunched to the required height.
For side sleepers who don't want to fuss with reshaping their pillow and those who flip sides throughout the night, the increased volume of a king pillow may be helpful. Wider-shouldered, back sleepers would also like the added length.
However, a king size pillow or a queen-sized pillow can enhance the loft and firmness—might be too much for stomach sleepers. To maintain their spine alignment, stomach sleepers typically need softer, slimmer models.
Cost: Of the four main pillow sizes, standard pillows are the least expensive and most accessible.
A king size pillow costs the most and can only fit into king pillowcases.
You will need to acquire separate pillowcases to accommodate your king pillow if you don't already have king bedding.
However, if you mix regular and queen pillows in your home, you can use the same pillowcase for both sizes.
Versatility - Since they comfortably fit on most bed sizes and are appropriate for both adults and children, standard pillows are arguably the most adaptable option.
Considering everything, king pillows are the preference for most people out there. King pillows can also be used as body pillows or as backrests for when you sit up in bed, which increases their usefulness.
Can you Utilize King Pillow on Your Queen Bed?
You can, indeed. Queen-sized beds go well with king-sized pillows. Depending on your own choice or sleeping habits, you can place them on your bed. Without any gaps between them, these pillows fit queen-sized beds quite well. You can put them on a queen bed if you wish to use them for better sleep. You also switch out another pillow if it's more comfortable for you or better for your sleep or health. Since not everyone prefers king-sized pillows, different types of pillows will work better for various people.
One of the most difficult decisions to make when purchasing your sleeping necessities is choosing the appropriate pillow size. You must base your choice on the reason you initially chose to purchase the cushion. The comfort it offers is another important factor to consider because that is what pillows are primarily used for. Choosing the incorrect pillow size could cost you money as well as give you great discomfort.
One of the easiest ways to choose the perfect pillow that suits all your needs for the perfect good night's sleep is browse through the website of Sleepsia.
The advantages of a king-sized pillow are numerous. You can use it for both practical and aesthetically pleasing reasons. The most important thing is that you are comfortable, regardless of the cushion size you select.
---
---