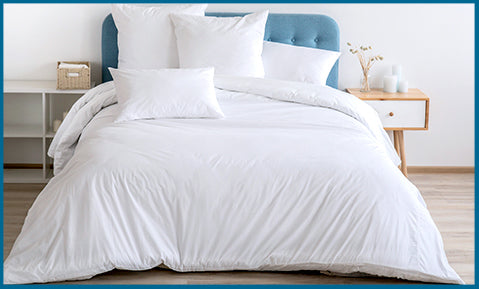 What are bed sheets?
Bedsheets are the fabric that covers your mattress and provides a comfortable surface to sleep on. They come in a variety of materials, including cotton, linen, and polyester, and a range of thread counts. The type of bed sheet you choose will depend on your personal preferences and the climate you live in.
Cotton is the most popular choice for bed sheets because it's soft, durable, and breathable. Linen is another popular option because it's also durable and has a luxurious feel. Polyester is less popular because it's not as breathable as cotton or linen, but it's cheaper and easier to care for.
The thread count of a bedsheet refers to the number of threads per square inch of fabric. A higher thread count means a softer sheet, but it also means a higher price tag. Thread count is important if you want a soft sheet, but it's not the only factor to consider. The type of weave (plain, twill, or sateen), the material (cotton or polyester), and the weight (lightweight or heavyweight) all play a role in how soft a sheet feels.
Fabric and thread types
There are a few different types of fabrics that can be used to make bed sheets, but the most common is cotton. Cotton is a natural fiber that is soft and breathable, making it a comfortable option for bedding.
Thread count is another important factor to consider when choosing bed sheets. Thread count refers to the number of threads per square inch of fabric, and generally, the higher the thread count, the softer and more luxurious the sheets will feel. However, it's important to note that a higher thread count doesn't necessarily mean better quality; in fact, some experts say that anything over 400 threads per inch is likely just extra fabric that's been added to make the sheets feel softer, rather than actually adding to their durability.
When it comes to choosing between different types of bed sheets, it really comes down to personal preference. Some people prefer the softness of cotton, while others find microfiber or linen to be more comfortable. Ultimately, it's important to choose a fabric and thread count that you know will be comfortable for you so you can get a good night's sleep.
How are bed sheets made?
Bed sheets are made from a variety of materials, including cotton, linen, polyester, and bamboo. The manufacturing process generally involves weaving the fabric, then adding a finish to protect the fabric and add color or pattern.
The type of fabric used for bed sheets will affect how they feel and how long they last. Cotton is a popular choice because it's soft and durable. Linen is also durable, but it can be expensive. Polyester is less expensive than cotton or linen, but it's not as breathable. Bamboo is a newer option that's becoming popular because it's environmentally friendly and has a silky feel.
The weave of the fabric also affects how bed sheets feel and hold up over time. A tighter weave results in a softer sheet, while a looser weave will be more durable.
Once the fabric is woven, it's usually treated with chemicals to make it wrinkle-resistant or add color. Bed sheets may also be pre-washed to make them softer.
After the fabric is woven and finished, it's cut into pieces and sewn together to create a flat sheet, fitted sheet, or pillowcase. The size of the bed will determine the size of the sheets
Why is it important to wash them to get rid of chemicals?
It is important to wash bed sheets to remove any chemicals that may be on them from the manufacturing process. These chemicals can include pesticides, herbicides, and other harmful substances. Washing bed sheets also helps to remove any dirt, dust, or other debris that may be on them.
The difference between different types of sheets
The difference between different types of sheets can be confusing. Here's a rundown of the most common types of bed sheets and their benefits:
Cotton sheets are the most popular type of sheet. They're soft, durable, and breathable, making them ideal for year-round use.
Linen sheets are made from flax plants and are known for their strength and absorbency. They're perfect for hot summer nights as they help keep you cool and dry.
Silk sheets are smooth and luxurious, but they can be expensive. They're also not as durable as other types of sheets.
Synthetic sheets are made from polyester or other synthetic fibers and are usually less expensive than natural fiber sheets. They're often treated with chemicals to make them wrinkle-resistant, stain-resistant, or both.
Luxurious bed sheet set
These luxurious 1800 TC bed sheets offer all the comfort and benefits you'll ever need in a sheet set. Sleep smoothly and wake up feeling great with renewed energy, no matter what room the bed is in. 
You deserve the best sleep, and it starts with sheets that feel like a dream. Sleepsia Queen Sheets ensure maximum comfort night after night. The fitted sheet is elastic all around (not just on the corners, like other sheets), so it's easy to put on your mattress.
Wrinkle resistant - these super soft microfiber bed sheets are fade and wrinkle resistant. They can be washed in cold water and dried on low in the dryer. They're durable, soft and more comfortable than cotton sheets. Their microfiber fabrics are made of the highest quality, ensuring your bedroom looks like a celebrity's dream home. Fabulous colors and reliably good quality make this a necessary purchase for your bedroom. 
Instructions - Machine wash cold, hang or tumble dry low or lay flat to iron; do not bleach.
Conclusion
We hope you enjoyed learning about how bedsheets are made! The process is fascinating and it's amazing to think about all the steps that go into creating something so simple yet so essential. Next time you're snuggling up in your bed, take a moment to appreciate all the hard work that went into making your sheets!
---
---