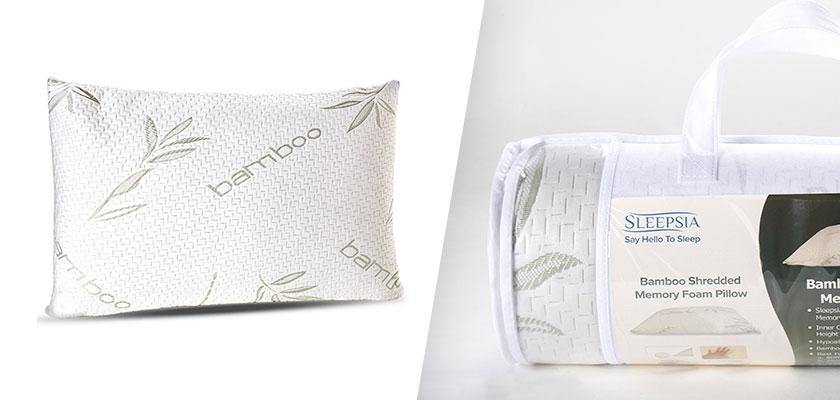 Witness the Ultimate Comfort with Two Packs of Bamboo Pillows
With life on speed, what people want is a smooth sleep at the end of the day. Especially amid the present scenario, when work from home has become a culture. Lauding the benefits of laptops and smartphones, we are really thankful for these gifts of technology. But we can't deny the fact that these have ruined our health. To emerge as a supporting pillar, the bamboo pillow is on its way! The bamboo pillows pack of two provides the best of comfort, helping to fight all the fatigue or restlessness.
Now We Know What Exactly is a Bamboo Pillow!
Bamboo pillows are made up of shredded foam. The outer covering of bamboo viscose combines to make it a wonderful sleeping pillow. The bamboo pillow seems no less than a 'SanjeevaniBooti', which was a popular medicine used to cure Lakshamana, brother of Lord Rama who is a Hindu deity. The Bamboo pillow pack of two can be considered synonymous to the same because it works to save lives. Indeed true! The shredded foam provides support to the neck, back, and shoulders while the bamboo viscose has way more strength than any other material. This helps a person to fight all the odds of health and proceed towards a good life.
Memory Foam Bamboo Pillow Exhibiting Powerful Benefits!
Made with premium quality, the bamboo pillows exhibit several powers. Their benefits aren't common!
Take Care of Our Health: These take care of our health by quarrelling with the cervical, muscular pains, fatigue, restlessness, and snoring issues.
Take Care of Our Sleep: Somehow, mental illness, and stress are never given due importance and attention. Bamboo pillows make sure to provide a subtle and smooth sleeping experience, which helps in the reduction of any sort of stress or tension.
Take Care of Our Hygiene: These are created with the ultimate material which is way more airy, that decreases the chances of bacteria to accumulate. This in turn helps in the prevention of any sorts of allergies.
Take Care of Our Energy: The pillows support every sort of sleep pattern, whether on back or sideways. It focuses to support the body parts especially the neck, shoulder, head, and spine. This support does not let our body put in extra efforts to sleep comfortably and hence, our body witnesses effortless sleep. This rejuvenates us and prepares us for the next day, with more energy.
This is why Bamboo Pillow is Uncommon!
The bamboo pillows made with supreme material are definitely uncommon! These outstand the regular pillows because of some exceptional characteristics.
These are made up of shredded foam which is chosen with immense hard work. With a high quality of shredded foam, it intends to provide a supportive alignment.
The fabric used in memory foam pillows consists of micro gaps giving away for complete ventilation.
These are available in three sizes: King, Queen, and Standard. The vivid choice makes it all the more amazing!
It keeps up with its shape when not in use. This is another excellent feature.
Why Do We Buy Two-Pack Bamboo Pillow?
More is the beneficial stuff, more is the benefit. Not forgetting the fact that Bamboo pillows are really beneficial. So these are the best choice, not only for one person but for others too. Why opt for regular pillows which add to the problems and give no peace at all.
Moreover, the shredded foam pillows have been specially created in various sizes to cater to the needs and requirements. King size memory foam pillows for a king-sized bed, Queen size bamboo pillows for queen-sized bed along with interior décor and standard size for those who want to go with the third option.
What to Keep In Mind for The Memory Foam Pillow?
The bamboo pillows come with the promise of assisting and aiding humans. We too have a responsibility in return. These also need our care so that they can retain their durability forever. There is no harm in being cautious in order to take care of the memory foam pillows.
Keeping in daylight for letting it refresh for a while can work wonders. However, it is highly not advisable to expose in extreme and direct sunlight.
Covering it with shelter and keeping the tender pillows beneath a cover while the exposure is the correct way.
Never ever use highly warm or heated water to be rubbed on it for cleansing.
Excessive heated fluids and the excessive temperature is definitely a big no!
If the ultimate memory foam pillows work in order to let humans avail of several benefits then why not work to keep them safe and secure? The bamboo pillows pack of two is must consider the hush-hush life of people. It takes only a few minutes to decide what is good for us but the delay keeps us waiting for our share of joy. The real happiness lies in acting immediately for the thing which shall provide us support and benefit. The shredded memory foam pillow is one such blessing!
Order your favourite size of the pillow form by visiting the www.sleepsia.com and to know more about it, contact on the number 1800-862-1084!
---
---