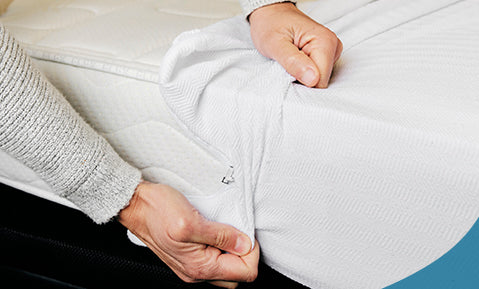 Mattress protectors help extend the life of your mattress. If you have a child, there are a few added benefits that you should consider using a protector: they're less dangerous while putting on and taking off between scheduled washings; they make it much simpler to achieve those cleanings; plus they will make it more comfortable for the child sleeping on the protector. 
What are the benefits of a mattress protector?
A mattress protector is a thin, protective cover that is placed over a mattress to protect it from spills, stains, and other potential damages. They are typically made from a waterproof material and can be easily Removed and washed when necessary.
Mattress protectors offer several benefits that can be beneficial for both parents and babies alike. For parents, a mattress protector can help to extend the life of their baby's crib mattress by protecting it from spills, accidents, and wear and tear. A mattress protector can also be helpful in keeping the mattress clean and free of bacteria or dust mites.
Babies spend a lot of time sleeping, so it's important that their sleeping environment is as clean and comfortable as possible. A mattress protector can help to create a cleaner sleeping surface for your baby by blocking out dust mites, bacteria, and other potential allergens. Additionally, a mattress protector can help to keep your baby's skin safe from irritants and potentially harmful chemicals that may be present in some mattresses.
If you're considering purchasing a mattress protector for your baby's crib, be sure to look for one that is made from a safe, hypoallergenic material.
One of the most purchased mattress protectors is by sleepsia. Sleepsia's Premium Mattress Protector can protect your mattress from dirt and water. Made for quality sleep, it feels softer than other plastic mattress protectors. It has a bamboo cover, which is soft and moisturizing. It's great for healthy sleep as well as being friendly to the skin. It's also a safe choice for children and the elderly. If you want to continue using your mattress, invest in the water-resistant mattress protectors that are durable and long-lasting. They shield your mattress from liquids, which can lead to costly repairs.
The Risks of not using a mattress protector
If you're not using a mattress protector, you're risking a lot. Your mattress is full of dust mites, which can trigger allergies and respiratory problems. It's also a breeding ground for bacteria and mold, which can lead to serious health problems.
Without a barrier between your baby and these harmful contaminants, your little one is at risk of developing asthma, eczema, and other serious health conditions. So if you want to keep your baby safe and healthy, be sure to use a mattress protector.
Do mattress protectors wash well?
Washing your mattress protector is important to keep it clean and fresh, but you may be wondering if it will hold up well in the wash. Rest assured, most mattress protectors are designed to be washed frequently without losing their shape or effectiveness. In fact, many are even machine-washable for added convenience.
When washing your mattress protector, be sure to follow the care instructions carefully to avoid damaging it. In general, it's best to use a mild detergent in a cool or warm setting. Avoid hot water, as this can break down the fabric and cause premature wear. You may also want to line dry your mattress protector to prevent shrinkage.
Can Mattress protectors cause allergies for babies?
It's a common misconception that mattress protectors can cause allergies for baby. The truth is, mattress protectors are actually quite safe for babies and can help to prevent allergic reactions.
Here's what you need to know about mattress protectors and allergies:
Mattress protectors are made from different materials, including cotton, polyester, and vinyl.
Allergic reactions to mattress protectors are rare. In most cases, the allergy is actually caused by the material of the mattress itself, not the protector.
If your child does have an allergy to a particular material, you can simply choose a protector made from a different material. There are plenty of options available to suit all needs.
Mattress protectors can actually help to prevent allergies by providing a barrier between your child and the mattress. This can reduce the amount of dust and other allergens that come into contact with your child's skin.
Always check the labels on mattress protectors before purchasing to make sure they are suitable for your child's needs. If you're unsure, speak to a healthcare professional for advice.
How to choose the right mattress protector for your baby
As a parent, you want to do everything you can to keep your baby safe and comfortable. When it comes to choosing a mattress protector, you want to make sure you pick one that is safe for your little one.
Here are a few things to look for when choosing a mattress protector for your baby:
Make sure the mattress protector is made from breathable materials. This will help to keep your baby's skin dry and free from irritation.
Choose a mattress protector that fits snugly over the mattress. You don't want it to be too loose or too tight.
Pick a mattress protector that is easy to clean. You'll want to be able to wash it frequently to keep it fresh and clean for your baby.
Make sure the mattress protector has a good warranty. This way, you can be sure it will last through all of your baby's naps and nights.
Conclusion
A mattress protector is an important piece of bedding to have, especially if you have young children or pets. Not only will it protect your mattress from spills and stains, but it will also prolong the life of your mattress. When shopping for a mattress protector, be sure to choose one that is made from breathable material so that it doesn't trap heat like plastic can. We hope this article has helped you understand more about mattress protectors and how to choose the right one for your baby. Thank you for reading!
---
---