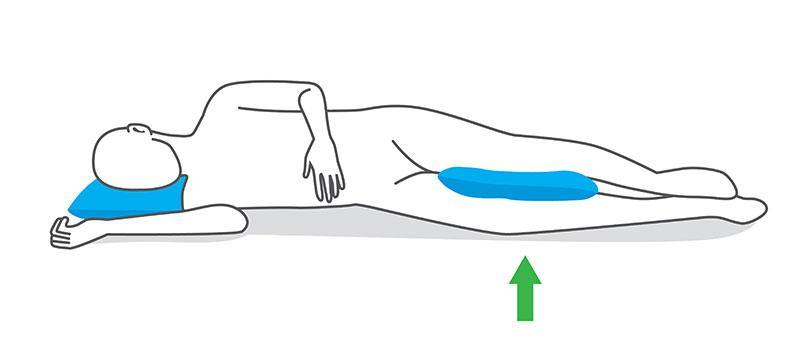 Different people sleep in different sleeping positions. However, side sleeping is said to be the most recommended position for healthy sleeping. One should always choose such pillows that bolster the process of healthy sleeping. Sleepsia Bamboo Pillows are such pillows that look after a calm and soothing sleep. Another major issue that people face while sleeping is muscular wear and tear. Remember, ' Pillow Between Knees' is a magical way to tackle this issue!
Today people are stuck between the need to sleep and the duties they are bound to do. This has exposed people to stress, anxiety, and loss of sleep. It is great to know that Bamboo Pillows help in achieving relief. These can't just be placed beneath the heads to sleep but can also be placed in between the knees to provide relief to the lower back, spine, and the pain running throughout.
In the market, there are tons of pillows available for several purposes. However, it is advisable to use bamboo pillows only. Of course, high-density memory foam pillows that come especially to be placed in between legs work. But remember, the filling of the pillow matters a lot. Always choose supreme quality memory foam filling that is available in the Sleepsia Bamboo Pillows.
Relax In Lower Back Pain With Bamboo Pillow Between Knees!
Putting bamboo pillows between knees while sleeping helps the most in lower back pains. It helps keep the spine comfortable while sleeping.
Sleep Sideways: To do so, sideways sleeping is the option.
Place The Pillows And Sleep: Place the pillows in between your knees and bend your legs a little bit.
Support To Lower Back: This sleeping position with bamboo pillows helps in relaxing the lower back.
Support To Hips: This makes sure that the hips and pelvic region are aligned.
Adjust The Pillow: Adjust the pillow and let it extend from knees to ankles so that it provides alignment to the knees and ankle too.
All Aligned, All Well!: By placing the bamboo pillows in this way, 'alignment' is ensured. Be it the hips, the knees, or the spine.
Make Sure To Add Another Pillow: Also, ensure to keep one pillow beneath your head to come on the same level. One under the head and one in between the knees is the perfect way to have quality sleep. So, it is advisable to buy 2- Pack Bamboo Pillows where each pillow can be adjusted accordingly.
So, if someone gets astonished and asks, "Pillow Between Knees"? All you need to do is, simply tell him/her the miraculous benefits and motivate him/her to buy the bamboo pillows.
How Bamboo Pillows Provide Relief To Its Users?
These pillows are ergonomically designed specially to heal people. The outer covering comes with the soft bamboo touch. It doesn't let the users sweat while sleeping. So, no chances of irritability or restlessness. Also, there are three sizes made available by Sleepsia. King, Queen, and Standard! One can choose according to the placement. Also, the feature of being adjustable is a bonus. Let us know more features of bamboo pillows.
The 'Adjustable Bamboo Pillows' are easy to customize according to the need. Just sense the requirement and insert or pull out shredded memory foam. Make the pillows more or less fluffy as per need and set them right in between the knees to level the body. This is a great benefit to choose 'Comfort' on our own!
Also, these pillows are hypoallergenic. So, no chances of allergens targeting the user while sleeping.
Also, these are breathable and airy. So, the user feels ventilated and fresh throughout. Also, the increase in air circulation makes it great.
Placing these pillows in between knees also rectifies blood circulation.
The bamboo pillows are designed uniquely to ensure neck and spine alignment. The best is when the hollow space between the head and the neck doesn't feel pressure and relaxes.
Conclusion
Do not forget to keep a 'Pillow Between Knees' and make sure those pillows are none other than Sleepsia Bamboo Pillows. It is high time we understand that our health is in our hands. It is just a matter of a few changes in our habits and it is all set! Sleep sideways and keep the pillows in between your knees to have a great and healthy sleep. To order the Sleepsia Bamboo Pillow, go to www.SleepSia.com and ring us at +1800-862-1084 to know more about it.
---
---