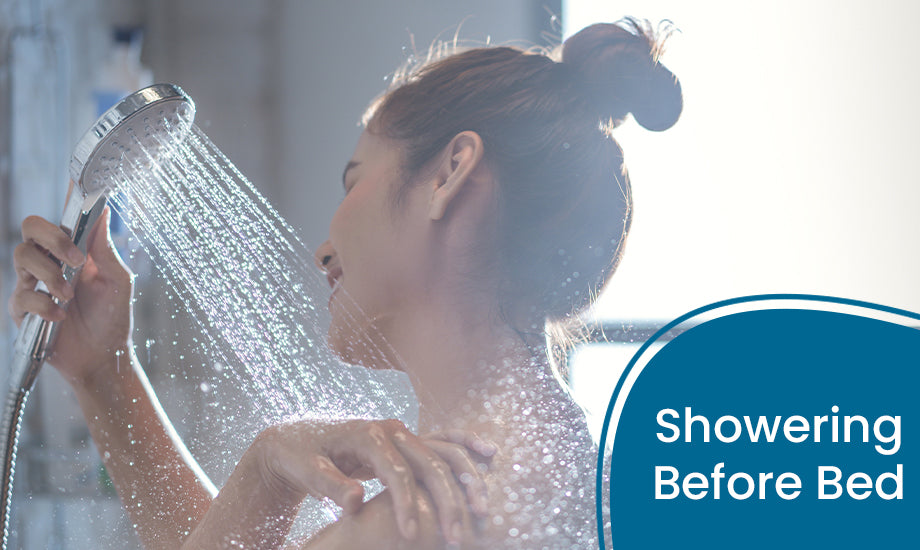 You might have heard of taking a shower to wake yourself up, but do you know that shower can improve your sleep quality too? To get the full benefits of more restful sleep, we have some tips to get the most out of the experience.
For instance, you should avoid overly cold or hot showers. We Will explain to you in a moment. There is even an ideal time to bathe, which can come as a surprise.
You may wonder whether it makes no difference if you shower or bathe. It turns out that both are helpful. If you are more of a bath person, you can feel accessible to bubbles and a good book before bed.
You shall probably sleep more peacefully.
Will a bedtime shower help you sleep?
Here is a fun fact. Our bodies get controlled by a 24-hour master clock called a circadian Rhythm, which tells us when it's time to wake up or take a rest and even when to eat.
It is responsible for hormone levels, bodily functions and others. it sends a signal to your body and that it is time for bed. One way it does so is why lowering the core temperature by about a degree.
How does it relate to showering? When you take a warm shower or bath, it will aid you in the process of regulating the ideal temperature for sleep. While you can get a temporary spike in warm water, your body will cool down as you leave the water and towel off.
For all overachievers, think that a cold shower speeds the cooling down. Cold showers will stimulate you so that you can reserve your ice bath for the morning hours.
Nevertheless, you can go for water temperature on the cooler end of the spectrum, and you can still get the benefits.
It relaxes your mind and body
Other than getting a massage or having an intimate time with your partner, there is nothing more relaxing than a warm bath at night. It will relax your sore muscles and eases pain in your joints. Plus, there is a physiological benefit to washing of water stress and the problem of the day and crawling into bed with crisp sheets and a clean body.
What are the benefits of a cold shower before bed?
When it immerses in cold water, the body tries to warm up. The process speeds up the metabolism, which activates the immune system. The result is a spike in white blood cell count.
White blood cells are what your body uses to fight bacterial and viral attacks. Hence, having more of it will help.
How does it promote alertness?
As you can imagine, dousing oneself in cold water can make you alert. It might seem counterintuitive, but it could be helpful if you need a large burst of energy to power through some final items.
You can head hits like the pillow, you will stress-free know that you have the biggest task on your agenda.
It prevents cold.
Because you have triggered your immune system, you are better off fighting anything that comes your way. An isolated cold shower will help you battle what you have, and when it gets done daily, you will be better equipped to handle future infections.
It stimulates anti-depression hormones.
While being cold sounds depressing, it can have the opposite effect in the shower. It will activate the sympathetic nervous system, which is responsible for flight or fight response. The result is a flood of non-adrenaline and beta-endorphin into the brain, which is a drug-free and natural anti-depressant effect.
It will accelerate metabolism.
Most have a couple of extra pounds which we're happy to share. By bathing in cold water, the body will adapt it by creating brown fat cells for warmth.
The cells will burn extra energy and encourage a slimming effect.
It will free up your mind.
When you are under a stream of freezing water, you are not thinking of sally at work who will send an aggressive email or Susan the mom-shamer. It is more likely that you are thinking about your chattering teeth and looking forward to wrapping yourself up in a warm towel.
You will also find that as you are toweling off, you will feel invigorated an accomplished. You just did a fantastic job.
It will tighten your skin.
There is a twin advantage on your body with the cold water
It constricts your blood vessels and tightens the pores. The result is a noticeable reduction in puffiness and redness.
It will also boost your blood circulation, which provides a radiant and healthy glow.
It will reduce hair loss.
When you have a mop on the top of your head, you've all ears when reducing hair loss. Cold showers help to retain moisture, straighten cuticles, and protect breakage. Not only will it help prevent hair loss, but it will also make the hair you keep shinier and healthier!
What are the benefits of a hot shower?
It relaxes your muscles.
Keep the temperature of the water between 95 and 105 degrees and allow the water to flow over tough and sore areas of your body. If you don't have any specific aches and pains, just relax and try some neck and shoulder rolls to loosen up all over.
It reduces anxiety.
A warm bath may be exactly what you need if you have tension in your head. It not only relaxes you and improves circulation, but if you've taken anything for pain, the increased blood flow may allow it to take effect faster.
It alleviates migraine.
A warm bath may be exactly what you need if you have tension in your head. It not only relaxes you and improves circulation, but if you've taken anything for pain, the increased blood flow may allow it to take effect faster.
Conclusion
Showering is an activity that (almost) everyone does daily, so it's a simple way to improve your sleep. If you're concerned about water consumption and don't want to double up on baths or showers, try changing your routine and bathing at night instead of first thing in the morning. You might discover that you prefer it!
---
---