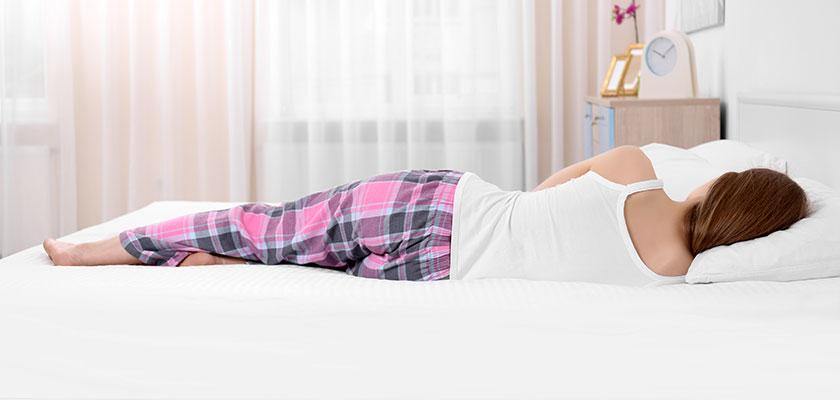 Sleeping involves various patterns. From an infant to an adult, our sleeping patterns and postures change. We tend to sleep as per our comfort. But what if there is a continuous breakage in the same? What if the sleep we are trying to get is not comfortable? Above all, what if the pillows we are trying to rely upon are not good enough? In such a case, there is an urgent need to sort and figure out the loopholes. Especially for the ones who sleep straight on their backs. The people who sleep with the entire pressure on their back need to have soft pillows to help them, to aid them. Therefore it is indeed very necessary to know how to sleep on your back properly and reap the benefits with Bamboo Pillows!
Back Sleepers Have An Advantage With Memory Foam Pillows!
These pillows work in order to push the individual into a great state of comfort. These are not at all hard. Created with memory foam which is stuffed in the shredded form, these pillows provide extra benefits. From all the sides, these pillows are simply the best. If we talk about its health benefits for a back sleeper, the list is endless. However, few of those are as follows:
Supports the back

: The back sleepers struggle with many issues. If they don't have an apt bed or mattress, that is a big problem. Above this, if they don't have appropriate pillows, then also they have a problem. It is because their tender back badly needs a comfortable space to rest. In such cases, changing the entire bed or expensive mattresses is a long lost glory. So, changing pillows and choosing Shredded Memory Foam Pillows is one of the best options! A back sleeper needs support to the back.

Fights Diseases

: A back sleeper already struggles with the sleeping posture which he fails to change due to habits. Also, he can be exposed to diseases like cervical, backaches, spondylitis, cerebral issues, headaches, muscular issues, irritability, fatigue, restlessness, and even stress. In such cases, Bamboo Pillows work the best!

Says No to Allergies

: These pillows are created with bamboo and memory foam's dual power. It helps to not let the allergies target the back sleeper. It is another benefit.
The Memory Foam Pillows Are Truly Unique!
Undoubtedly these pillows are very unique. Their feature of molding according to the body part exposed to them is amazing. Unlike regular pillows, these are super soft and super comfy. These take shape as per the spinal cord of the back sleeper thus not affecting the spine. A spine or backbone is the root strength of a person. Any difficulty and it is ruined! In the adjustable ones, with extra shredded memory foam, the Bamboo Pillows add up to the comfort of the spine. Also, the King Size and Queen Size aids the spine in providing ultimate comfort. The loft created for these Shredded Memory Foam Pillows is of 5". It is another stupendous feature.
So, for all the back sleepers, here is the solution to all your problems! Forget how pillows are only meant for decorations. These are the real pillows dealing in the health, comfort, and interior decor arena equally. These pillows are all-rounders. Why keep crying and keep looking for something which shall support your back? It is because the search is over! Stop excessive usage of painkillers and gels and pain relief sprays. It is because there shall be no more pain to the backs. So, now you know how to sleep on your backs properly and reap the benefits with Bamboo Pillows?
Give it a chance and let it clear the mess of your life. It is because your life needs comfort and not unnecessary pains. So, order your pillows from www.sleepsia.com and call on 1800-862-1084 for any questions or queries.
---
---