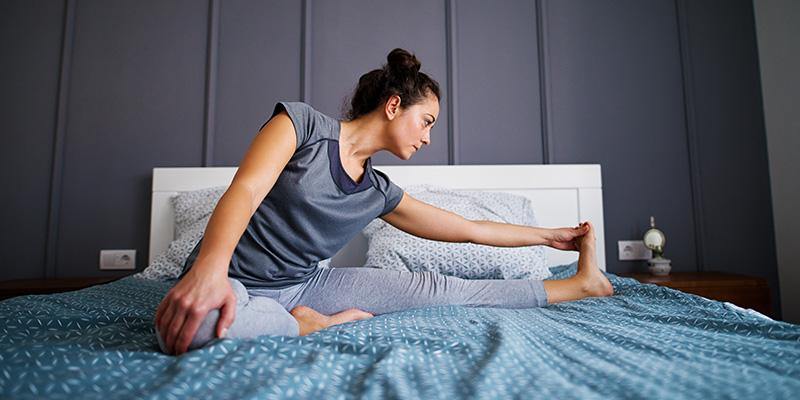 Sleep is the most powerful tool to have a sorted life. Every day, we begin with good energies but slowly and steadily, negativity starts to overpower us. By the end of the day, we are left with nothing. It is really sad to know many do not even begin their day with good energies. The sadness, burden, negativity, stress, work-pressure has overpowered us badly that it now not possible for us to stand erect with no burden. Our shoulders, our backs, and our heads have fallen due to the over-dosage of stress and burden.
This has collectively affected the sleep cycle. Sleep has a major role to play in having a blessed life. Therefore, meditation and yogic practices have gained popularity lately. These provide excellent ways to tackle difficulties of life and have a great sleep. The 'Yoga and Meditation Experts Share Sleep Tips'. Let us know what are those and how can we avail benefits out of those sleep tips!
Breathing Exercises Helping Gain Sound Sleep!
Imagine sleeping on rigid pillows and that too with tons of stress. It is big no! Therefore, experts say that your pillows and mattresses matter the most. Opting for healthy and breathable pillows allow the airflow during sleep. The cognitive functioning doesn't witness a pause and therefore, it helps to gain a fresh sleep. Bamboo Pillows are the best for this. Apart from this, let us know how specific breathing exercise helps!
'Pranayam' or 'Controlled Breathing' has recently gained popularity in the entire world. Breathing helps in removing the toxins out of the body.
It helps improve the capacity of the lungs.
It helps the oxygen reach every part of the body.
Good breathing helps in a deep sleep. Lack of breath leads to sleeplessness. This further initiates insomnia.
Breathing smoothens the memory too.
Experts Suggesting Meditation For Good Sleep!
Meditation is indeed very necessary for all age groups. It helps to-
Gain focus,
Gain concentration,
Introspect,
Feel calm,
Fight with stress,
Feel light,
Feel spiritual, etc.
The most important of all is the fact that meditation brings in sound sleep. In addition to this, after meditation, if the person opts for Bamboo Pillows for sleeping, it will be an additional advantage. It is because these pillows are super soft and let the vibes of being 'light' and 'free like a bird' remain intact. It is all due to the material used in its making. The natural bamboo pulp after processing is used to prepare the bamboo fabric. This natural element adds to the benefits of meditation. 'Yoga and Meditation Experts Share Sleep Tips' that include sleeping on good platforms.
Don't Forget To Follow These Sleep Tips To Have A Sound Sleep!
The first and foremost tip would be to bring home Bamboo Pillows. These pillows provide neck and spinal alignment and help to cope up with the pains. As a result, sleep is pain-less! Apart from this, know some more sleep tips shared by the experts around the corner.
Following meditation and yoga, every day helps to achieve good sleeping patterns. This not only soothes us but also physically drains the body. As a result, one falls asleep super soon.
Drinking a good amount of water is important. It cleans the body and doesn't let the body face digestive issues or skin issues majorly. These two affect the sleep a lot.
Ging on for a walk is necessary. Walking on green grass, barefoot helps the body stay fresh and healthy.
Spending some time in the lap of nature, away from mobile phones, and having therapies such as sound therapy, etc. gives a different meaning to life.
Making a strict routine to follow is the most important.
Why Are Bamboo Pillows Being Praised?
Bamboo Pillows are supportive of yoga and meditation. These are soft and hypoallergenic. These aren't rigid so these bolster the healing processes. These pillows from Sleepsia are available in three sizes i.e King, Queen, and Standard size bamboo pillow. The sizes help the users in their way. The queen-size or standard-size can be placed on the sofa or behind the back while working from home and while sitting on the chair. The shredded memory foam chunks provide relief while stretching, meditation, and breathing practices. Apart from this, there are many features of these pillows that prove how these pillows are one in a million!
Feature Of Being Hypoallergenic: These Bamboo Pillows fight with allergens to protect the user.
Feature of Being Breathable: The best part is that these don't let the user sweat. These maintain air circulation and distribute the entire body weight. No pressure on one single point. Isn't it great?
Feature Of Being Healthy: These don't let cervical pains, migraines, muscular wear and tear, etc. trouble while sleeping. Imagine doing cervical exercises, stretching yoga postures, and healing meditation along with these pillows. Isn't it a dual benefit?
Conclusion
'Yoga and Meditation Experts Share Sleep Tips' that includes a good diet, a strict following of yoga, and the most important of all-sleeping on good pillows i.e Sleepsia Bamboo Pillow. To order these, go to www.SleepSia.com, and call us at +1800-862-1084 in case of any queries.
---
---