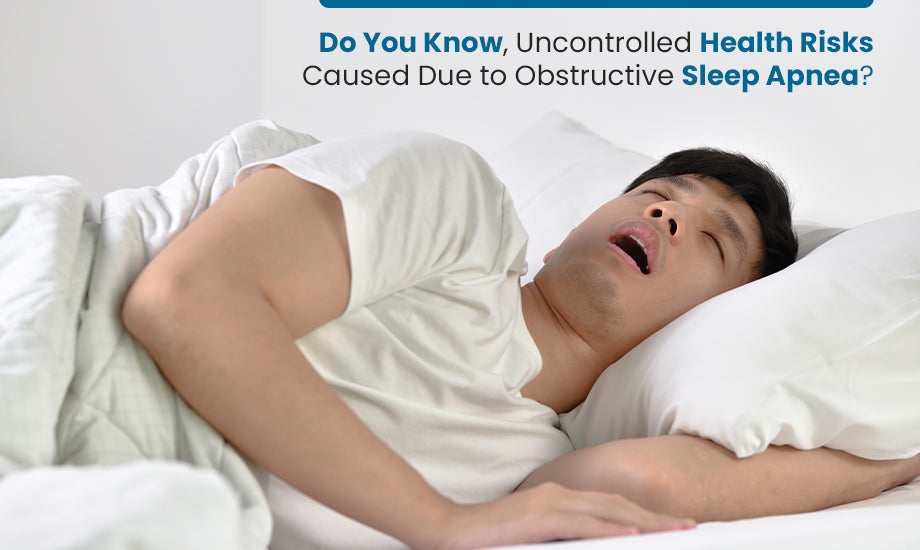 Over 10% adults in the US have been diagnosed with sleep Apnea, which simply means that people stop breathing multiple times every hour while they are asleep. Americans having a problem with sleep isn't new, and we have been grappling to sleep well, for various reasons, best known to us, and some unknown. The issue of lesssleepness or simply sleep deprivation was there until the global pandemic Covid-19 happened. Literally shook up our sleep patterns and routine. So much so, that the CDC has also called this phenomena as 'public health epidemic', reported on sleepfoundation. During this period, reported on PubMed, four out of 10 people had trouble sleeping. They're calling it – Coronasomnia.
Now what does all this mean?
As per a report from Division of Pulmonary St. Louis University School of Medicine, obstructive sleep Apnea (OSA), apart from causing hyper somnolence and fatigue, it is known to negatively impact practically every organ system. Having that, might result perinatal, cardiovascular, endocrine, gastrointestinal, neurologic, obstetric, respiratory, perioperative, accident-related and mortality-related health outcomes in one's body. Sleep Apnea can be described when the upper airway is completely or partially blocked, leading to interruption of your regular breathing for a short time. You might just wake from sleep, on account of it. If left untreated, sleep Apnea may be associated with high blood pressure and a stroke and heart attack risk.
What causes Apnea?
You have obstructive sleep Apnea when the muscles in the back of your throat relax too much to allow normal breathing. These muscles keep structures such as the smooth palate, the triangular bit of tissue suspended from the velvety palate (uvula), the tongue, and the tonsils.
When you relax your muscles, your airway narrows or closes as you breathe, making breathing difficult for 10 seconds or longer. It can cause a decline in the oxygen portion in your blood and might lay a film of CO (Carbon Dioxide). Your brain detects obstructed breathing and briefly wakes you up so that it reopens the airway. This arousal is typically so brief that you will overlook it.
You may awaken with shortness of breath that quickly resolves with one or two deep breaths. You may make snorting, choking, or gasping sounds. This routine can reprise five to thirty times or more in sixty minutes, all night long. These disruptions impair your ability to enter deep, restful sleep, and you will most likely feel sleepy during your waking hours. People suffering from obstructive sleep Apnea may be unaware that their sleep is disrupted. Many individuals who face this type of sleep Apnea are ignorant that they haven't rested well all night.
Typically, a person sleeps at night, thanks to a 9 to 5 workday convention. But, it is also due to the close interaction between our natural sleep and alertness rhythms, which get driven by an internal clock. The clock is a small part of the brain called the suprachiasmatic nucleus. Abnormalities related to the clock are called the circadian rhythm. The disorders include jet lag, adjustment to the work shift and sleep phase syndrome. Having not enough sleep can also lead to insomnia. People with insomnia don't feel as if they have enough sleep at night. Insomnia can also lead to day time activities. The known causes including depression, anxiety, stress and poor sleep disorders.
Sleep Stages
In normal sleep, we go through the REM and four stages of non-REM. Stage one of NREM sleep is the lightest, while stage 4 is the deepest. As you get repeatedly interrupted and cannot cycle normally through the types and stages of sleep, you feel fatigued and have trouble concentrating and paying attention as you awake. We must focus on the quality of sleep because of its vitality- generally. Poor sleep quality can be related with i.e. poor sleep efficiency, increased arousals, and/or altered sleep architecture.
When do you need to consult a doctor?
Snoring is loud to disrupt your or others' sleep
Waking up suddenly and gasping for air or choking
Excessive drowsiness during the day, which may cause you to fall asleep while working, watching television, or even driving a car
CTA – Here
You may need to consult a medical professional if you have, or your partner has any of the mentioned symptoms above. One must not ignore the health risks associated with the same and make sure, to do whatever it takes, to get a good night's sleep.
---
---