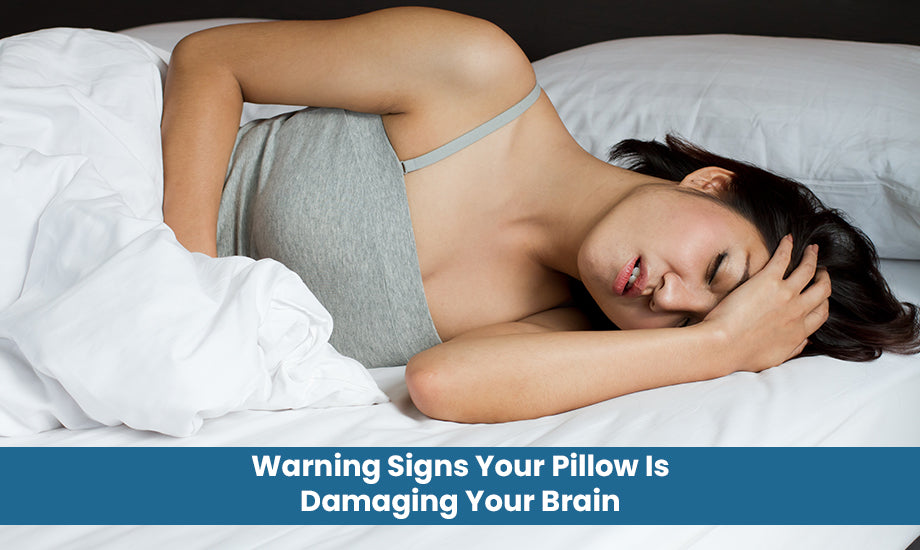 A good, comfortable night's sleep depends on keeping your neck and spine's natural curves.
The improper pillow can put unnecessary strain on your neck and shoulder muscles, and rather than promoting healing, it might exacerbate your pain while you sleep.
On the other hand, the ideal cushion can assist you in maintaining proper body alignment, reducing pain, and avoiding injuries.
Pillow patterns and materials are more varied than ever today. This gives you more alternatives for finding the ideal cushion for you, but it also makes it difficult to decide which pillow is best for you. Nobody needs to be a scientist to understand that having chronic back pain can negatively affect your life, frequently bringing on feelings of anxiety and sadness.
Your capacity to work, sleep, and carry out other daily tasks may be impacted. Up until recently, it was believed that any alterations in the brain brought on by chronic back pain were simply transient, returning to normal after the agony subsided.
Chronic back pain decreases the grey matter of the brain—the area responsible for memory and information processing—by up to 11% each year. A mere 0.5 percent of grey matter is lost annually with normal brain ageing, in comparison.
A poor pillow might result in severe neck and back pain, which can weaken your brain function.
How an unhealthy sleep impacts your brain
If you don't get a good sleep because of your pillow or something else. In the long run it can be really harmful for your brain.
Everyone is aware of how crucial sleep is. Nevertheless, life intervenes, leaving you sleep deprived, groggy, caffeine dependent, and vowing to make up for lost sleep this weekend.
Researchers at Baylor University examined more than 50 years of sleep studies and discovered an irrefutable connection between deep sleep and cognition, particularly when it comes to memory.
They also found that older people wake up more frequently throughout the night and get less deep sleep, which might negatively impact circadian rhythm and the way the brain works.
But there's more: They also discovered that getting enough sleep during your adolescent and middle-age years—so, right now—can really improve your mental health and lower your risk of developing diseases in the future.
According to the research, getting more restful sleep right away has a significant impact on brain performance 30 years later. The "I'll sleep when I'm dead!" mentality, as the study's main author put it, "is the difference between investing up front rather than trying to compensate later."
Cliché sounds incredibly ironic at this point. Sleeping more is important, and tomorrow morning would be a great time to start. Allow yourself to sleep in tomorrow; it will benefit you.
What are the factors that can lead to headaches after sleeping?
This article can be useful if you experience headaches the morning after using a particular cushion. Understand 15 causes of headaches that people can receive from pillows by reading on.
Misalignment of spine and neck
The misalignment of the neck and spine is the main factor in headaches that wake you up. Too-thin or too-thick pillows cause the head to tilt awkwardly while lying down, disrupting alignment and frequently resulting in headaches or neck pain.
Buy pillows that are thick enough to let the head rest in a neutral position in order to solve this problem.
Too firm or too soft of a pillow can be extremely uncomfortable. If a pillow is overly firm, it may put pressure on the head while a person is sleeping, which is likely to cause a headache. A person's head will sink at an uncomfortable angle if a pillow is excessively soft, which could hurt.
RLS has a negative impact on more than just your legs. Since the brain and the extremities share neural pathways, restless legs syndrome has been connected to migraines and tension headaches. It might also be brought on by a lack of iron.
The headache associated with caffeine withdrawal is common among people who abruptly stop drinking caffeine after doing so frequently. While your body is cleansing itself of caffeine, you get this headache.
Caffeine withdrawal symptoms can include severe headaches or migraines. The easiest way to stop using the stimulant is to gradually cut back on how much you consume until you reach your target. Taking painkillers with a little caffeine is one technique to help lessen the intensity of headaches.
Numerous people who believe they have sinusitis actually have migraines. Prior to an attack, migraines can also cause other symptoms like neck stiffness, mood swings, aura, vision loss, and weakness or numbness of the body.
If you get migraines accompanied by a fever, double vision, a seizure, or stiff neck, consult a doctor. These are typically the symptoms of a stroke. If a migraine appears following a head injury, see a doctor.
Painkillers or drugs that reduce their frequency or frequency of occurrence are typically the first line of treatment for migraines.
Insomniacs are more likely to get morning headaches. The less sleep a person gets, the more likely it is that they will experience tension headaches and migraines.
A wrong choice of mattress
Finding the ideal pillow won't help you if your mattress isn't comfortable for you. Your upper body and hips should be supported by a suitable mattress. It need to be hard enough to prevent discomfort when your cushion is placed on top of it.
Look at your mattress closely. Each night, write how you feel as you sleep on it. Your mattress might be to blame if you frequently get aches and pains. To enjoy a full night of restful sleep, think about upgrading to a mattress like Sleepsia's that is made to offer sufficient support and comfort. You can browse through the categories of pillows and mattresses offered by Sleepsia directly on the website or through leading e-commerce chains.
You should be aware if you face these problems with your pillow
The majority of people spend significantly more time considering what mattress to buy than whether their pillow is the perfect one for them.
But many people unnecessarily endure restless nights or awaken in discomfort just by selecting the incorrect pillow.
Using the wrong pillow every night might result in chronic issues over time because sleep is such a crucial aspect of health.
Pillow position: Your neck muscles will stretch if your pillow is too high, which will throw your spine out of alignment.
Your neck will feel incredibly stiff the entire day as a result, making it uncomfortable to conduct normal duties. If you sleep by one side, the pillow will press into your shoulder, resulting in soreness in your upper back and neck. Lower back pain is often the result of people lifting one of their legs forward to counteract this, almost as if their leg were at a 90-degree angle.
Your spine will bend if your pillow is too low because your neck muscles will sag into it. This will result in stiffness and soreness in the neck, as was mentioned in the previous sentence. According to one study, latex pillows are the most beneficial for sleeping whereas feather pillows are more likely to result in neck problems.
Throw pillows and other decorative feather pillows are nice, but sleeping on them is not advised.
After being pressed, it doesn't regain its shape right away:
Your pillow should be able to be folded in half and instantly return to its original shape, according to Nancy Rothstein. It's time for a replacement if your pillow does not already do this.
According to clinical psychologist Michael Breus, also referred to as the "sleep doctor," "If you have a simple, low-cost polyester pillow, you should be replacing it every six months.
However, if you have a memory foam cushion or a solid object, it should last you between 18 and 36 months.
Unknown facts about pillows
When it comes to having a good night's sleep, a lot of people forget the value of their pillow. If you haven't recently changed your pillow, you might not realise how much a good cushion can improve the quality of your sleep.
Here are some information on pillows and sleep quality that you might not be aware of to and how crucial it is to your health:
Along with your mattress and bed frame, your pillow has a role in one-third of how well you sleep. Your sleep quality can be increased by at least 30% by purchasing the correct pillow.
The majority of individuals are unaware of when to change their pillows.
Purchasing a high-quality pillow with adequate support and replacing it every two years is a wise rule to live by. It may be necessary to replace pricey pillows made of polyester and other synthetic fabrics as frequently as every six months.
Every time you replace your mattress, you should switch out your pillows. The support provided by your pillow will change, for instance, if you transition from a soft to a firm mattress, therefore you'll need the correct pillow to keep your spine aligned.
Many people just consider their primary head pillow when they sleep. Additional support pillows, however, can enhance sleep quality and safeguard spinal health. Depending on your preferred sleeping position, these can go under the knees, between the knees, or under the arm and shoulder.
To conclude, that is all for the signs that you should watch out for and choose a pillow wisely. For better ideas on which pillow you should purchase, do not forget to visit the website of Sleepsia and know more.
---
---