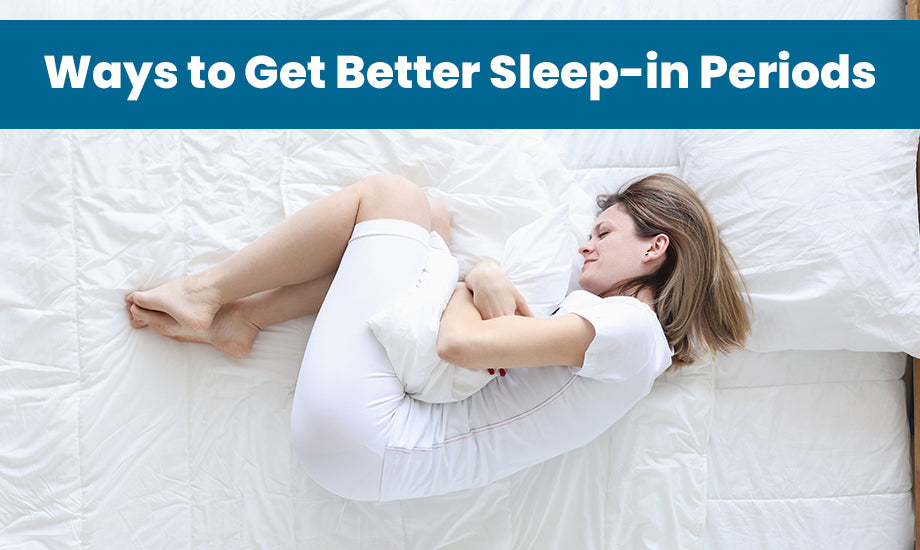 Getting proper sleep during your period can be a daunting task. How to sleep during periods to avoid pain is still a troublesome issue. According to studies by the Sleep Foundation, 30% of women have difficulty sleeping during their periods. Periods are an unavoidable part of any woman's life. Sugar cravings, menstruation cramps or mood fluctuations, and insomnia are some side effects. Sleeping can be tricky to achieve during periods due to hormonal fluctuations. Some women have trouble falling asleep, resulting in hours of chucking and turning. Women often question how to sleep during periods to avoid leakage.
Let's discuss the best hacks.
Period hacks are the most vital things to have during the days of the month.
Effects of periods on sleep
On average, women have more sleep problems than men. The period can exacerbate the issue. Premenstrual hormonal fluctuations can lower serotonin secretion. Women with premenstrual dysphonic disorder or PMDD have more trouble sleeping than women without the disorder.
PMDD gets connected to women's diminished reaction to melatonin. It is a hormone that signals your body when to sleep and when to wake up.
This lowered response has the potential to through a woman's circadian rhythms. It is the body's natural response to the dark and light signals waking, sleeping, and in other activities.
Tips to sleep better during periods and alleviate pain
Find a convenient sleeping position.
The sleeping position might affect the quality of your sleep especially if you are experiencing menstruation symptoms.
Try out different sleeping statuses, including lying on your side or back.
See which one feels the most comfortable. Sleeping on one side can assess regulating breathing and relieve some sleep apnea problems.
If you have trouble sleeping in this position, due to pain, considered the fetal position. It includes bending your legs and curling your body into a ball.
Place the pillow between your knees to ease joint pressure. It is how to sleep during periods to avoid irritation and pain.
Snuggling in a fetal position for a nap
Did you see a fetus in its mother's womb? You must get curled up in that position. The muscles around your abdomen will relax while you sleep the right way, bringing much-needed relief from period cramps. in addition, if you sleep in this position with a pillow, there is little danger of leakage.
Taking a nap while in the child's pose
You are undoubtedly curious as to who sleeps in a yoga pose. Believe it or not, some people do it. The amount of comfort your muscles feel while you are in a kid pose, according to studies is immense. It is as if your muscles are at ease and you get relaxed. The pose is also beneficial for those of you who get headaches. It also helps you with sleep induction. It's how to sleep in periods because the stance is proven to calm the mind and body.
Keep your bedroom at a comfortable temperature
Your body will lower its core temperature to prepare for sleep. Hormonal fluctuations can put a kink in the works. You can set your thermostat between 60 and 67-degree Fahrenheit to keep your body sleeping at a comfortable core temperature.
Many people prefer to share a bed with their spouse at night. Even if you are among the majority if you and your partner have different sleep habits, it may be worthwhile to explore sleeping alone. The sleep quality may suffer due to the interruption, and your immune system may get compromised as well. Cuddling has the same benefits as massage therapy in terms of boosting your mood and lowering anxiety.
Maintain a regular sleep schedule
If you go to bed and wake up at consistent times, you are less likely to experience period-related disruptions to your circadian rhythms. Even on weekends, following a routine will train your body to recognize when it is time to sleep.
Exercise regularly
Physical activity is one of the most natural ways to induce sleep. Exercising in the early morning or late afternoon can help raise your body temperature and allow it to drop, causing drowsiness right before bedtime. Choose an enjoyable activity such as yoga, swimming, or running. Have better food.
Digestive issues like nausea, indigestion, or diarrhea can sometimes accompany other menstrual problems. It's better to avoid eating close to bedtime. Instead, try to consume small regular pills that are made up of lean food throughout the day.
Choice of food items
Tryptophan, also known as l-tryptophan is an amino acid found in milk. It is found in eggs, turkey, chicken, and a variety of dairy products. Tryptophan gets linked to decrease depression and increased sleep time. You can also try cherries or tart Cherry juice, both of which contain melatonin. Consult with your doctor before having any supplements into your routine.
Make time for relaxation
Your blood pressure and respiratory rate will both increase when you get stressed. The hyperarousal state can make it difficult to fall asleep and relax. Deep breathing techniques will be beneficial in relieving stress.
Make sure that you lower your stomach moves as you inhale and exhale for both three seconds. It makes no difference whether you stay or lie down.
Use heating pads to reduce discomfort
Heat therapy works by relaxing the uterus muscles. It will increase blood flow and ease your pain. You can have some self-adhesive heating pads to keep in your bedside cabinet when your cramps disrupt your sleep. If you are more comfortable with the cooler temperature, you can also use an ice pack. It will help by drawing the blood out of the pelvic region.
Keep an eye on what you have before bed
Hormone changes can cause all types of cravings during the menstrual cycle. A belly full meal might hinder your sleep. Eating less at night time, is always recommended. Try to eat at least three hours before bed and if that's not possible, stick to your healthy stuff. Salt and sugar are what your mind craves but they can increase bloating and pain overnight while you are on your period.
Reduce your screen time before bed
We're guilty of spending too much time staring at our phones. If you can't set aside that hour to relax, make a place to put your phone on silent or turn it off completely. Scrolling through social media is not conducive to a relaxing evening. So, try to Limit your screen time when possible.
Try some stretching exercises
Sometimes all you need to do is to curl up in a ball, have snacks and watch your favorite movie. But, a little stretching is worth it. While you may not feel like doing extensive yoga sessions, it can bring you some relief. Research by shopproof has shown that yoga can ease premenstrual symptoms among those who experience regular discomfort and pain each month.
Track your sleep to identify the nights when you don't sleep well.
If you are prone to insomnia, you can use some apps that are great ways to track your sleep and promote a healthy sleep routine. After a few months, you will see that the second night of your period is the most difficult for you. You can equip yourself with heat patches and pain Killers before you get off to sleep next month.
---
---