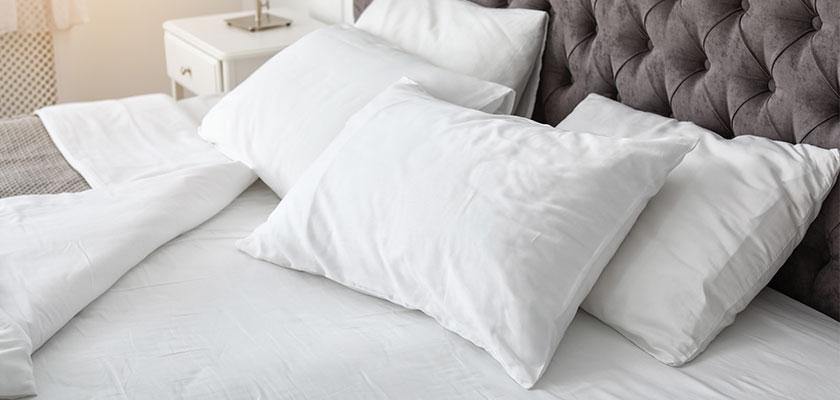 Sleepsia comes with a power package of pillows. These Shredded Memory Foam Pillows are meant to assist people, to aid people, and to support people. These pillows are made after tons of hard efforts in order to make people enjoy their rest and sleep time. These are available for usage in three different sizes. One is the King Size pillow, the other is the Queen Size pillow and the next is Standard Size pillow. We shall be focusing on the second size of the pillow which is really popular with people. It is because of its unusual and unique benefits. Let us read ahead to know what size is a Queen Pillow?
How Big Is Queen Size?
It comes in the size of 20" ×28" ×5". Its remarkable advantageous help reaches out to people through its 5" of the loft. It extends additional help. The user grabs all the comfort through this. Regular pillows are hard whereas these Shredded Memory Foam Pillows have the tendency to fluff back. It is super soft and super comfy. It takes the structure of the parts of the body resting upon it. It is not a rock-solid pillow. It is indeed a fluffy and smooth pillow with rock-solid power.
Boons Of Memory Foam Pillows!
These are merely not pillows stuffed with memory foam. These are specially made with the shredded foam. It is of much more importance. This type of foam is of high quality and high durability which serves the purpose of safeguarding the health of the user. These have tons of benefits that make the lives of the user easy. That is the reason why the Shredded Memory Foam Pillows are considered a boon. The Queen Size Pillow anyway is a winner from all four sides!
H×H: This indicates the power of two Hs which lies with these pillows. These pillows are 'Hypoallergenic' and 'Hygienic'! These do not let the user face allergies and get disturbed due to itching or irritation due to allergy-causing elements. These pillows are super airy to let the user breathe clean air.
Also A Cervical Pillow: It is undoubtedly a cervical pillow! Helping to contribute to the spinal alignment, this makes sure to assist the user in every possible way.
Bamboo Covering: Another great deal for the users comes in the form of Bamboo Pillows. These are washable and super airy. This fabric is the reason why allergies don't attack. Hence, these can be known as Bamboo Pillows too!
Good Sleep: The most important part! These provide a sound and obstacles free sleep. These also reduce the chance of insomnia and snoring too!
Interior Decorating: The Queen Pillows are absolutely fit for the beautification of sofas and beds and couches. Their size is appropriate for interior decoration of the house too.
Reach Out To Us!
We are here 24×7 for your help and assistance. Our motive is to equip you all with the best of the assistance. Our motive of letting Sleepsia Pillows enter your lives is crystal clear. We wish to bring in a change in the sleep patterns of people. We intend to make people not compromise with their health and sleep, both. There are many pillows in the world. But some provide only comfort and some only promise to deal with health issues. With Shredded Memory Foam Pillows of various sizes, we wish to facilitate your lives. So, now that we know what size is a Queen Pillow, order your share of comfort from the website of www.sleepsia.com and contact us on the number 1800-862-1084 in case of any query!
---
---