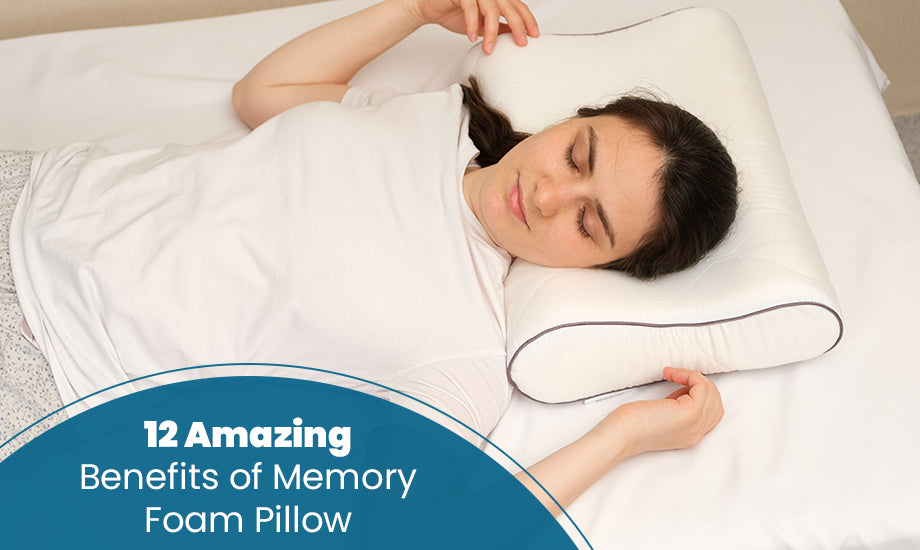 Do you have trouble finding a comfortable sleeping position on your pillow? A memory foam pillow can help you sleep well every night. Many people believe that fluffy, soft pillows will promote restful sleep. These pillows, despite having a soft feel, don't often offer enough support for your upper back and neck, which ultimately leads to upper body pain.
Memory foam pillows include foam that conforms to the shape of your head and neck, unlike traditional pillows. When you lie on a memory foam pillow, it gently pushes back to provide support. What are the advantages of memory foam pillows, though? An exhaustive list of all the advantages of memory foam pillows is provided in this article.
Numerous health benefits can be derived from memory foam pillows. The pillows are unique because of the heat reactive cushioning insulator. This means that when pressure and heat are applied to the pillow, the foam will conform to the shape of the object. Because of this, these pillows fit the shape of the neck and head more comfortably than regular pillows.
What is a memory foam?
The National Aeronautics and Space Administration developed memory foam, a synthetic substance made from viscoelastic foam, nearly 50 years ago.
The firm foam adapts to the body's heat and pressure to give the best support, and when not in use, it bounces back to its original shape. Memory foam was first utilised to make cushions and seats for spaceships because of its characteristic. Memory foam then began to be employed to create various types of bedding, including the incredibly well-liked pillows and mattresses of today.
What are the health benefits of memory foam pillows?
Without any further ado, lets dig in to see what are the health benefits that memory foam pillows can provide to you.
It helps alleviate your pressure points
Memory foam pillows are designed to support your head and neck by moulding to the specific contours of your body. They provide equal support for the neck and head. Where it is needed, the foam recovers more and less where it is not. By applying consistent pressure to the entire head and neck, this reduces pressure points.
Provides outstanding support and contouring
Memory foam is renowned for supporting and conforming to the curve of your head. This stops your head from sinking in too deeply, which happens often when a pillow is overly soft. Additionally, memory foam effectively distributes your head weight, relieving pressure on your neck and back.
Better on the long run
A high-quality memory foam pillow is significantly denser than a standard pillow, making it long-lasting and incredibly simple to maintain. Since the pillow is hypoallergenic, you can use it for up to three years. For optimal results, just spot-clean your pillow after removing the cover.
It is hypoallergenic
A memory foam cushion is an excellent option for you if you are allergic to things or have asthma or allergies because of it. A safer and more hygienic option for everyone, memory foam is a synthetic material that naturally slows the growth of microorganisms like fungus and dust mites.
Provides the neck and spine with better alignment
Are you suffering from pain and aches in your neck or back? The main contributing factor to this disorder is poor spinal alignment. One of the many health advantages of using memory foam pillows when sleeping is spinal alignment.
When you place your head and neck on the cushion, the weight and warmth of your body allow the foam to reorganize itself. This causes the cushion to support the lighter, more pressure-sensitive neck region while also adding additional support under the head's heaviest areas.
Correct alignment of the spine goes a long way to reduce discomfort while ensuring long term good health of your spine.It allows your muscles to unwind properly, supports your spine naturally, and adapts to your specific shape to encourage restful, deep sleep.
It helps reduce snoring problems
By elevating your neck and using memory foam pillows to clear your airways, you can lessen snoring. This way not only you, but your partner will get a good night's sleep too.
Helps relieve stress
Similar to memory foam mattresses, these pillows aid in neck, upper back, and shoulder relaxation and rehabilitation. This is great if you spend a lot of time at a desk all day or engage in sports. Online memory foam pillows are available to help you relax.
It is made with a breathable material
Due to the air chambers of memory foam pillows, the material with which it is made is breathable. If you encourage airflow via the pillow, you will sleep cooler.
It has motion transfer stability
It stops vibrations from transmitting by absorbing them. Motion transfer can be avoided, and your spine and neck can remain in proper alignment.
It is available in different shapes
There are two types of pillows available to suit your preferred sleeping position
Helps you sleep in any position
Memory foam pillows will help you sleep better whether you choose to sleep on your back or your side. A contoured design may be beneficial for people who only sleep on one side.
Super easy to maintain
Unlike regular pillows, memory foam pillows are simple to maintain. Simply take the machine-washable cover off the cushion (if applicable), and spot-clean any stains. Voila! a brand-new cushion, both in appearance and feel.
Why is it important for you to invest in a good pillow for sleep?
Here are the reasons why you should invest in a good pillow-
A good quality pillow will offer a good sleep experience
Comfortable pillows aid sleep. And comfort is quite personal. But it takes time to find the pillow that meets your personal comfort. We always benefit from new experiences. So why not make a pillow purchase?
Pillows that are uncomfortable ruin your sleep, so you often feel on edge during the entire day. Who wouldn't desire a comfortable, high-quality pillow? Give yourself some satisfaction while taking a break from the frantic world outside.
Good quality pillows will provide you with good skin
According to dermatologists, objects that touch your face, like your pillow, are the primary source of skin issues including acne and pimples. Your pillows may have a significant amount of dust, grime, and other airborne bacteria when exposed.
And so, using uncomfortable pillows for long hours can seriously damage your health. Always wash your throw pillows, and replace them every two years with high-quality ones if possible.
Get good health by using good quality pillows
These days, physical and mental health are intertwined issues. According to studies, having a healthy mind paves the way for a healthy body. Everything is resolved with good pillows! Good-quality pillows not only enable you to have a rested mind, but also support the weight of your head generally and reduce the likelihood of additional posture issues that could arise while you sleep.
When left untreated, posture issues like spine fractures and bone dislocations can have a lifelong impact on your body and may have an impact on how you function every day. You can check for orthopedic pillows for these kinds of circumstances from a variety of pillow manufacturers on the market.
Who should avoid using memory foam pillows?
Although memory foam pillows are a good option for many, it might not be suitable for few categories of people. Let's find out who they are.
People who experience sleep disruption due to body heat
As you lie on some memory foam pillows, they may trap heat or grow warmer. Some claim that they cause them to perspire. A heated sleeper should be aware of this.
Individuals who tend to get sensitive to off-gassing
VOCs, or volatile organic compounds, are substances found in some memory foam products. When the cushion is brand-new, these compounds may emit a disagreeable odour. It is known as off-gassing. Some people might be particularly sensitive to the smell. Breathing difficulties, headaches, nausea, eye and throat discomfort, or asthma may all be brought on by it. In a well-ventilated environment, the scent should disappear after a few days or a week. Additionally, search for "low VOCs"-labelled brands.
If you are considering switching from traditional pillows to memory foam pillows, congratulations you made a good choice. However, with so many options available in the market, it might get troublesome for you to choose the brand that delivers quality products at most affordable prices. No worries, we got your back. We, Sleepsia, bring to you best quality memory foam pillows at market best prices. All you have to do is browse through the category on our website or you can directly order from leading e-commerce websites like Flipkart and Amazon.
---
---