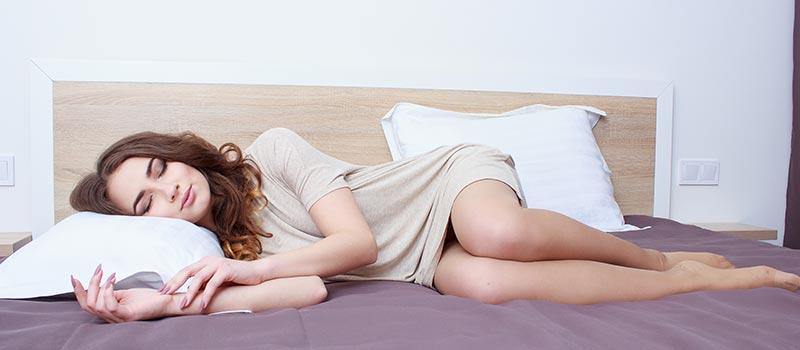 Which is the 'Best Mattress For Side Sleepers'? Which is the best pillow for sleeping? What do we do to have a comfortable sleep? So many questions and only one answer! The answer is- 'Grab the pillows, choose the mattresses, and opt for the blankets that are not only cozy, soft, breathable, but healthy and hygienic too.' It is very important to choose the sleeping essentials wisely. Bamboo Mattresses should be very comfortable, hypoallergenic, and soft.
Mattresses should be able to hold the side sleepers efficiently so that they don't find problems in adjusting to other sides. Talking about pillows, one should be very particular about these too. Sleepsia Bamboo Pillows are the best in this case. These are made with the shredded memory foam filling and the bamboo pillowcase.
The motive of these pillows is providing relaxation in the stressful times, providing relief in the painful times, and providing peaceful sleep in the hectic times. These pillows are completely Certi-Pur US Certified and organic! Nothing that can harm the sleep of your loved ones!
Comfortable Mattress + Bamboo Pillows= Perfect Combination!
Comfortable and cozy mattress along with these shredded memory foam pillows is the best ever combination. We all know three basic qualities are important for a good mattress. Those qualities are-
Super Soft

Super Breathable

Anti- Microbial
The moment you get one such mattress having all these qualities, grab it. The next step includes bringing home Sleepsia Bamboo Pillows. These pillows will add to the supreme sleeping experience. Why?? Because:
These are highly breathable

: These pillows are extremely breathable, add to the ventilation, limit the sweat, and increase the air circulation.

These are hypoallergenic:

These pillows don't allow the allergens to attack the user and cause running nose, rashes, watery eyes, itching, etc. No chances of allergic reactions while sleeping!

These are safe and sound:

These pillows are super safe, organic, natural, and contain no highly volatile organic compounds. One can trust completely and feel safe.

These bamboo pillows are healthy too:

No chances of getting caught with the cervical, spondylitis, stiffness in the muscles, orthopedic issues, etc.

These pillows are stress-busters too:

These pillows are known to calm down the anxiety levels in the person. One dozes off to sleep immediately on these pillows forgetting all the stressful thoughts.

Perfect for side sleepers

: The moment you figure out 'Best Mattress for Side Sleepers' is the moment you should decide to buy the special bamboo pillows too. These are absolutely suitable for the side sleepers. No need to switch and turn to other sides to feel comfortable. These pillows, full of shredded memory foam mold according to the body and give extreme comfort.
Best Mattress And Best Bamboo Pillows Give The Best Sleep!
Heard about together forever? This works in the case of mattresses and pillows too. Beneficial mattresses and pillows can stay throughout the life and can continue giving benefits. Very rare are the perfect mattresses that combine with the bamboo pillows to give high level comfort to a side sleeper. It is said that side sleeping is the most efficient way of sleeping. This doesn't pressurize the stomach and the face. This doesn't promote wrinkles, and lets the user stay fresh and breathable. This posture of sleeping promotes breathing. However, it is advisable to-
Keep your mattress and pillows clean.

Keep them in an open airy space for ventilation.

Never use harmful chemicals such as bleach to wash them.

Avoid extremely hot water and direct sunlight.
Good Mattresses, Good Bamboo Pillows, And Happy Side Sleepers!
You never know, for some, side sleeping might have become a habit! It is very difficult to change habits. Therefore, it is important to choose the bamboo pillows that mold according to the sleeping patterns and do not force the users to adjust according to the pillows. The fresh bamboo pillowcase, the super flexible property, and the adjustable loft of 5" in the adjustable pillows remain as per the user. The side sleepers do not flip, rotate, revolve, or struggle with insomnia to sleep peacefully.
Final Words
Our final words suggest you all to be very careful while choosing the mattresses and pillows for sleeping. Best Mattress for Side Sleepers can be chosen after giving serious thoughts but there isn't any need to think much before buying Sleepsia Bamboo Pillows.
Go to the SleepSia and click to order these pillows. Also, you can call on +1800-862-1084 to know more about it. Team Sleepsia is available to help you. Trust us, you won't regret your decision!
---
---