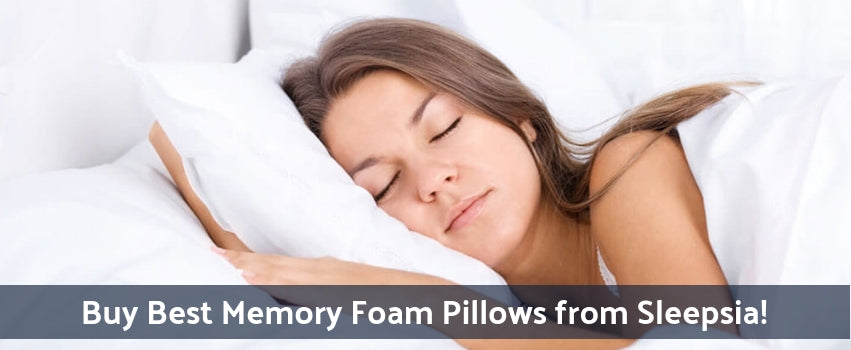 Sleeping for sufficient hours every day should be an important part of our daily routine irrespective of the fact that numerous people are stressed and facing trouble due to insomnia. However, the next question that arises in everyone's mind is that how many hours are actually "sufficient" and what all things help in sleeping comfortably.

Choosing the right pillow is a big part of our sleeping routine and is responsible for sleeping well. Buy the best memory foam pillows from trusted brands like Sleepsia to experience the joy of sleeping luxuriously for years to come. With changing times, people nowadays are more inclined towards Eco-friendly products like bamboo pillow with soft washable cover. Bamboo pillows are environment-friendly products.

What to Look for While Buying a Pillow?

If you are someone who has a highly sensitive skin, then choose a pillow that is hypo-allergenic, anti-allergic and has anti-bacterial properties. Sleepsia range of pillows has all these qualities and is ideal for all age groups. People who are suffering from different kinds of pain like neck pain, cervical, shoulder pain, etc can go through varied Sleepsia pillows as there are pillows available for neck pain or cervical or shoulder pain, etc specifically.

The pillow that you buy should also have an ultra-luxury adjustable fit that is ideal for your height and weight. Sleepsia pillows are widely popular for providing optimum support and comfortable surface that takes the shape of your neck curvature. Furthermore, Sleepsia pillows are ideal for all kinds of sleepers- back sleeper, side sleeper, stomach sleeper, etc.

Also, the other factors to consider are that it should be dust-resistant and should not lose shape in the long term. Ordinary pillows lose shape after a certain point of time which leads to worsening of the pain or other issues like insomnia, snoring, etc.

One can opt for bamboo pillows with a soft washable cover as it is made from shredded memory foam and has an ergonomic design. Moreover, the cover can be removed and washed occasionally. This will help to maintain proper hygiene in the long term.

By choosing a good pillow, get rid of sleep and health related issues like migraines, stiffness of the neck, asthma, TMJ, headaches, back pain and other kinds of pain. The pillow offers comforting surface for deep undisturbed sleep throughout the night. Speak to our Sleepsia experts on 1800-862-1084 to know exactly which pillow suits you according to your health needs.
---
---