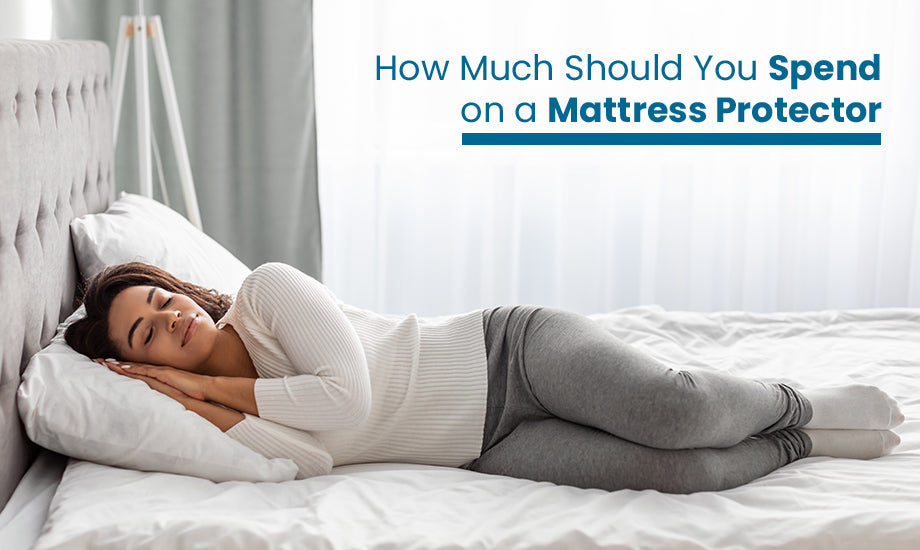 This article is an ultimate guide, and it will break down the whole process of how to choose the right mattress protector. From understanding the importance of a mattress protector, to what to look for in a mattress protector, you'll be equipped with all the knowledge you need to make a wise purchase decision.
What is a Mattress Protector?
A mattress protector is a thin piece of fabric that covers the top and sides of a mattress. It protects the mattress from dust, dirt, and stains. A good mattress protector will also extend the life of your mattress by protecting it from wear and tear. There are many different types of mattress protectors on the market. Some are made from cotton, polyester, or other synthetic materials. Others are made from natural fibers such as wool or bamboo. There are also waterproof options available.
When choosing a mattress protector, it's important to consider what type of protection you need. If you have allergies or asthma, you'll want to choose a hypoallergenic option. If you're concerned about spills and stains, look for a waterproof option. And if you just want to extend the life of your mattress, choose a durable option. Once you've decided on the type of mattress protector you need, it's time to choose the right size. Mattress protectors come in a variety of sizes to fit any bed. Be sure to measure your mattress before you buy to ensure you get the right fit.
Finally, consider how easy the mattress protector is to care for. Some options can be machine-washed and dried, while others require more delicate care. Choose a mattress protector that fits your lifestyle and needs.
Why Do You Need Mattress Protector?
If you're like most people, you probably spend a lot of time in bed. Whether you're sleeping, watching TV, or just relaxing, your bed is likely one of the most comfortable places in your home. But what if your bed wasn't so comfortable?
What if it was full of dust mites, dead skin cells, and other allergens? That's where a mattress protector comes in. A mattress protector is a thin piece of fabric that covers your mattress and protects it from dirt, dust, and other allergens.
Most mattress protectors are made from cotton or polyester, and they can be machine washed when they get dirty. They're also relatively inexpensive, so they're a great way to protect your investment in a good mattress.
Types of Protectors
There are several types of mattress protectors available on the market. Some are designed to protect against dust mites, while others are waterproof and prevent spills from damaging your mattress. Here is a rundown of the most popular types of mattress protectors:
Dust mite covers: These covers are designed to fit over your mattress and prevent dust mites from infesting it. Dust mite covers typically have a zippered closure and are made from materials such as polyester or cotton.
Waterproof covers: Waterproof mattress covers are made from materials such as vinyl or polyurethane and help to prevent spills and other liquids from damaging your mattress. Most waterproof covers also have a zippered closure to keep them in place.
Mattress encasements: Mattress encasements are similar to dust mite covers, but they enclose the entire mattress, sealing it off from potential allergens. Encasements are usually made from materials such as polyester or cotton and have a zipper closure
How Much Should I Spend on A Mattress Protector?
If you're like most people, you probably spend a lot of time researching mattresses before making a purchase. But how much time do you spend thinking about mattress protectors?
Most experts recommend purchasing a mattress protector to prolong the life of your mattress and keep it clean. But with so many options on the market, it can be hard to know how much to spend.
Some factors to consider when deciding how much to spend on a mattress protector:
The type of mattress you have: If you have an expensive memory foam or latex mattress, you'll want to invest in a high-quality protector that won't change the feel of your mattress. On the other hand, if you have a less expensive coil or spring mattress, you can get away with spending less on a protector.
How often you plan to wash it: Some mattress protectors can be machine washed, while others must be spot-cleaned only. If you plan to wash your protector frequently, look for one that is machine-washable.
Your budget: Ultimately, how much you spend on a mattress protector is up to you. There are many affordable options on the market that will still provide.
A budget friendly mattress protector: Sleepsia mattress protector
Sleepsia Premium Mattress Protector: Protect your valuable mattress from dirt, water, and wear. Their protector is designed for quality sleep. 
With an extra layer of protection, this waterproof mattress protector ensures that spills and accidents won't interrupt your sleep. The durable material guarantees long-lasting use without causing costly repairs.
This bamboo protector is soft, skin-friendly and moisturizing for your sleeping needs. It's also a comfortable choice for children and the elderly.
They're made of thin, stretchable fabric and will stay tight all night so you can sleep soundly. The fabric is also durable and breathable to promote airflow and minimize sweat. This is the perfect choice for your  mattress. It's easy to clean and will keep your bedding fresh throughout the night.
Conclusion
When it comes to finding the perfect mattress protector, there are a few things you need to keep in mind. First, you need to consider the size of your mattress and find a protector that will fit snugly. Second, you need to decide what material you want your protector to be made from. And finally, you need to determine how much you're willing to spend on a mattress protector. With these factors in mind, you should be able to find the perfect mattress protector for your needs. 
Thanks for reading!
---
---