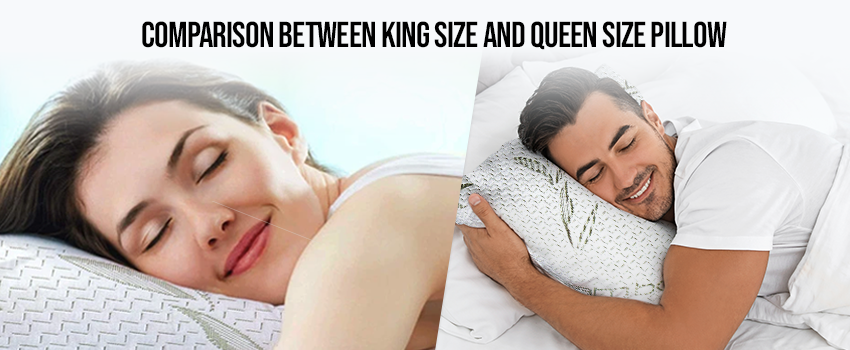 Selecting an accurate pillow is a complex task. You need a perfect choice to comfortably toss and turn the entire night while sleeping. The right pillow helps you to wake up with a refreshed mind. The article will provide you a comparison between King size and Queen Size pillow so that you can easily determine the perfect pillow suitable to your requirement.
Pillows vary with size, shape, and color. Read the guidance on each specific size available on the market for a worth shopping. There are many types of pillows available like a memory foam pillow, bamboo pillow, micro-bead bed pillows, contour pillows, and more. Each has its benefits like better support, mold-ability, airflow properties, Eco-friendly, hypoallergenic, etc.
Pillows are specifically designed in many sizes to provide support to upper body in a neutral alignment. Select the pillow according to your need to overcome non-restorative sleep disorders and difficulties. Disturbed sleep patterns may cause many physiological, emotional & health illnesses like muscle pain, back & neck pain.
When an individual follows a false sleeping posture, the neck turns to curve either upwards, sideways, upwards falling out with spinal cord disorders. It causes spinal pains, migraines, back & leg pain, thus it is essential to select a perfect size pillow to provide support to the neck area. You must know the standard size depending upon the mattresses you have in your bedroom like Queen, King, and twin.
Related Articles from Sleepsia Blog
Determine pillow measurement accurately helps to accommodate personal preferences. The size helps to address the need of every kind of sleeper. King and Queen Pillows eventually depend upon requirements and bed size. 
Pillows come in standard, Queen Size, and King Size. Their difference occurs in inches, queen pillows are a little longer than other pillows. The size is divided especially to categorize according to needs. For instance, Queen Size is simply right for a Queen bed on Queen sized mattress whereas King Size pillows are suitable for king size bed measurements.
Comparison Chart of Features of King Size and Queen Size Chart:
 

Queen Size pillow

King Size Pillow

Meaning

Queen Size pillows are usually larger in inches than the standard size. It is ideal to use them on a twin bed and queen-sized bed.

King size pillows comprise of perfect measurement that actually fit with width of twin bed

Usage

You can use on multiple areas as per your convenience; the major application is in double size bed. Queen sized pillows permit more space on each side of your head thus it becomes the best choice for the sleepers who love toss and turns.

Use king pillows for decorative objectives, It gives extra support across standard pillows.

The best choice is to use king size pillow for king size bed  gives great support while working or studying on a laptop in bed

Dimensions

 

20" x 28" x 5"

 

20" x 35" x 5"

 
 Queen Size Pillow:
The majority of people are not aware of Queen-sized bed pillows. There is not too much difference in the size with standard size pillows. They vary with some inches. They can fit in standard-sized pillow covers, ideal for stomach, back, and side sleepers.
Facts about Queen Pillows:
A pair of Queen Pillows perfectly fit across a Queen Size bed
Queen pillows are imperceptibly longer than a standard size pad, with an expected size of 20" x 28" x 5".
These pillows are incredibly designed, yet there may be a slight distinction in estimations depending upon different brands. The extra length of queen pillows diverged from an extra-sized standard is profitable for uncomfortable sleepers.
You can sleep in a more relaxed method, effectively twist and twin across the bed through the extra space in the center.
The queen size pillows act as a great choice for the back sleepers. However, it doesn't matter for what purpose you buy Queen Size pillow, you can easily use it for decorative, floor pillows, and for providing back support.
The queen size pillow can match with different attractive themes for instance in many hotels and resorts, these pillows act as an amazing beauty element on the master bed
You can order Queen Size pillows in different colors and fibers. Place a Queen Size bamboo foam pillow from com to enhance beauty on your room and for better comfort
Facts about King Size Pillow:
Following are the major facts associated with King-size pillow:
A set of King Pillows with suitable pillowcases fit ideally across a king bed. King size pillows are specifically created for king size bed measurement so that it perfectly covers the entire width of a bed with a pair of pillows. They are found in both square and rectangular shape
One pillow is enough for great comfort while working and studying.
King size pillows come with acceptable and durable foam material which permits to content an accurate position more suitable for head, neck and upper part of the shoulder
King size pillows are recognized as more acceptable pillows to provide extra support, you can mold in any position comfortably while sleeping
Many physicians recommend King Size pillows for medical patients to prevent medical disorders.
Asthma patients can use King-size pillows of soft and durable nature foam for a fresh wake-up and a healthy sleep
Both King pillows and queen pillows have their benefits and dimensions. Select the pillow that fits well with your bed measurements and preferences and place the order from this website www.sleepsia.com. To explore more you can connect with the support team at 1800-862-1084. They will listen carefully to your entire requirement and accordingly recommend the best size pillow with an accurate price. 
---
---