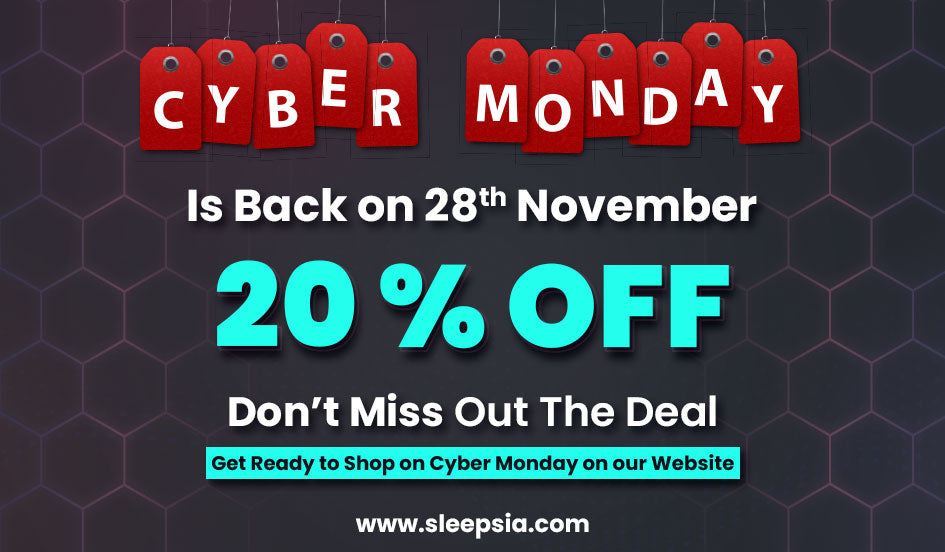 It's Cyber Monday time again! Launches, exclusive deals, premiers and cash back offers are just around the corner.
This is a great time to buy presents for friends and loved ones. Now is the time to score great deals on some of your favorite home furnishing items. Cyber Monday is on November 28th, so make sure you get your shopping done early.
For the best Cyber Monday deals on some of the most popular Sleepsia pillows, be sure to check out our website! We've got a variety of deals on various Sleepsia pillows, and we're sure that you'll find something that's perfect for you.
What is Cyber Monday?
Cyber Monday is the Monday after Black Friday in the United States, when people purchase products online at a great discount. Sleepsia offers best deal and discount on Cyber Monday to our customers so they can save money.
Avail Amazing Offer This Black Friday on Sleepsia
Celebrate Cyber Monday 2022 in full vigour with Sleepsia. We wish you the best of luck for this wonderful savings that comes with November end. Buying pain-relief pillows on Cyber Monday is always a good idea. The prices are better than any other day of the year.
If you're looking for a good night's sleep, chances are you've been thinking about investing in a new pillow. And with Cyber Monday just around the corner, now is a great time to do just that. From memory foam pillows to hybrid options, Sleepsia has something for everyone.
Bring Home Premium, Plush Pillows/ Cool, Comfortable, & Certified Foam Pillows because they feature unsurpassed quality and affordable price.
It is easily moldable

It enhances alignment of the spine

The used foam is CertiPur-US Certified

It supports all sleeping positions

It is skin-friendly and pleasant to breathe

The covers are washable easily
Sleepsia a D2C brand specialises in providing quality, innovative and comfortable sleep products to consumers. Having a great deal of experience they offer many different kinds of pillows to customers including the popular Sleepsia bamboo pillow.
Sleepsia Full Body Pillow
Sleepsia full body pillow spans across the entire length of the body. It is easily customizable. You can add shredded foam and remove it to your liking. It also has a cover so that you can wash it as needed and not have to sacrifice comfort for convenience.
Sleepsia Hotel Pillow
Sleepsia's best hotel pillow comes in a pack of two and is made from fluffy microfiber. It's free of down, so it's ideal for allergy sufferers. Plus, all Sleepsia pillows offer great support for the neck and are made to last.
Sleepsia Cervical Pillow
Sleepsia pillows cervical pillow for neck pain, orthopedic pillow support for back, stomach, side sleepers understand your body's natural curve and adjust to it while still providing the support you need to relieve stiffness.
Sleepsia Bamboo Pillow
Both back and stomach sleepers will find it very helpful because it uses memory foam and you can adjust the density based on what you need. Our bamboo pillow is highly demanded across our huge client base.
Sleepsia Mattress Protector
Sleepsia's mattress protector will protect your mattress and make it more comfortable. A mattress protector prevents costly water damage and provides a layer of protection. The bamboo protector from our company is skin-friendly and comfortable for children. This material is perfect for winding down after a long day. It stays in place even when you're asleep, allowing excess heat to escape and giving you a cool, clean surface.
Sleepsia Bed Sheet
Sleepsia's bed sheets are luxurious and soft, which helps you fall asleep faster and stay comfortable all night long. We have bed sheets for different sized beds, including twin, full, queen, king, and California king. You can choose from white, ivory or grey. You can wash this bed sheet and it will not lose its shape.
Sleepsia Amazing Global Journey
We provide Bamboo pillows and sleep accessories to address the needs of people throughout different markets: Canada, Germany, UK, France, Netherlands, Poland and etc. Good sleep is extremely important for emotional and mental health of a person. We are instrumental in offering excellent quality, budget-friendly pillows at Sleepsia. You can easily afford it and enjoy a good night's sleep.
---
---