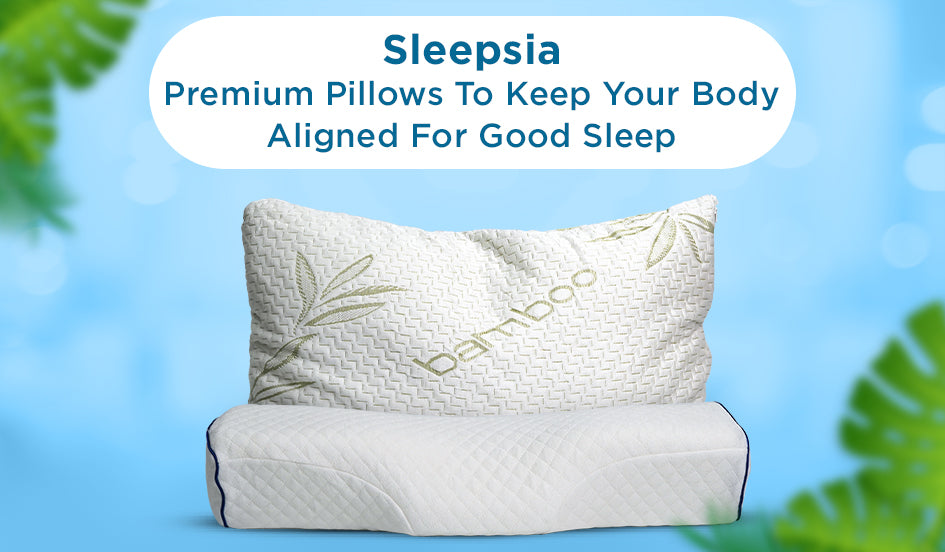 Along with the mattress, the pillow has a lot to do with your sleep quality. The best pillow is sure to make your body cosy and puts you in a pleasant sleep. This is where the Sleepsia excels with the classic collection of pillows to fuel up your sleep. It intends to provide the pillows accompanied by the set parameters at very reasonable prices. 
At Sleepsia, you can choose from the wide selection of pillows depending on your comfort and the extent of support that you are searching for. Know all about the Sleepsia pillows, uniqueness, and their pricing in this Sleepsia website review.
Sleeping With Sleepsia Pillows
Sleepsia has come up to offer healthy posture and quality sleep with the bamboo pillows designed to secure your spine's curvature. These pillows come with all the specifications accommodating your preferences. 
The Sleepsia pillows are ideal for back sleepers and stomach sleepers. With the machine washable covers, you can keep your pillow clean and away from allergies, dust mites, and dirt. Being made from bamboo, these pillows maintain their shape and keep your head in place. CertiPUR-US certified breathable fabric regulates the temperature and airflow so that you will never feel sweaty. Memory foam pillows are infused with gel beads creation technology which absorbs your body heat and keeps you cool and airy while sleeping. With all these features, Sleepsia has a comfortable line of pillows suiting your sleep preferences. 
What to Explore at Sleepsia?
Here are several types of pillows from Sleepsia that enable you to rest your body the better way
Bamboo Adjustable Foam Pillow
These lifetime pillows alleviate your neck pain and provide good support to your cervical spine. Side sleep, back sleepers, and stomach sleepers can use these pillows by adjusting the height and loft as required. Select from the range of standard, queen size and king size.
Orthopaedic Pillow
It comes with an ergonomic design for better neck support and alignment. The butterfly design enables the side sleepers to rest their head on the loftier part, which relieves the pressure from the shoulders. 
IK Bamboo Pillow
The firmness and fluffiness of the IK bamboo pillows help you enjoy the night sleep and wake up in a fresh mood. These pillows are crafted with premium quality materials to offer a cool experience. 
Pillow Protectors
Pillow protectors are made from bamboo pulp that acts so gentle to your skin and does not cause any damage to your hair. The covers protect the build-up of the acne-causing bacteria by wicking away sweat. 
Sleepsia Bamboo Pillow Pricing
Sleepsia has a fair prices quality line of pillows where you can get the best-discounted prices using the Sleepsia discount code. Non-adjustable memory foam pillow is available at $35.95. Relieve your neck pain with the best orthopaedic pillows at $33.99. At $69.99, you can shop for the adjustable bamboo pillow pack of 2. Silky and gentle pillow protector covers at just $21.99.
Final Words
Sleepsia Bamboo pillows are soothing places to sleep on while aligning your overall body in a perfect position. The Sleepsia pillows are one of the best sleep essentials to consider that redefine the way you sleep. A premier place for the quality line of pillows intended to keep all the allergens at bay. The microbial properties of the pillow keep the dust, mold, and other bacteria away from you, mitigating the chances of sleep apnea, asthma, and other breathability issues.
---
---