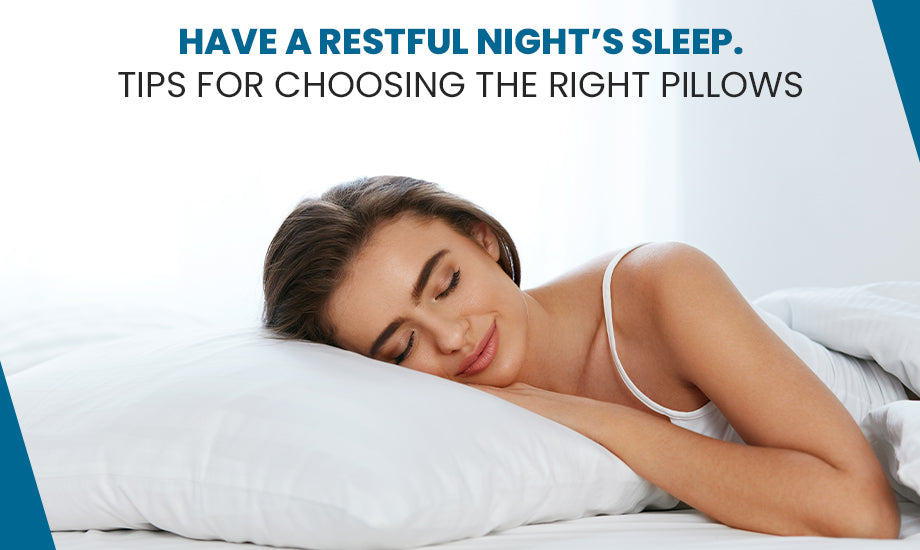 After spending the whole day engaging ourselves in some or the other way, the ultimate thought we have in our mind is to hit the sack (to go to bed), to have a restful night sleep.
So, to have a sound sleep, the first thing to be considered is the quality and type of the mattresses you are using, as these aspects interfere with the quality of your sleep, despite the fact that there are various other factors that may affect your sleep, for instance, your stress might be one such reason for your sleeplessness.
There are different types of mattresses according to the need of the individual and their health conditions, such as Memory foam, etc, therefore the selection of mattresses depends on your comfort and choice.
Similarly, the selection of pillows is also based on individuals' choice according to their needs and comfort, however, a few aspects mentioned below have to be considered before you finalize the pillow to choose the right pillow for you.
Choosing The Right Pillow- How Does It Help?
Make sure your pillow is neither too soft nor too hard, also neither it is too thick nor too thin, instead it should be made up of proper material and should be of perfect size, firmness, and thickness.
Choosing a proper pillow helps to have better breathing and decreases the chances of snoring or sleep apnea since the choosing wrong pillow can collapse your airway, as it fails to support your neck and thus interfere with your breathing. Therefore, choosing the right pillow can help you with proper breathing and allow the air to pass properly through your airway, without any disturbance.
The most commonly preferred fabric is, cotton pillows, however depending upon your sensitivity or if any allergic condition, you can select the best for you, as the cotton granules in them can cause allergic rhinitis.
Understanding the type of material or the filling used in different pillows also helps in choosing the right pillows.
Types of Materials or Filling Used for Different Pillows
Cotton pillows which are the ideal pillows for all types of sleepers, were the commonly used pillows, as they are light weighed, and breathable, however, due to the lack of additional benefits packed in newly available pillows such as adaptability according to your body, and easy maintenance, cotton pillows are less preferred nowadays.
Down Pillows
The silky, close-to-skin fibers of a goose, duck, or swan are used to make down pillows. When buying a down pillow, be sure to consider the down-to-feather ratio because these pillows may occasionally be blended with feathers
Apart from their lightweight nature, and long-lasting durability, they are moldable and provide enough support to your head and neck.
Nevertheless, there are a few drawbacks to using these pillows such as they are hard to clean, can retain heat, and may lead to certain allergic reactions.
Latex Pillows
Although latex pillows are often firmer than down, they are nevertheless incredibly comfy.
This kind of pillow can't be bent into the exact shape you want, unlike a few moldable pillows such as memory foam that fit according to the shape of your body.
However, it does offer a few benefits such as resistance to dust and mites, and is frequently used to make contoured pillows that are intended to provide additional head and neck support or to prevent movement while you sleep.
Microfiber Pillows
These pillows come in different sizes, are available at affordable cost, and are less expensive than cotton pillows, they are made up of synthetic materials such as polyester and nylon.
They are easy to maintain and washable, better than down pillows, and are hypoallergenic.
However, reduced ventilation in stomach sleepers, due to the tightly packed micro-polyester fibers, and the ability to trap heat, making it tough for those living in hot areas is the reason why many prefer cotton pillows despite their high prices.
Memory Foam
Since memory foam adapts to your body, it can be a suitable match for many sleeping positions, which is why these pillows are growing in popularity.
This enables the memory foam pillow to adjust to the position that is most comfortable for your head and neck.
Despite the fact that some memory foam pillows retain heat, their ability to relieve pain and molding, according to your body(customizable) makes them the most preferable choice of pillows to many. Additionally, there is no clumping observed in these memory foam pillows.
Bamboo Pillows
Since bamboo pillows offer antimicrobial and moisture-absorbing properties, they are becoming more and more popular in the sleep industry.
The majority of bamboo pillows really combine shredded foam inside with a viscose bamboo outside.
These pillows are the best choice for those finding it difficult to sleep due to allergic conditions, as they are hypoallergenic and possess antimicrobial activity, providing a cooling effect by absorbing the moisture content.
However, one of the downsides, to be concerned about is that these bamboo pillows might appear too firm, and can be termed heavy pillows, because of the dense shredded memory foam filling inside them, and thus cannot be useful for side sleepers and stomach sleepers.
A Few Sleep Positions and Suitable Pillows for Such Positions
Like every one of us is distinct in many aspects, similarly, different people choose different sleep positions for a night of sound sleep, based on their comfort and various health conditions.
Sleeping on Your Side
When one is resting on their side, a pillow should support the head and neck so that the spine stays in a straight, horizontal line.
In order to avoid unnatural bending or pressure, weight distribution should be uniform. While lying on their side.
some people might find it more comfortable to tuck a small cushion or towel rolled up under their waist for further support.
It is clearly mentioned that heavy-weight pillows such as bamboo pillows are not comfortable for side sleepers, so in that case, down pillows can be the choice for better alignment of the spine, and sound sleep, however, latex is found to be firmer than down and thus can be alternative pillows for side sleepers.
Sleeping on Your Back
When sleeping on one's back, a cushion should provide appropriate support for the head, neck, and shoulders while also supporting the cervical spine's natural curvature, whereby memory foam pillows, or memory foam contour pillows, if you have any neck pain can be a preferable option.
Additionally, microfibre pillows can also be an alternative for those with back sleepers.
Free Fall Position or Stoamch Sleepers
The Mayo Clinic claims that this sleeping position puts a lot of pressure on your neck and back naturally, causing your lower back to curve and your shoulders to hunch up.
These consequences, which may result in back pain, will only be made worse by a high-loft pillow. If you must sleep on your stomach, you should actually use a low-loft pillow.
On the other hand, a medium to soft fill pillow is usually recommended for side sleepers so that the head, neck, and shoulder can fall smoothly into the pillow while maintaining enough balance to keep the head and spine neutral, whereby the fill materials such as down and memory foam should be included to have a sound sleep in stomach sleepers.
Replacing Your Pillow at the Right Time, Is as Important as Selecting the Right Pillow
Well, once you figure out the type of filling present in different pillows and their characteristics, it is quite easy to select the right and perfect pillow for you, however, it's highly significant to note that keeping an eye on when to change your pillow is an additional aspect to be kept in mind when it comes to pillows and sound sleep.
Basically, a pillow can be used for not more than 18 months, as mentioned by the experts of the National sleep foundation, which is equal to one and a half years, however, memory foam can be more durable.
Performing a simple experiment on your pillows such as folding them in half and checking if they could spring back or not can be one way to know if you need to replace your pillow, to put it in a simpler way, try folding your pillow into half and if it remains as it is, without actually springing back, it is termed as a dead pillow, and you need to look for a new one.
Furthermore, we tend to observe that when vegetables are stored in a refrigerator, they may remain fresh for a few days or a week, however storing them for a long duration or more than the required period, will result in the rotting of vegetables.
Likewise, although the durability of any pillow is nearly 18 months, continuing their use for more than this recommended period will result in a buildup of fungus and other organisms, therefore if you find any stains from sweat, or if you could sense a bad odor, or if it is found torn, this indicates a sign to replace the pillow with a new one.
Conclusion
Choosing the right pillow is as important as choosing your mattress, to have a sound sleep, therefore understanding the type and quality of the pillow, gaining information about different sleep positions and the suitable pillows for every position, and knowing the right time to replace your pillow with a new one, plays a key role in selecting the best and the perfect pillow for you.
---
---