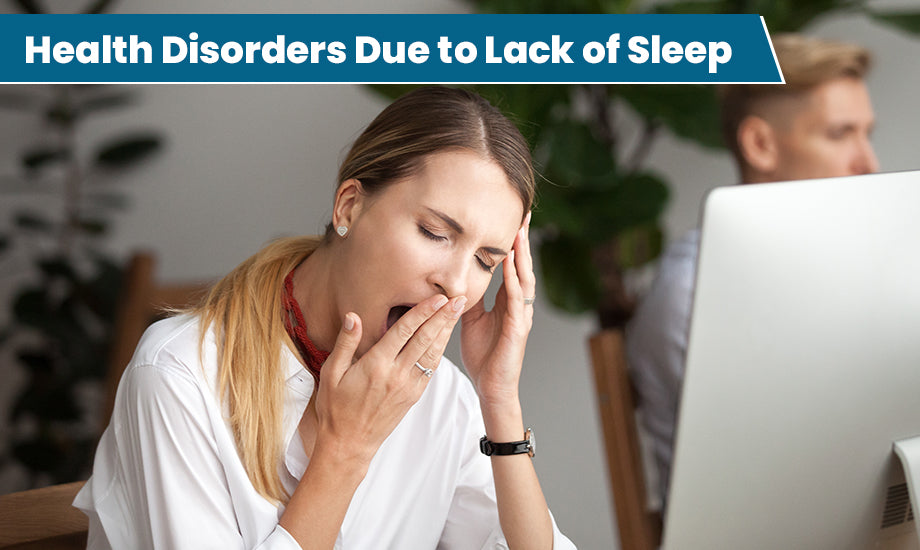 Inadequate sleep wreaks havoc on our health. Poor slumber can be due to our busy life, stress and a number of health issues. But sleep deprivation itself can lead to a host of health problems. To function at its best, our body needs enough sleep. From a weakened immune system to the risk of early death, lack of sleep dramatically lowers the quality of your life.
If you continue operating without enough sleep, you may see some serious health problems.
Such issues ranging from higher blood pressure, risking a heart stroke, diabetes, weight gain, this is apart from obesity, depression and hypertension.
Read on to learn how sleep deprivation affects your health
High blood pressure
Hypertension affects an estimated 1.3 billion worldwide and kills 10 million people every year. Being overweight, lack of physical activity, high intake of salt in the diet and kidney problems have commonly been known to cause high blood pressure. However, there's a powerful connection between blood pressure spikes and the quality of your sleep. Sleep regulates hormones like cortisol. When people are sleep deprived, the nervous system isn't able to regulate these hormones which can lead to elevated blood pressure. If you suffer from high blood pressure, then your heart muscle has to work harder to pump blood. Poor sleep may result in a spike in blood pressure. If you are already having a high BP, chances are that you are susceptible to heart related diseases, worse a heart stroke.
Stroke
Nearly, 15 Million people suffer a heart stroke, every single year*, and a leading death cause and disability, across the world. The work-life balance struggle is causing many to reduce their sleeping hours and in doing so, they are significantly increasing the risk of suffering a stroke. Sleep is one of the various factors responsible for stroke. Poor sleep increases heart rate and blood pressure, putting you at even higher risk for stroke. Individuals who sleep less than six hours per night are at an elevated risk of developing a stroke-like symptoms compared to those who sleep eight to nine hours.
Diabetes
Diabetes is a chronic disease leading to 1.5 million deaths each year. Type2 diabetes is perhaps the most common chronic health problem. The pitfall of this disease is that it slowly begins to develop resistance to insulin sugar. Thereby (this resistance to insulin) leads to higher levels of sugar and more health problems. This situation must be managed properly, else our body, especially the kidneys, heart and other vital organs might have to face dire consequences.
The typical factors leading to the development of Type 2 diabetes are unhealthy eating habits and obesity. However, lack of sleep has also been found to be a contributor to type 2 diabetes. Diabetes and sleep are intricately connected. Too little sleep increases insulin resistance. Sleep deprivation can even lead to a pre-diabetic state.
Weight gain
Several studies suggest a link between poor sleep and weight gain. As per CDC, an ideal BMI – Body Mass Index is between 18.5 to 24.9, it is a normal or healthy range of weight. Anything beyond this number is wrong and bad for heath, which is over 30.0 might fall under obese category. There is a connection between obesity and sleep, here it says. A study claims, to say that people (most) who sleep less (less than 7 hours per night), are most likely to gain an over than average BMI – body mass index. This is when compared with people, who have slept more (than 7 hours per night). It can sabotage your waistline and your health. That extra flab might just lead to a lot of other body anomalies. Quite widely reported as higher BP, diabetes (type2) plus artery related ailment. Other consequences of poor sleep are daytime sleepiness and poor productivity.
Heart disease
Across the world, cardio related diseases are known to be the highest causes of deaths. It's well-known that factors like poor diet, limited exercise and smoking can harm the heart but there's a growing recognition of the dangers of sleep deprivation for heart health. For the cardiovascular system, insufficient sleep can contribute to problems with blood pressure and heighten the risk of heart disease, heart attacks and diabetes.
Conclusion
We know the pitfalls of sleeping less, we all know it, we believe, however we neglect, deliberately or not, we need to fix this together, for a better you and a better tomorrow. Let's set some internal rules, such as
Do not try to eat a full course, large and heavy meal at night. It impacts digestion.
Having a fixed and a relaxed bedtime routine. Like a schedule and following it.
Ensuring that we are using the right bedding materials, such as right pillows.
Keep the temperature of your bedroom moderate. If you are using an Air Conditioner, keep it at optimum i:e 22 degree to 24 degrees, at room temperature.
Get to read a book for a little time (definitely not the TV), if you have it, just before sleeping (in-case you find trouble sleeping).
Go and see a physician, if you deem it.
Finally friends, sleeplessness isn't a disease, which needs treatment, it's basically an outcome of our lifestyle and/or if there is an illness. This needs attention, however.
---
---