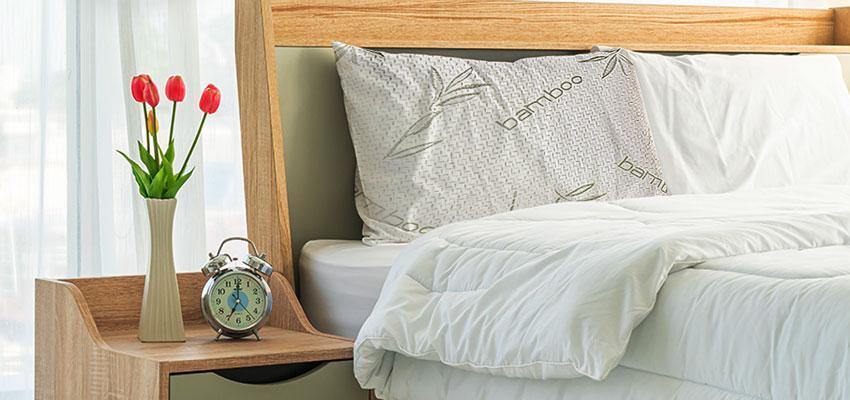 Sleeping is a rejuvenating exercise. It freshens up the mind and body. A good sleep lets a person gear up for a new life. The baggage and burdens are put into the bin with good sleep. This can happen with the involvement of a Bamboo Pillow. Sleepsia Pillows come with wonderful advantages that provide a complete sleeping experience. Before dozing off to sleep, the entire family should ensure the availability of comfortable pillows to sleep. Everyone should scream, "Let's sleep with Sleepsia Bamboo Memory Foam Pillow!"
What makes Bamboo Memory Foam Pillow Different From Other Pillows?
The regular pillows are being dragged. They are just kept in the house for no benefit. Synonymous with an appendix, these have no role to play but exist. Why not remove the old pillows and make a place for a new Bamboo Pillow? It is because the supreme quality and highly durable pillow with the power of bamboo is magical. It heals a user and spreads happiness. The Bamboo Memory Foam Pillow ensures good health and hygiene. It is made up of a fresh and airy bamboo cover along with shredded memory foam. All these features make this Sleepsia Bamboo Pillow a special one.
Unveiling Benefits of Bamboo Memory Foam Pillow
Let us lift the curtain from the benefits of the special shredded memory foam pillow. The advantages are as follows:
A Cervical Pillow: It keeps the head, shoulder, and spine relaxed. It protects the user from muscular pains and cervical pain.
An Ortho Pillow: The Bamboo Memory Foam Pillow supports the body and minimizes the chances of pains in legs, thighs, etc. It is because of the foam inside the pillow that provides support during pains.
A Flexible Pillow: Sleepsia Bamboo Pillow is super flexible and malleable. The shredded version of foam molds as per the requirement. Unlike old rigid pillows, this is a special one.
A Hypoallergenic Pillow: The bamboo cover of the pillow is breathable. It doesn't allow the allergens to attack the user. Therefore, this Bamboo Memory Foam Pillow protects the user from allergies.
A Stress-Buster Pillow: The shredded memory foam and the bamboo cover give an out of the world experience. The user sleeps conveniently, forgetting all the tensions. This is a stress buster pillow.
This is a super pillow. It protects the user from other issues like Sleep Apnea, Spondylitis, Stiffness in muscles, etc. It also cools down the temperature. It provides a suitable and bearable temperature to have a deep sleep.
Sleeping Becomes Easy With Bamboo Memory Foam Pillow!
This special pillow is really helpful in providing a calm sleeping experience. It holds the body softly. A comfortable platform is what is required after a tiring day. The Bamboo Memory Foam Pillow is indeed a great choice in terms of sleeping to stay relaxed. Choose a King Bamboo Pillow, or a Queen Bamboo Pillow, or a Standard Bamboo Pillow! It is your wish. Choose an Adjustable Pillow, or one-pack Bamboo Pillow or two-pack Bamboo Pillows! This is also one's choice. Sleepsia Pillows give a great choice to its users.
Conclusion!
The Sleepsia Bamboo Pillow which comes with the filling of shredded memory foam is tremendous. Making it a part of life is a great decision. Therefore, visit our website www.sleepsia.com and order the best pillow for you and your whole family. Show the way out to all the useless old pillows. Give us a call on 1800-862-1084 in case of any query! We are always here to assist you!
So, scream out a loud, "Let's sleep with Sleepsia Bamboo Memory Foam Pillow"!
---
---