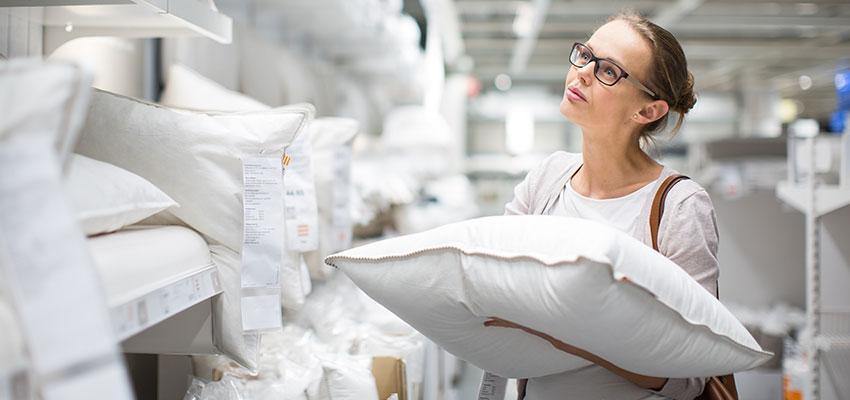 To stay fit and healthy, get the essential sleep with a perfect pillow. A good sleep makes you strong mentally as well as physically. A good and reliable sleep needs a perfect pillow which well-known how to hold your body while sleeping throughout the whole night.  To choose the perfect pillow as per your sleeping posture, you need to know about some important things. These things guide you to choose the perfect pillow. This blog will help you to choose the perfect pillow.
In the market, you find huge choices of the pillow with its amazing specification. You may get little confusion about which pillow becomes the perfect choice for you. A pillow is a good support if it is a perfect choice then you get relief from many health issues with most comfortable support. Among all choices, Memory Foam Bamboo Pillow becomes the perfect choice and most preferable pillow all around the globe. It is one of the adaptable pillows which is filled with shredded bamboo memory foam. These amazing specifications know how to make your sleep comfortable and reliable along with the fresh environment 
Guidance on Choosing the Perfect Pillow
To pick the perfect pillow, you must know about these steps. These steps help to know about that which pillow is perfect for you according to you, just go through with them
The first thing to do consider your sleep style: When purchasing the perfect pillow, start with your habitat sleeping position. Do you for the most part rest on your back, side, stomach, or a blend of every one of them? Back sleepers need a medium-thick pillow to keep the head, neck, and spine pleasantly adjust comfortably. The ideal pillow for side sleepers is a somewhat thicker, firmer pillow which is ideally packed with perfect dimensions. Finding the ideal pillow for stomach sleepers may mean not accepting a cushion by any stretch of the imagination. A stomach sleeper as of now puts a strain on your lower back; raising your head can make it progressively extraordinary. Blend sleepers, the individuals who move from back to side to side and will need a medium-thick yet milder pillow that can use serenely in various positions.
Consider perfect pillow size: Pillows arrive in a nearly puzzling cluster of sizes and shapes. The most preferable perfect pillow introduces different sizes for getting a restful sleep such as standard cushion (20" x 26" x 5"), King Pillow (20" x 35" x 5") and the Queen Pillow (20" x 28" x 5").
Guidance on pillow estimations: The tallness of the gusset comes along with a piece of texture sewn around the edge of the pillow, between the top and base parts. A perfect pillow "lofts" better and occupies the space between the sleeper's head and shoulders. Regardless of whether the producer unequivocally calls out the gusset in estimations ought not to influence how well the pillow fits in the identically with accurate measurements
Notwithstanding standard sizes for resting, you'll additionally find the claim to fame pillows, similar to the square-mold cushion. For the most part, specifically use for the stylistic theme and perusing, and the extra-long body pillow that can be put between your legs for hip and lower-back help. It's particularly valuable during pregnancy or in the event that you experience the ill effects of hip agony around evening time.
Obviously, you can blend and match pillow sizes to make an intriguing planner look, with a king, Queen, or standard size pillow in the back, a little pillow position in the front, and actually any mix that suits your extravagant. Then again you may basically need to have diverse cushion alternatives for quite a long time when you need more help than on different days.
Pick the best pillow filling: With regards to picking a pillow filling, the primary thought ought to be any clinical issues you may have, for example, asthma or sensitivities, or neck and back agony, which may direct you to one sort of material or development over another. These are the most widely preferable pillow fillings:
Memory foam: Made from polyurethane, adaptable foam offers great help, particularly on the off chance that you have neck, jaw, or shoulder issues. In spite of the fact that adaptable foam adjusts well to your head and neck, the material doesn't "inhale" and can cause you to feel hot. The adaptable foam likewise can set aside an effort to re-form into various shapes on the off chance that you move around a great deal in your rest.
Down or quills: These cushions are load up with the delicate inward plumes of geese or ducks. Down is exceptionally light and offers little help, while quills are normally harder and may even jab through the texture of the pillow spread, or ticking, in a lower-quality pillow. A few people evade down or plume pillows in view of sensitivities.
Latex: Made from the sap of elastic trees, normal latex is hypoallergenic and impervious to clean bugs and mold. Latex is responsive and gives forming bolster that adjusts to your head and neck. That is the reason we pick 100% Talalay latex for the center of the Saatva pillow. Since it's progressively breathable, Talalay latex likewise will in general be cooler than different kinds of latex or flexible foam.
Microbead: These pillows are made of minuscule unexpanded polystyrene (EPS) dots that offer hard help, habitually use for movement neck cushions.
Manufactured fill: A down other option, a pillow filling is typically produced using polyester material and is hypoallergenic and machine washable.
Cotton or Fleece Filling: Natural fleece and natural cotton are choices on the off chance that you experience the ill effects of serious hypersensitivities, as these materials are not helpless to tidy bugs or form. Be that as it may, they are regularly very firm and don't pack well.
Why does a Perfect Pillow Matter for Good Sleep?
Perfect pillows are considered to be the most important ingredients to get a good sleep. A perfect pillow holds your all twists and turns very softly. You get relief from all pressure point issues such as the neck, head, and shoulder pain. It matters to get a comfortable and reliable sleep with adaptable support. 
Have a look at Health Benefits of the Perfect Pillow
The perfect pillow isn't just ameliorating and causes you to rest better, but on the other hand, it's helpful to your spine health issues. It assumes a significant strong job for your whole body head to toe, including your spine, neck, shoulders, and back. It assists with keeping your whole body in an arrangement. By a long shot the most beneficial alternative for a great many people, sleeping on your back permits your head, neck, and spine to rest in an unbiased position. This implies there's no additional weight on those territories, so you're less inclined to encounter torment. The sleeping position confronting the roof additionally becomes a perfect situation for warding off heartburn.
Need any help or advice?
The above information is enough to know about how to choose the perfect pillow. To get full advantage of your choice pillow, go to this website www.sleepsia.com and order your bundle of joy to get healthy and restful sleep. If any query in your mind or any issue you face while ordering, just dial 1800-862-1084. They will help you as well as guide you that as per your wishes which pillow becomes the perfect choice for you.
Related Articles from Sleepsia Blog
---
---