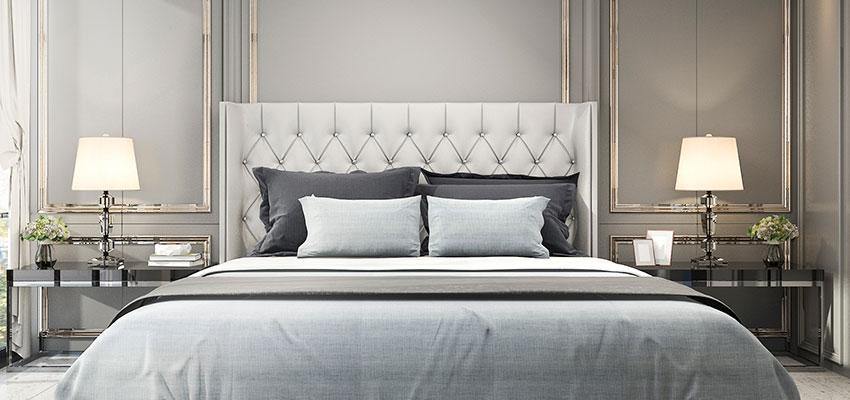 Sounds interesting? Seems unimaginable? Well, it is true! We all have heard of interior décor with wall paintings, huge vases, and antique gifts. But this is different and trust us, it is amazing! Room Décor is possible with pillows too. The only difference is that the pillows need to be of good quality, high flexibility, and should be super comfortable. Other interior décor items like paintings, glass items, etc. may enhance beauty but somewhere lack usage. Why not opt for pillows which enhance not only the beauty of the room but also add to the comfort? So, let us explore the most unique master bedroom design ideas with Bamboo Pillows.
How Do Bamboo Pillows Enhance Beauty Of The Bedroom?
First of all, we need to know what features do Bamboo Pillows have. Their benefits and specifications shall provide us more clarity.
Made Up Of Shredded Memory Foam: These pillows are made up of memory foam which is put inside in the shredded i.e pieces form. This helps the pillow regain its size again. This makes the pillow malleable and flexible.
Come With Washable Covers: These pillows come with washable bamboo covers. These covers make the pillow hypoallergenic and hygienic. These covers are washable, airy, ventilated, and comfortable.
Come In Three Sizes: The Bamboo Pillows come in three sizes which are King Size, Queen Size, and Standard Size. The Queen Size is purposeful for King Bed while the Queen Size is purposeful for Queen Bed. Out of these Queen Size seems apt for interior decor purposes which we shall discuss further.
Come With Other Specifications: Well, these pillows are available as Adjustable Bamboo Pillows too. These are special because the shredded memory foam stuffed inside can be taken out from the zip bag if not needed. The taken out shredded memory foam can be stored and later put in again if required.
These Mold As Per User: Unlike old pillows, these pillows hold the head, neck, and back comfortably. These take shape and mold according to the area of the body exposed over it.
So, now we know how the Bamboo Pillows look and what all features they have! Let us begin with the makeover of the master bedroom! And that too with these beneficial pillows!
Room Décor and Makeover With Bamboo Pillows!
Read these creative pointers and experiment to make your room look lovelier and prettier!
The King Pillows are of the size 20"×35"×5". These are the bigger pillows that look stunning and grand on a King Bed in the master bedroom. Place two-pack King Bamboo Pillows right in the middle of the grand bed, and you are good to go! It will give you a fantastic look. Moreover, these will also be beneficial in terms of providing a soothing sleep.
The Queen Pillows are of the size 20"x28"x5". These pillows look perfect when placed on the couch or a sofa in the master bedroom. Sipping a cup of coffee while sitting on the couch, placed near a window will be a great experience. Imagine the comfort levels while sitting on the couch or sofa! Nice warm colored curtains will add to the charm.
Standard Pillows are slightly smaller than those. But don't underestimate their beauty. Placed along with big Bamboo Pillows, these will complement the entire bedding or sofa. Also, if you like creativity, you may add colorful covers upon these. These come with washable covers but adding some colors won't harm. Remember to wash those covers frequently. It is because Bamboo covers are hypoallergenic and don't cause allergies. These are highly durable and stay for a lifetime.
Apart from this, you may keep the entire room colorful but keep the bedding light and white. This will provide a soothing effect. These pillows can also be used on floor bedding. It also looks trendy!
Conclusion!
We all are aware of the health benefits of these pillows. We all know how shredded memory foam supports health. But these pillows have the power to turn the boring master room into a lively one! Order these fabulous pillows from our www.sleepsia.com and give us a call on 1800-862-1084 to know more about it! Any questions, any query, feel free to ask!
Now that you know most unique master bedroom design ideas with Bamboo Pillows, then get started! Spread some magic and convert your boring room into a healthy, comfortable, and beautiful room!
---
---