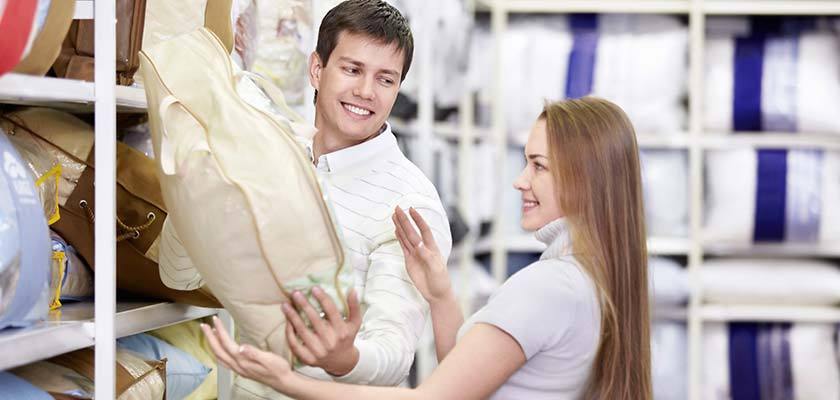 The market is flooded with pillows. But which ones are the best? Which ones are highly advantageous? Undoubtedly, Shredded Memory Foam Pillows stand out the best. These are perfect pillows in terms of providing health and comfort. There can be many pillows promising memory foam but the presence of shredded form makes it better. The pillows filled with this special foam take up the shape and mould as per the body of the user. This feature is very rare. Thus, it becomes necessary to buy such pillows. But, from where? There are tons of options but which one is the best? Let us know where to buy Shredded Memory Foam Pillow!
East or West, Sleepsia is the best!
Not bragging at all, but speaking with facts! The pillows you buy from here are not only your best buddies but your lifelong mates. There are many reasons to say so! Let us know these reasons:
Durable: The material used is highly durable. With the promise of life long support, the Bamboo Pillows of Sleepsia, slip into the lives of the users with the motive of providing comfort. The cover of these pillows is washable. It is airy and super breathable. Thus, it does not let any allergens cause unfriendly reactions to the user while sleeping.
Doctors: The Shredded Memory Foam Pillow is no less than a doctor or a health expert. The only difference is that it does not recommend any medication. Such types of pillows believe only in healing. These pillows believe in supporting the bodies of the user to shun down tiredness, muscle pains, or stiffness. These pillows beat up severe issues of cervical, migraine, and even asthma. These are great as Cervical Pillows!
Clean and Tidy: These tend to remain hygienic and work to keep the user also clean and tidy. Made from high quality of shredded memory foam and bamboo, the Bamboo Pillows ensure smooth flow of air, without any blockage.
Easy To Maintain: These stay for a lifetime and do not ask for much. Only keeping these away from direct sunlight, excessively hot water, and washing machines are recommended.
How are the Sleepsia Pillows different from other pillows?
Shredded Memory Foam Pillows from Sleepsia are different from all other pillows in several ways. These pillows intend to support the user in all possible ways. Regular pillows are either hard or not adjustable at all. On the contrary, these pillows take up the shape. These are available in three sizes of King Bamboo Pillow, Queen Pillow, and Standard Pillow. Moreover, the user gets the benefit of ordering adjustable pillows too. Also, one-pack pillows or two-pack pillows! All these benefits make Sleepsia pillows unique! The users can benefit from these pillows for a stress-free life. Rare are pillows that take care of the body and mind as a baby. For sure, the user feels light and on the top of the world while using these pillows.
Conclusion!
If you wish to buy these stupendous pillows, your search is over. The answer to your question of, 'Where to buy Shredded Memory Foam Pillow?' is here! Order your package of ultimate comfort from our website www.sleepsia.com and do not shy away from contacting us on our number 1800-862-1084 for questions or queries! Our team is always there to support you irrespective of anything. Sleepsia team has always focused on giving its users the best pillows. The focus has always been to take care of its users who are a family to them!
Wishing you a healthy life, a sound sleep, and a stress-free routine with the power of these magical Bamboo pillows!
---
---