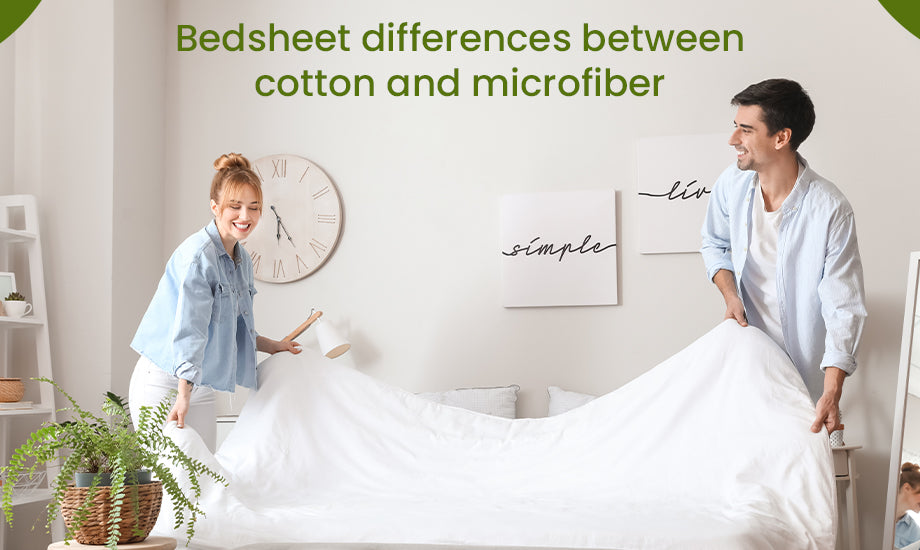 Everyone yearns for restful sleep and relaxation after a long, exhausting day. Everyone searches for the softest, most comfortable bedsheets they can find in an effort to relieve themselves. To learn the greatest strategies for getting quality rest, read this blog post.
Microfiber bedsheets are essential for giving you comfort and support as well as protecting your pricey mattress. Although there are many different bedsheets available in the market made of various materials, cotton and microfiber bedsheets are the most effective. Although there is a small difference between cotton and microfiber bedsheets, Sleepsia microfiber overtakes the competition because of its qualities.
What are Microfiber bedsheets?
Microfiber threads consisting of nylon, polyester, or wood pulp are used to weave bed linens. They are still comfortable and affordable while being more durable than typical polyester sheets. Microfiber is less prone to wrinkle or shrink than 100% natural textiles like cotton.
Advantages of Microfiber sheets:
It requires less maintenance.
It is a firmly knit, stron, and flat microfibre.
It is flexible and thin.
Negative aspects of microfiber sheets:
It absorbs moisture which makes it impermeable.
It is prone to stains.
It absorbs heat and is static.
Waffle-patterned microfiber is porous to moisture.
What are cotton bedsheets:
Cotton is recognised as the most adaptable material due to its capacity to be transformed in a variety of ways and used in a variety of ways—as hard or soft, sturdy or weak. The best cotton sheets have a softer, longer, finer, and more resilient fabric. These bedsheets are said to contain longer staples. These sheets' higher thread counts result in more cotton fibres per square inch of fabric.
Cotton sheets have several benefits:
Available in a wide range of price points and extravagant and luxurious styles.
Its natural fabric is advantageous for allergy patients, requires less maintenance, is sturdy, moisture-resistant, and breathable.
Cotton sheets have the following drawbacks: -Potentially exaggerated thread counts
Cotton and microfibre differences in bed linen:
Moisture Absorption: Microfiber sheets absorb less water and remain wet for a longer period of time than cotton sheets, which absorb more water but don't feel as moist.
Durability: Microfiber sheets hold up better than cotton ones over time.
Cost: While both products have a range of prices, microfiber sheets are a bit less expensive and have a longer shelf life.
Maintenance: Both can be machine washed, making them simple to keep clean, though stains on Microfiber sheets can be challenging to remove.
Microfiber sheets from Sleepsia are available now to address all of your issues. This one item from Sleepsia will not only protect your mattress but also raise your standard of living and improve the aesthetic of your home.
Sleepsia Microfiber bedsheet
Sleepsia designed a microfiber bedsheet with a range of characteristics that work together to provide you all the benefits to make your life easier. It is made in such a way as to be Supersoft and durable. By absorbing heat, it generates warmth and encourages sound sleep. Its skin-friendly fabric lowers the possibility of allergies. The cloth is permeable, providing a pleasant feel and reducing rashes and irritation to skin that comes into direct touch with the bedsheet. Even after multiple washings, the exceptional Sleepsia Microfiber bedsheet maintains its excellence.
The Sleepsia microfiber bedsheet is Supersoft and durable due to its 1800 thread count. Thus, your life becomes more calm and comfortable. The colours grey, white, and ivory are available in twin, twin XL, king, queen, and California King sizes. It offers a wide range of added features and benefits while meeting all of your demands and preferences.
Features of Sleepsia microfiber sheets:
Breathable Material
Sleepsia Microfiber is breathable while being synthetic. This cloth decreases body temperature while keeping you cool and cosy all night long by wicking away heat and sweat. Water cannot penetrate Sleepsia microfibre because it repels it. Because microfiber wicks away moisture, it is used in sporting gear to keep athletes dry and comfortable.
Supersoft Fabric
This fabric is exceptionally soft and is made of sheets of superior microfibre that are intertwined with fine threads. The finished bedsheet is cosy and incredibly soft to the touch.
Long-lasting
Because Sleepsia Microfiber bedsheets are so durable, you have to spend real money to get a high-quality item that won't need to be changed for a long time. You decide not to buy any more money as a result.
Traditional Cloth
To ensure you have the best sleep possible, the Sleepsia Microfiber bedsheet is comprised of a remarkable smooth and breathable substance. It calms you down, which contributes to the environment's overall tranquilly. It becomes anti-allergic due to its permeability, shielding your body from allergies and rashes.
Size-appropriate
A big Sleepsia Microfiber bedsheet should be used with a mattress that is up to 16 inches in diameter. It comes in a number of sizes, so you can choose the one that best fits you and conveniently covers your mattress.
Machine Washable
Sleepsia Microfiber bedsheets are simply machine washable, making them simple to maintain and environmentally friendly. This microfiber bedsheet may be quickly and easily cleaned in the washing machine. If you quickly dry it after washing it, you can use it again right away. Additionally, make sure to wash it well to get rid of any soap residue. It doesn't wrinkle up after washing, which makes it appear fantastic.
Luxurious appearance
They give your property a rich appearance, which increases its appeal. It is available in traditional colours that enhance the appearance of your space. It raises the standard of your sleeping environment and gives your house a fashionable appearance.
Perfect Production
Sleepsia Microfiber Bedsheet is made under close monitoring and observation to ensure the faultless final product of the items. To avoid any form of flaw in the end product, its production process is carried out with extreme precision. User satisfaction is guaranteed once the product is produced.
Perfect Fit
Because it comes in a variety of sizes, it fits your mattress just right. All mattresses can suit a Sleepsia Microfiber bedsheet because it is true to size. It doesn't move from its position and is simple to install and uninstall. After washing, it doesn't wrinkle, so its size stays the same and doesn't shrink.
Allows you to sleep in any position
It makes any sleeping position more comfortable. Both sleeping on one's stomach and on one's back are encouraged. It promotes healthy sleep by adding more softness and comfort.
Conclusion
It protects your mattress while still providing support and comfort. Its design is good enough to provide your house a lovely appearance. It makes your mattress more supple and protects it.
In terms of features and a price that works for you, the Sleepsia Microfiber bedsheet performs better than any others. You can bring it home with you with the assurance that you'll live simply and sleep soundly every night.
---
---