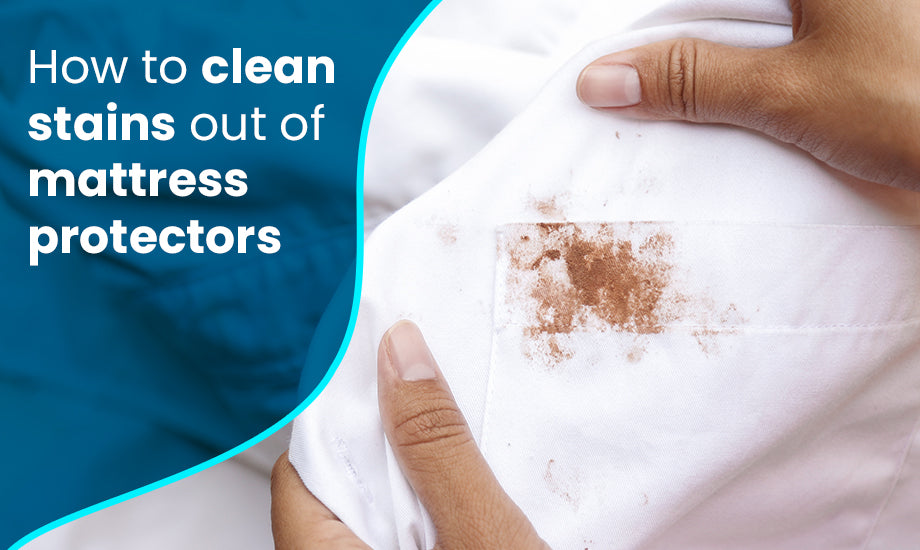 Mattress protectors are made specifically to protect your mattress. Your mattress is protected by them from spills and bacteria because they act as a barrier. They serve as protective covers that prolong their life and keep your mattress from being damaged. In addition to protecting your mattress, they provide you with more comfort and support. They give your body a gentle touch, allowing you to have a restful, healthy sleep. However, the issue of how to save these guards arises. Know more, read this blog post.
Mattress protectors from Sleepsia
Sleepsia makes mattress protectors with features that make your life simple in order to protect your favourite mattress.
The items on the earth become covered in all the dust that has gathered in the air. In addition to these particles, there are other microorganisms in the air that cannot be seen with the naked eye. They adhere to our bedding and then result in health problems. Due to their nature, mattress protectors stop the buildup of these dust mites and bacteria. Because they are removable and simple to reattach to the mattress, Sleepsia bamboo mattress protectors are made to be very easy to clean.
Benefits of Using Sleepsia Mattress protector
When you're too exhausted to get out of bed or too lazy to dine at the table, you can just choose to sit on your bed. This demonstrates unequivocally that this may also result in your mattress being dirty. Because they can only stop a small percentage of spills from getting into the mattress, bedsheets are not very useful. However, a mattress protector will completely stop dust & dirt from adhering to your mattress. It gives your support and comfort thus helping you in a restful sleep.
The Queen-sized, white Sleepsia bamboo mattress protector is made of bamboo. It shields your mattress from spills and damage and measures 60 by 80 inches. It has an 18-inch deep pocket mattress cover made of very soft, breathable fabric for comfort and safety. This is waterproof and simple to clean.
How to remove stains from Mattress protector
Cleaning this mattress protector is easy. It can be removed and then placed back on the mattress very easily. It dries rather rapidly and may be machine washed. Machine washing is an option, which greatly reduces the labour and time requirements. Additionally, you can save money by cleaning it yourself at home without hiring help and not paying a lot to have it done. Let the machinery look after itself. This mattress may be machine washed and dried without any harm. It also consistently maintains the freshness of your bedding.
Apart from this feature it has various other features which make it a must have stuff.
Special Features of Sleepsia Mattress Protector:
1) Made up of layers of Bamboo
Anything spilled on a mattress could rapidly become dirty, as evidenced by the bamboo mattress cover. It could get unclean and contaminated due to airborne dirt, bacteria from our clothing, or any object left within. Your cherished mattress is protected from spills, stains, and general wear and tear by the Sleepsia Premium Mattress Protector. It maintains your mattress's cleanliness and keeps objects off of it. To finish the layer and prevent dirt and bacteria from accumulating, bamboo is utilised. With the aid of this product, you can get the comfort and restful night's sleep you require.
2) Waterproof construction
It is waterproof since it is made of layers of bamboo. As a result, moisture doesn't accumulate inside the mattress and liquids are kept out. Your bed's durability and toughness allow you to utilise it stress-free. The mattress has a second line of defence surrounding it. You can save money on repairs by shielding it from liquids and minimising their seepage into the mattress.
3) High-quality Substance
A soft, moisturising material is used to manufacture the mattress. This stops all allergic reactions and skin rashes of any kind. It soothes the skin and gets rid of any irritation that the unlucky fabric may have caused. The remarkable mildness of the Sleepsia bamboo protection leaves the skin with a pleasantly smooth finish. It feels pleasant against your skin because of the hypoallergenic material utilised in its creation. The softness of it encourages better slumber. For people of all ages, from kids to adults, it is a cosy option.
4) Good Elasticity
Our Sleepsia mattress protector is incredibly elastic because of its design. It makes straightforward corner tucking easier. It retains its position and fits your mattress well, so you won't have to continually tuck the edges to keep it in place. The borders can be tucked in using elastic to remain in place throughout the night even if someone is sleeping. The fabric's high degree of stretchability and elasticity ensures a perfect fit for you. Thanks to its excellent breathability and capacity to promote airflow, you will stay cool and healthy while you sleep.
5) Perfect Manufacturing
The product is created using standardised processes and under close supervision. After completing each process, the best product is then handed to it with a firm guarantee of the best possible result.
6) Enhances Look
It is offered in white, which is a beautiful colour to give your home an upscale appeal. By utilising this mattress, you not only simplify your life but also improve the aesthetic appeal of your house. It not only provides protection for your mattress but also a great appearance for your bed.
Our Sleepsia Mattress protector thus serves as a blessing and a haven of comfort for you to promote sleep in addition to protecting your mattress.
With such a low price, it is a handy item to buy right away and bring home. Make use of this incredible Sleepsia solution to increase the lifespan of your mattress and lead a straightforward, uncomplicated existence. It's simple to place an order for this item on Amazon. You can either visit the cited website or conduct an online search.
---
---