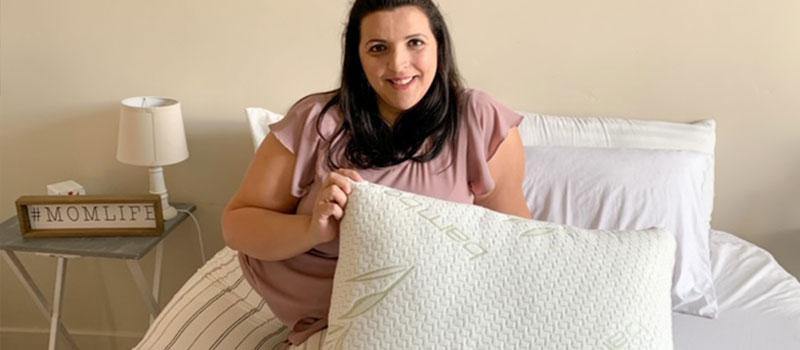 Bamboo hails from the family of grasses! The rhizome dependent system makes it grow tall and makes bamboo one of the fastest-growing plants! These might grow an inch in every forty minutes as per the popular information hub, Wikipedia. Isn't bamboo an amazing grass? It is indeed. Bamboo is grown to obtain many products including furniture, construction material, designer items, home accessories, bedding material, etc.
The pulp of the bamboo is obtained and processed into fibers. These fibers are further converted into bamboo fabrics. So, if the question arises in your mind, "How Bamboo Fabric Can Help Soothe Sensitive Skin?", then take a deep breath and read below to know about it. The obtained bamboo fabric is popularly used in the making of shredded memory foam bamboo pillows. This protects users from all sorts of allergies. Hence, bamboo fabric is the desired type of fabric these days.
Bamboo Fabric In Shredded Memory Foam Bamboo Pillows Protecting From Allergies!
The ones having sensitive skin or the ones who are prone to allergies can take benefits from these pillows. These pillows are hypoallergenic. Hypoallergenic is something that doesn't let the pollens or allergens affect. These pillows are made out of bamboo fabric that makes the pillows:
Highly Breathable: It leaves no chances of bad odor. So, no irritability due to the strong smell. Sensitive people don't face issues. Moreover, the shredded memory foam bamboo pillows are super airy. These increase the air circulation and lower down the chances of sweating.
Highly Recommended: The ones who are sensitive enough to be caught in the trap of these tiny microbes that hide in the fabrics, can't feel any problem. These pillows are highly recommended for those who have high sensitivity.
Bamboo Fabric Guarding Sensitive People!
The bamboo fabric is naturally obtained. It has the properties of fighting with the pollens, allergens, microbes, bugs, etc. that are not even visible with naked eyes. Bamboo also grows naturally. It doesn't need any fertilizers or so to grow. Hence, it is suitable for humans. The best part is:
Bamboo Focuses on Afforestation: It improves the strength of the soil and converts the futile land into the evergreen one.
Bamboo Believes In Making The Environment Airy: It gives out more oxygen and makes the environment super breathable and fresh.
Bamboo Helps In Climate Change: Bamboos are responsible for limiting the effects of global warming.
Bamboos are highly beneficial. Just imagine how the fabric obtained from such advantageous plants will also be highly beneficial! So, as of now, we all have some idea about, 'How Bamboo Fabric Can Help Soothe Sensitive Skin.'
Allergies, Sensitive Skin, And Health Hazards With Bamboo Fabric!
One faces these allergies due to several reasons. The symptoms can also be different. Bamboo fabric plays an important role here. Usually, these allergic reactions are due to the allergens that hide in curtains, pillow covers, bed-sheets, mattresses, etc. A warm atmosphere is the breeding ground for such allergens. However, bamboo makes the surroundings cool, fresh, breathable. These allergies might take place due to:
Hereditary: A family history of allergies is a big reason.
Age: Growing age i.e adolescence is a gateway for allergies.
Dust Mites Creating Issues: This is the common reason that can be shunned with the inclusion of bamboo fabric in products, especially with the inclusion of shredded memory foam bamboo pillows.
Also, it is important to know what sort of reactions one can face. It can be
Irritability
Insomnia
Red eyes or irritating eyes
Running nose
Asthma, blockage in the air passage
Skin Irritation, Eczema
Sore Throat
Fever, Headaches, etc.
Choose Shredded Memory Foam Bamboo Pillows With Breathable Bamboo Fabric To Safeguard Your Loved Ones!
Skin is the most important. Irritable skin, rashes on the skin, or other signs of allergies on the skin are to be given immediate attention. Sensitive people should always carry their bamboo fabric pillows while traveling. People are at high risk of being caught to allergies while exploring new places. So, it is highly advisable to opt for these shredded memory foam bamboo pillows that have the breathable and hypoallergenic bamboo fabric.
Conclusion
Don't waste even a single minute in searching for the answer to the question-'How Bamboo Fabric Can Help Soothe Sensitive Skin?' You know the answer! For you, for your loved ones, and everyone, order the lovely shredded memory foam bamboo pillows full of shredded memory foam that lets the pillow mold as per the body type. Order it from www.sleepsia.com, and give us a call on 1800-862-1084 to know more about it. Team Sleepsia is available for your help!
Wishing you all a very happy, healthy, and peaceful life ahead!
---
---