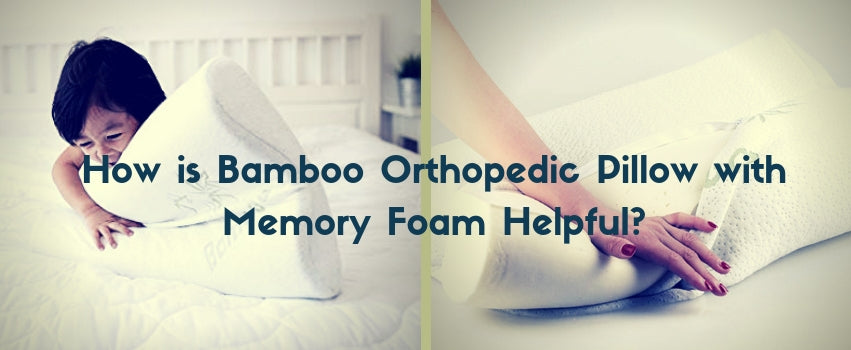 A bamboo orthopedic pillow is a grouping of bamboo-based viscose outer shell with shredded memory foam inside to offer ultimate comfort. This terrific pillow is hypo-allergenic and environmental-friendly that is highly recommended by the Physician to ease the health & sleep issues like snoring, neck pain, breathing problems, asthma, allergy, stiffness, insomnia, TMJ, & migraines.
The Bamboo pillow cover is extremely comfortable and enjoyable to sleep on. The cross-section of the bamboo fiber is made with a variety of micro-gaps and micro-holes causing superior airing and moisture absorption.
Related Article: Range of Pillows that Suit Your Needs!
Some Specifications of Bamboo Pillow that makes it perfect for you:
Superior Comfort: Bamboo Orthopedic Pillow has an extra breathable micro-vented cover, Organic bamboo fabric, and an advanced Ventilation System that ensures absolute relaxation.

Ultra soft Shredded Memory Foam: This pillow is ultra soft high-density memory foam designed with premium ventilated extremely soft. Therefore, it offers ultimate comfort and support. It adapts according to your body shape and helps in pain-relief & supportive sleep.

Health benefits: Bamboo memory pillows have several health benefits since it is anti-bacterial and hypo-allergenic. The Physicians usually recommend bamboo pillow to patients with neck pain, insomnia, Asthma, breathing problem, stiffness and migraines since it is eco-friendly.

Antimicrobial: The bamboo orthopedic pillow is the perfect choice for everyone due to its antimicrobial properties and principally for people with sensitive skin and allergies. It also protects against bacteria, fungus, dust mites, and other allergies for a pain-free sleep.
Read More: Get an Eco-friendly Sleep with Bamboo Pillows!

Perfect for all sleeping positions: Irrespective of your sleep positions, the orthopedic pillow offers great support.

Flexible: Bamboo pillow is crammed with shredded memory foam and Bamboo zipper cover. This makes it uncomplicated to standardize circulation according to sleeping positions.
Clear your Doubts with Sleepsia Experts

Sleepsia is a reliable brand delivering Bamboo Orthopedic Pillows across the US with hassle-free delivery and in reasonable prices. It is usually seen that discomfort and pain lead to several sleepless nights and many other sleep issues. Thus, to avoid further complications it's quite essential to select the most ideal pillow for you according to your own health needs. To purchase the most preferable pillow from Sleepsia, simply visit the Sleepsia official website sleepsia.com and place an order from the wide collection. Call at 1800-862-1084 to clear all your doubts.
---
---