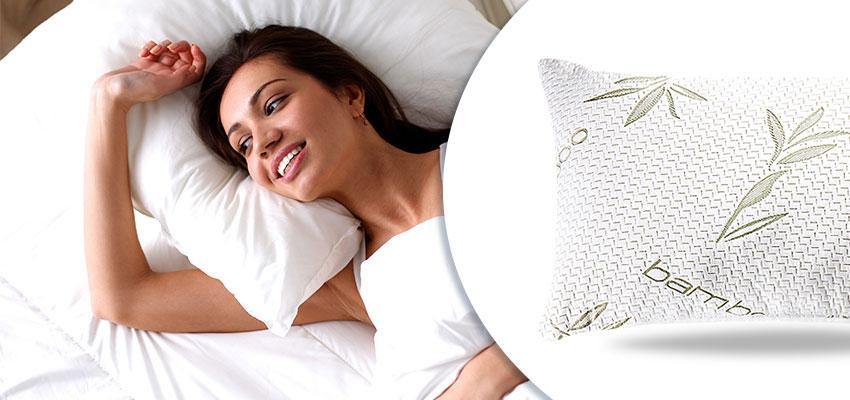 The words of Mason Cooley said, "Three meals plus bedtime make four sure blessings each day." Sleep has been specially mentioned here. Undoubtedly sleep is a blessing. After a rough day, when one gets to cherish a sound sleep, it is indeed a great peace. It is really important to have a soothing bedtime to live life to the fullest. This becomes possible only with appropriate pillows. Pillows have a great role to play. One can not take the pillows for granted. Hence, to avail of all the advantages, the user needs to chuck out the old pillows and create a way for new memory foam pillows. The benefits of Bamboo Pillow make the lives of the users comfortable and easy. Let us know more about it.
What is the Role of Shredded Memory Foam?
These powerful bamboo cover pillows come with a special type of foam. This type of memory foam is filled in its shredded version. The 'chunked' version of foam is super beneficial. This foam has healing and magical properties. These help the user to fight back the restlessness and have a sound sleep. This foam has many capabilities. Those are as follows:
It provides relief to the body parts resting upon it.
The support is distributed evenly. As a result, the body doesn't feel pressure because weight is spread across smoothly.
It is malleable. This foam can be reshaped and re-adjusted to get the desired shape of the pillow.
The shredded memory foam is healthy and helps in controlling the temperature too.
Undoubtedly, the pillows made from this foam are one of its kind. Sleepsia Pillows come with the power of this special type of foam.
How Does a Bamboo Pillow Heal?
The Shredded Memory Foam Pillow with the bamboo covering helps its users in several ways. It supports as a friend and fights with health hazards like a foe. Let us know more about its healing process!
Psychologically Beneficial: The times are depressing these days. Stuck in lockdown, watching negative news every day, and thinking about the future has affected the sleep cycle of many people. It is really important to have a comfortable pillow to depend upon for comfort. The Bamboo Pillow provides a calm and content experience. As a result, the user dozes off to sleep. The sleeping experience is unbreakable and psychologically advantageous.
Enhances Physical Health: These pillows help in relaxing muscles. It is because the shredded memory foam does not exert pressure on the body. It takes up the shape of the body part exposed to it. These pillows are true cervical pillows. These pillows help the body's wear and tear to end. Swollen body parts witness rest when exposed to these pillows. The head, the neck region, and the shoulders if undergoing pain also relax.
Other Benefits: The Bamboo Pillows are all-rounder pillows. These have a major role to play in terms of enhancing the quality of sleep. Of course the quantity and sleeping hours matter. But the quality of sleep also matters. Deep and sound sleep is very important. These memory foam pillows are appropriate for everyone. Whether someone is a back sleeper, or a stomach sleeper, or a side sleeper. Every type of user can avail of benefits from these pillows.
Features of Shredded Memory Foam Pillows
The pillows are filled with foam as said before. Then these are covered with bamboo covers. The cover comes with a zipper and can be removed to wash. The bamboo covering gives a great breathing experience. This doesn't let the user feel blocked breathing passage. The cooling effect and a smooth flow of air shuns down insomnia and snoring too. The cover is a protective shield against several allergens. Thus, it can be termed as a fantastic hypoallergenic pillow. The shredded memory foam resides inside this cover. In the adjustable bamboo pillows, the foam can be removed or added according to the wish of the user. This gives an option of customization. Also, the Bamboo Pillows are great in terms of being hygienic. Ventilation is another feature of these pillows.
Conclusion
These pillows are truly amazing. The King Size, The Queen Size, and The Standard Size pillows are great in their ways. All of these hold the same strength. The difference in size doesn't lessen its powers. It is only for providing variety to the users. It is available in a one-pack or two-pack as well. Not many pillows come with such a huge package of benefits.
Not wasting even a moment, we would like to ask you to go to our website www.sleepsia.com and order your Sleepsia Pillows. We have come to know about the benefits of Bamboo Pillow. The advantages of this super quality and highly durable pillows are endless. These definitely should be included in the lives to have a healthy, happy, and soothing life.
Dear friends, we all are always there to help you. Contact us on our number 1800-862-1084 to know answers to all your confusion or questions. Wishing you all a very happy sleep with Sleepsia Pillows!
---
---