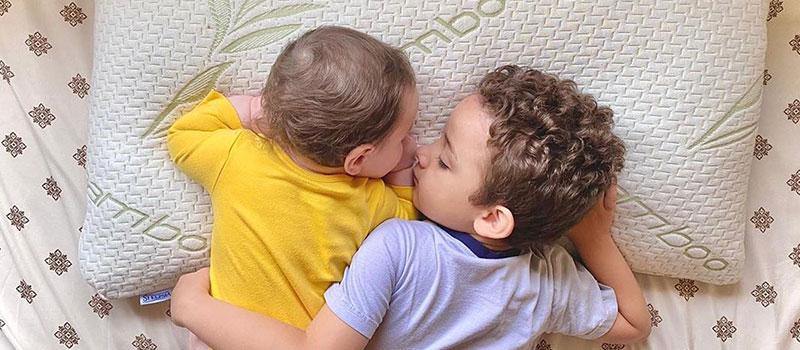 SleepSia Bamboo Pillows are not boring pillows that are only recommended by health experts. These are the attractive and beautiful pillows that are also recommended by the interior designers. Do you know why? It is because these fabulous pillows not only soothe your sleep or give you health, but also shine in your bedrooms to make it look stunning!
The best part is that these come in various sizes. So, it makes it easy for the person to design the room as per the requirement. These can be used in various ways. For sure, the 'Best Decorative Pillows 2020' award goes to the SleepSia Bamboo Pillows!
Bamboo Pillows Also The Decorative Pillows!
These pillows are also used to decorate and spread some magic in the bedroom and living space.
Look Pretty On Sofas

: The white-colored bamboo pillows look pretty when placed on sofas. One can also add colorful covers to these pillows. However, the present covers are pearl white, removable, and washable. These are hygienic too. The guests sitting on your sofa won't feel backache and will praise your new interior sense!

Bamboo Pillows On Bed: These look super stunning on beds too. King size beds go with King size pillows whereas Queen size beds go with Queen size pillows.
Extra Beauty

: The Standard size pillows also look amazing when placed on a sitting area arranged around a windowpane. The beautiful scenery outside along with the comfort of SleepSia Bamboo Pillow and a cup of coffee feels mesmerizing!

Lower Bedding: Today is the trend of lower bedding. Since sleeping on the floor has gained popularity as many feel it gives relief to their back problems, bamboo pillows can help in making it special too. The lower bedding might include just a beautiful mat with some cushions or mattresses put on the floor. Adding bamboo pillows to the lower bedding will be an icing on the cake. It will complete the look and also will add to the health benefits while sleeping on the floor.
Heard about Beauty with Brains? Bamboo Pillows got that!
Bamboo pillows not just have the title of 'Best Decorative Pillows 2020' but are also the best healthy pillows. Recommended by health experts, these pillows are highly advantageous for everyone. You know why? Because:
These are highly breathable and promote air circulation. So, one stays fresh while sleeping and faces no issues in breathing. No chances of sleep apnea!

The pillows are hypoallergenic. This means these are dust mites resistant. So, the user can't be exposed to allergic reactions, sneezing, coughing, fever, etc.

Also, these pillows come with removable and washable bamboo covers. So, hygiene is the priority!

Moreover, the filling of shredded memory foam lets the pillows mold according to the body and take the shape. The hollow space between the head and the neck doesn't face pressure.

Cervical, headaches, migraine, insomnia, spondylitis, sleep apnea, etc. all shoo away!

These Bamboo Pillows are not just decorative pillows but also stress-buster pillows. Anxiety, depression, sleeplessness, etc. all vanish away!
Tips To Make The Bamboo Pillows More Decorative!
These pillows are already beautiful and comfortable in all ways. One needs to pick these up and place them on the couches, sofas, and floor bedding to make the room look pretty. There can be many ways to make these pillows look more stunning. These pillows come flat and vacuum sealed. Fluff them up into big clouds. Opt for various sizes and place the bigger ones behind and the smaller ones in the front.
If your room is of the light shade, keep colorful flowers in a vase near the bed and vibrant paintings behind the bead back so that white Bamboo pillows emerge pretty. You may also add colorful covers on these pillows to match up with the light-colored room. It all depends upon your taste.
There is no fixed formula. Just make sure things look subtle so that your peace isn't disturbed. Anything that doesn't look pleasing to the eyes, doesn't even look pleasing to the brain. After all, the bedroom is supposed to be the comfy zone, the stress-relieving hub, and the soothing place.
Conclusion
'The Best Decorative Pillows 2020' trophy is lifted by SleepSia Bamboo Pillow. So, why not let these pillows create magic and spread some beauty in your lives? To order these pillows, go to www.SleepSia.com, and call us on +1800-862-1084.
---
---