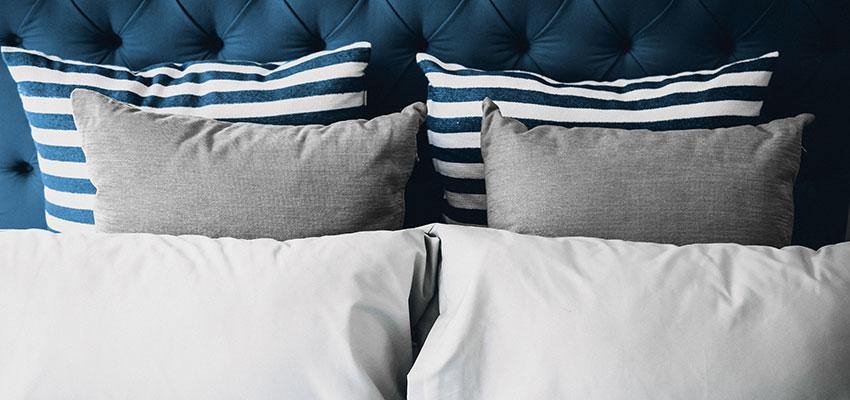 Your pillow can cause symptoms of allergies, such as sneezing, itchy eyes, wheezing, shortness of breath, vomiting, etc. People with asthma, sensitive skin, and allergies to various materials often require a hypoallergenic pillow, which is composed of a material that rarely causes symptoms of allergy.
In this post, we'll look at the best hypoallergenic pillows in 2021.
What Causes Allergy in a Pillow?
The three things that can cause an allergic reaction include:
Pillow material

Pillowcase material

Dust

: can build up on the pillow surface and inside the fill

Dust mites

(especially their poop): usually develop because of dust.

Molds

: moisture aids the development of molds inside a pillow.
Other allergens include pollen, mildew, etc.
If you're allergic to the first two, then you can simply replace the material to relieve the symptoms of allergy.
However, if it's the bottom three causing allergies, then you'll need a hypoallergenic pillow.
Best Hypoallergenic Pillows
#1 Memory Foam Pillows
Here's what makes memory foam hypoallergenic - It's the DENSITY!
Because it is a very dense material, dust cannot penetrate into the foam nor can dust mites.

But it's not as simple as this. You need to go for a memory foam pillow certified by CertiPUR-US, which ensures that the foam does not contain harmful or toxic chemicals.
To get rid of the dust on the Bamboo pillow surface, you can simply use a cloth or vacuum cleaner.
#2  Down-alternative (Microfiber)
As a synthetic material, down alternative is hypoallergenic and protects from household allergens, including pollen and mites.
Both down and down alternatives are two of the most widely used pillow fills. They offer great comfort; however, only down alternative resists allergens.
#3 Latex
It's natural, malleable, and supportive. Like memory foam, latex molds to the shape of your body and provides good support to the neck.
It's also a hypoallergenic material, but it's not as effective at resisting common household allergens as memory foam and down alternative.
Dealing with Molds
All pillow materials can retain moisture, which aids the development of molds.
To prevent moisture from building up inside your pillow, dry it into the sun every two weeks. The heat from the sun is enough to both:
Pull out moisture from inside the pillow

Get rid of any odor
Hypoallergenic Pillowcases
Additionally, you should opt for a hypoallergenic pillowcase that is both breathable and moisture wicking.
If you're looking for a hypoallergenic material, then select one of the following:
Cotton

Bamboo

Silk

Polyester
Many of these materials also wick away sweat, protecting your pillow from becoming a breeding ground for acne causing bacteria.
How often to Clean the Pillow?
You should clean the pillowcase every 2 weeks and the pillow every 3-6 months.
However, the cleaning process for pillows varies on the basis of the fill.
Some fills, such as down and cotton, can be washed in the washing machine. However, fills including memory foam and latex disintegrate when agitated in water. So it's recommended that you spot clean or deodorize them.
How often to Replace a Pillow?
No matter which pillow you get, it'll become toxic after a few years. Most of us don't realize this and keep using the pillow even after 5 years.
Ideally, you should replace your pillow every 2 years. Some materials are more long lasting than others. For instance, memory foam is more durable and resistant to household allergens than latex.
Conclusion
Pillows can cause symptoms of allergy. But you can rely on hypoallergenic pillows that are resistant to dust and dust mites to alleviate those symptoms. Further, you should get a hypoallergenic pillowcase to complement your pillow so that you can enjoy restful sleep night after night.
---
---