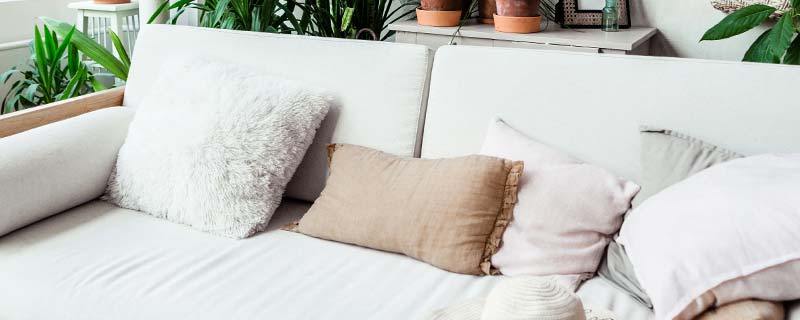 There can be many pillows in the market but the 'Best Organic Pillow 2020' award goes to Sleepsia Bamboo Pillows! These pillows are ergonomically designed to support the human body. We people undergo a lot of stress and live a tiring life. Our sleep has also become weak, especially in the present days of Covid-19. Therefore, it is important for us to look for a soothing platform to get our energies restored. Pillows with the 'bamboo' touch help us to rejuvenate and feel fresh.
What is the use of having a disturbed and painful sleep? What is the use of running the entire day and still not getting a peaceful sleep?
To eliminate these chances of having a broken sleep, it is important to seek comfort in the lap of these pillows. The vacuum sealed packaging, the removable, hygienic and antibacterial bamboo fabric, the supreme-quality of shredded memory foam, and the feature of 'adjust-ability' make these pillows all-in-one. These pillows have all the magnificent features that shower upon tons of benefits. The best part is that these are the organic pillows! Unlike many other toxic pillows, these promise health and wellness.
Bamboo Pillows Are Great Organic Pillows!
These pillows are completely natural and made with all the safety measures. The natural bamboo touch makes these pillows healthy for everyone. These are Certi-Pur US Certified pillows. This indicates towards being 'clean' and 'safe' pillows. There is no usage of Volatile Organic Compounds and other harmful elements. There are no toxins in these pillows that can make these unfit for kids and elders.
Clean And Hygienic:

The natural bamboo pulp is used in the conversion. The organic bamboo fibers are converted into fabric. This fabric is used to prepare the bamboo covers. No usage of harmful substances! The washable cover promotes hygiene.

Bamboo Pillows Are Naturally Breathable:

These pillows are airy and promote ventilation. The increase in the air circulation makes it easy for the users to rely on these organic pillows for sleeping.

Hypoallergenic Pillows:

These pillows naturally have the tendency to defeat the allergens. No bugs, bacteria, microbes, or minute allergens get trapped in them. So, no running nose, no sneezing, no fever, no red eyes, no irritation, and no rashes!

Healthy Pillows: These pillows have the filling of shredded memory foam. It is not a recycled one! Fresh and new chunks of memory foam are used for the filling. This makes the pillows malleable. The pillows mold according to the neck, head, and the back. The orthopedic pains, backaches, migraines, insomnia, sleep apnea, etc. are all sent away by an amazing Bamboo Pillow! Isn't it the 'Best Organic Pillow 2020'?
The Organic Pillows aka The Bamboo Pillows Making Our Lives Easier!
These wonderful organic pillows make our lives easier in many ways. Read below to know more!
Tired after the office work? Cervical attacking you? Sleep on these shredded memory foam pillows!

Got knee surgery? Place these pillows in between the legs.

Are you expecting? What else can be a part of the 'would be' mother's journey? Sleep along with these pillows.

Kids are finding difficulty in sleeping due to breathlessness or sleep apnea? What are these Bamboo Pillows for?

Tired of old and rigid pillows? Why not choose these ergonomically designed organic pillows that are perfect for the kids and the elders?!
Features Of These Ergonomically Designed Organic Pillows!
The Bamboo Pillows are available in three sizes of King, Queen, and Standard. The adjustable ones are available with 5" of the loft. The desired amount of shredded memory foam can be stuffed in these pillows. The extra foam can be taken out and preserved for later. The removable bamboo cover can be washed easily. In fact, more colorful pillow cases can be added too.
These pillows aren't just meant for the bedroom. These look stunning when placed on the sofas or couches. One can also carry these pillows while traveling. These ensure spinal alignment and provide relief to the hollow space between the head and the neck. The shoulders witness relaxation when rested upon these pillows. All in all, we get to know that-
These pillows are available in three sizes.

These have adjustable loft too.

These support the back and other parts of the body.

These have a great quality of memory foam.

These can be used as body pillows too.

These come vacuum sealed but can be fluffed up either with hands or by tumble dry.

Just shake these often to fluff them up.

These retain their shape.

After opening, keep them in the ventilated area to remove the gassing off odor.

These Bamboo Pillows are highly recommended by the health experts.

These are super flexible and malleable unlike many rigid pillows.

These are stress-busters too! None can feel stress and depression after dozing off on these pillows.
Final Words
Our final words suggest you to trust on the 'Best organic pillow 2020' i.e Sleepsia Bamboo Pillow for sleeping. Nothing can beat this durable and highly beneficial pillow. To order, go to
SleepSia and call us on
+1800-862-1084. Team Sleepsia is available for your questions.
---
---