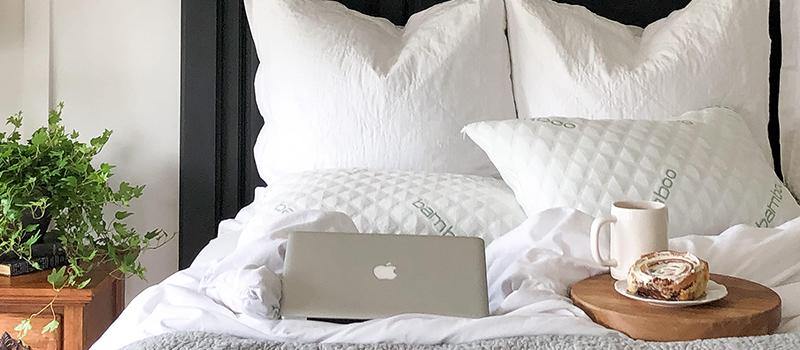 Traveling is fun only if it is comfortable. What is the use of dragging stiff and tired bodies while cherishing the scenic beauties of the nature? Why do we travel? Mostly to go on a holiday! Yes, it can also be for work purposes or anything else. But what is the one thing required during any kind of traveling? It is comfort.
Only a comfortable journey can be the most successful and most memorable journey of all times. The Best Travel Pillow 2020 award is already with SleepSia Bamboo Pillow! So, why not grab this pillow and make it your travel partner?! The bamboo pillows provide great support while traveling.
Since these are available in three different sizes, so these pillows can be chosen as per the requirement and as per the the space available while traveling. The first thing that gets affected while traveling is the back or the neck. Try our Traveling Bamboo Neck Pillows. This leads to a tiring journey which further psychologically affects the mind of the person.
Why Are Bamboo Pillows For Traveling And Not Just For Sleeping?
A Bamboo Pillow is that topper student of the class who gets grade A as he is a multi tasker and outstanding. Bamboo pillow for 'sleeping' is heard by many but this pillow is the best for 'Traveling' might not be so popular. It is because people haven't tried it yet. Give this a shot and none is going to regret it. There are many obstacles during traveling that affect the person which can only be taken care of by SleepSia pillows. The obstacles are:
Backaches

Neck Pains

Restlessness

Nausea

Feeling drowsy

Feeling sleepy but unable to sleep

Tired body and mind

Stiffness

Laziness

Exhausted zeal/excitement
Only SleepSia pillows can help because these pillows are filled with shredded memory foam. This is the healing foam which helps the user.
So, Finally The Trophy For 'Best Travel Pillow 2020' Goes To SleepSia Bamboo Pillows!
Do you know why? The reasons are here:
Supportive Pillows:

The Bamboo Pillows have shredded memory foam. The pillows mold according to the body. The user feels comfortable while sitting on the seat while traveling.

Help The Spine

: These pillows ensure neck and spine alignment. The back faces a lot of pressure, brakes, stoppages, fast movement, etc. depending upon the mode of traveling. However, these pillows support the spine. These pillows can be inserted in the back to feel a great comfort.

Hypoallergenic Bamboo Pillows:

These pillows don't cause allergies which is one of the best benefits during traveling.

Fresh And Airy

: Again, an important aspect while traveling. One needs to have a ventilated area and space while traveling. The soothing Bamboo Pillows help a lot.
Some Safety Tips While Traveling Along With Bamboo Pillows!
These pillows might come in three sizes. One can choose the smaller one while traveling and the pack the bigger one while sleeping at some other place. Why take risk with their pillows which can be rigid and unhealthy? Moreover, there can be allergens, bugs, bacteria, or other minute particles strong enough to tickle your nose and ruin your travel trip. So, better take your own pillows and relax.
Keep yourself hydrated while traveling.

Have good amount of sleep to avoid nausea, restlessness, or headaches.

Carry comfortable clothes.

Wear comfortable and old shoes. Don't try to get new ones as those can cause 'shoe bite.'

Don't forget to eat good while traveling. Food gives you energy to enjoy!
Conclusion
The Best Travel Pillow 2020 is SleepSia Bamboo Pillow! To buy these, go to
SleepSia
. Choose these pillows to have a comfortable travel otherwise it is all useless. Give us a call on
+1800-862-1084 to know more about it. Team SleepSia wishes you a happy journey along with our wonderful pillows!
---
---