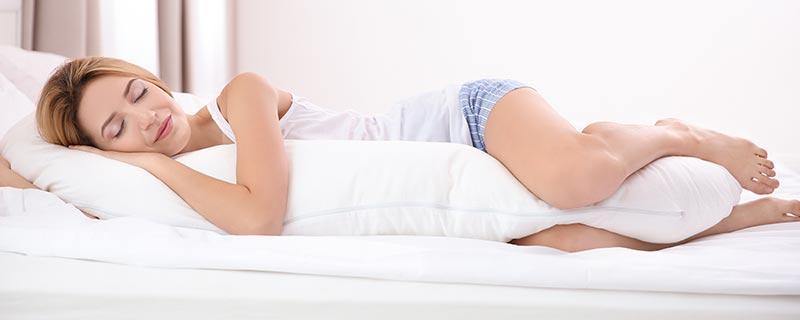 Who doesn't wish for a comfortable sleep? Who doesn't want to sleep like a baby? This experience of sleeping like a baby is exceptional! The feeling of having a deep sleep with tons of happy dreams is rare at present. We all are going through Covid-19 times and the present distressing times are hard to handle. Amidst all this chaos, what one wants is relaxation. Do you know sleeping along with good pillows can give you this relaxation? Sleepsia pillows can present you with this happiness. If someone asks you, 'How to sleep with a body pillow?'
Just say, 'Sleep with Bamboo Pillows' to get the answer. It is interesting to know that the Sleepsia pillows are available in three sizes of King, Queen, and Standard. The biggest size i.e the King size is no less than a grand body pillow. One can keep the pillow in between legs and sleep comfortably sideways. Dream big, feel like flying in the sky while sleeping, and experience the best of comfort with these pillows.
Why Choose Body Pillows For Sleeping?
Why Choose Bamboo Pillows?
Body pillows are meant to soothe your body. One feels supportive of these pillows. One can hug, keep these in between the legs, sleep on these to feel a happy sleep. Also, one can choose Bamboo Pillows for sleeping because-
These Are The Most Comfortable Pillows: The King size especially is the most comfortable pillow of all times. Its ergonomic design comforts the users and provides alignment to the spine. If placed under the head, the hollow space between the head, neck, and back feels immense relief.
These Are Hypoallergenic: The users feel no allergic reactions while sleeping. No running nose, no rashes, no red eyes, no fever! It is hard to have pillows that are allergy-free!
These Are Breathable! : These pillows are super cool, increase ventilation, and spread magic while sleeping. No sweating, just happiness.
These Are Highly Natural And Safe: These pillows are Certi-Pur US Certified. Safe and secure for everyone. No Volatile Organic Compounds and no toxic compounds. These are natural pillows that are fit for every age group.
These Are Highly Satisfying Pillows: These pillows are absolutely satisfying, supportive, and comfortable. The washable and removable cover promotes hygiene and cleanliness.
Now that you get 'Why' and 'How' to sleep with a body pillow?so, why not opt for Sleepsia Pillows? These pillows are filled with shredded memory foam which is of the highest quality. The foam in the form of chunks makes the pillows malleable and flexible. So, these pillows mold according to the users and soothe every part of the body.
Body Pillows And Bamboo Pillows V/S Pain And Uneasiness!
Bamboo Pillows that are perfect Body Pillows give a tough competition to the body pains. No chances of cervical, spondylosis, stiffness, pain in the muscles, etc. No sleep apnea, no migraines, nothing! The painful times can easily run away with these pillows.
These pillows take up the shape of the body.
One feels relaxed with the pillow retaining its shape.
These pillows come vacuum sealed and can be fluffed up with the hands or tumble dry.
Conclusion
Our final words say you to opt for Sleepsia Bamboo Pillows for sleeping. These are the best to support you in your stressful times. Be it Covid-19 stress, be it job stress, be it running around the house after kids, or whatever. It all drains you from within. So, it is better to take up a large body pillow that supports your body from top to the bottom. To order these pillows, go to SleepSia, and call us on +1800-862-1084. We are here to help you, support you, and answer your questions. Team Sleepsia wishes you a relaxing and healthy sleep.
---
---