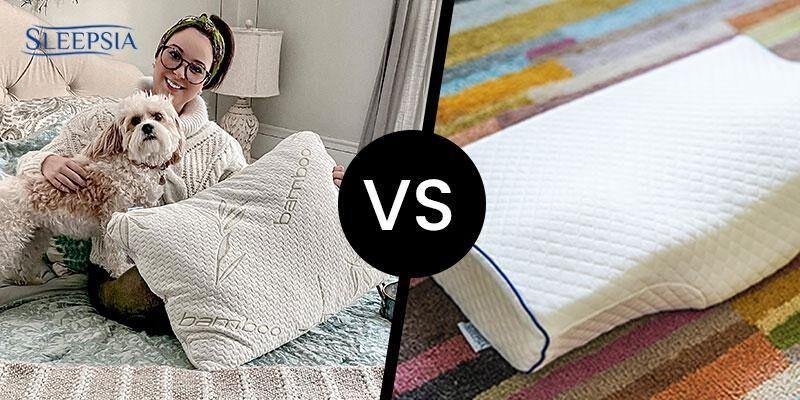 Neck pain, especially one that is chronic, disables people from living up to their full potential. People with neck pain often complain of anxiety and depression, both of which further exacerbate the situation. In this article, we've provided a list of the best pillows for side sleepers with neck pain.
A pillow for side sleepers must:
Maintain the proper alignment of head and neck with the rest of the spine
Relieve stress from surrounding structures such as shoulders
Adjust according to the preferences of the user
Hamper the growth of bacteria (p.acne)
Causes of Neck Pain in Side Sleepers
Although sleeping on the side is considered best, gaining benefits from this position depends upon correct sleeping posture, and failing to maintain a proper posture results in neck pain.
Benefits of sleeping on your side include:
Less pressure on lower back and joints
Decreased pain from conditions such as fibromyalgia
Reduced snoring, especially for people suffering from obstructive sleep apnea.
Improved gut health and reduced gastrointestinal issues such as heartburn, constipation, and bloating
However, certain posture problems create additional stress on structures such as cervical spine, shoulders, and lower back.
Which side should you sleep on - Left or Right?
Sleeping on your left side is considered beneficial as it enables organs in your body to dispose of the toxins. However, sleeping on a single side puts stress on the shoulder of a single side. So keep changing position for maximum comfort.
Can sleeping on the side cause Shoulder Pain?
If you use a pillow that is too soft, then the entire weight of your upper body will collapse onto the shoulders, leading to soreness and even impingement. Along with shoulders, you may experience pain in shoulder blades and cervical spine.
Use a Firm Pillow to Avoid Shoulder and Neck Pain.
A firm pillow ensures not only that the weight of your upper body doesn't fall on your shoulders but also that the proper alignment of head and neck is maintained.
Can Side Sleeping cause Lower Back Pain?
Side sleepers should place a pillow between or under their knees in order to avoid strain on the lower back. Since the upper leg often slides down and rests on the mattress, the spine rotates and loses the proper alignment, leading to lower back pain.
Place a pillow between or under your legs to stop the rotation of the lumbar spine.
Best Memory Foam Pillows
Best pillow for Side Sleepers for Neck Pain
According to the severity and chronicity of the neck pain, different types of pillows may be recommended. But generally, these 3 types of pillows have regularly proved their efficacy at resolving neck pain:
Adjustable Memory Foam Pillow
Cooling Pillow
Cervical Pillow
Adjustable Memory Foam Pillow for Side Sleepers
Pillows that contain shredded memory foam are adjustable. By simply taking out or putting in foam, you can adjust the loft and firmness of the pillow.
| | | |
| --- | --- | --- |
| Criteria | Normal Pillow | Adjustable Memory Foam Pillow |
| Adjust Loft | ❌ | ✔️ |
| Adjust Firmness | ❌ | ✔️ |
| Contours to Provide Additional Support | ❌ | ✔️ |
| Durability | 1 year | 5 years or more |
| Hypoallergenic | ❌ | ✔️ |
| Washable | ✔️ | ✔️ |
Note: These pillows come with extra memory foam so that you can increase the loft and firmness further.
Cooling Pillows
Do frequent night sweats and body heat wake you up at night? If yes, then you should get a cooling pillow.
With cooling gel coating on one or both sides, cooling pillows offer relief from overheating and night sweats. However, for optimal experience, you should go with a cooling gel shredded memory foam pillow, which offers a 360' cooling effect.
You can purchase an additional pillow to keep your body cool.
Cervical Pillow for Side Sleepers
If the pain you're experiencing is severe and interferes with day to day activity, then you should go with a cervical pillow.
A Cervical pillow:
Contains depression for resting the head
Provides additional support to neck
Offers space for resting the hand
A cervical pillow with memory foam provides better structural support by contouring to the shape of your neck and filling the space underneath.
Bamboo Pillow Cover for Best Experience
A breathable dust-mite resistant material such as bamboo rayon fabric provides the best experience. Since you'll rest your face on the pillow, it's best to buy one with a good cover.
Further, bamboo fabric is hypoallergenic and naturally dust mite resistant.
Apart from the Pillow, does the Mattress matter too?
Yes. For side sleepers, a mattress that is too firm fails to contour according to the body shape, creating additional stress on joints in spine, hips, and knees. On the other hand, a mattress that is too soft enables the joints to collapse and fails to provide proper support.
Try mattresses with different levels of firmness to check the one that suits your body type and sleeping position.
Dos and Don'ts for Side Sleepers
The information provided in this article can be overwhelming, so here's a list of dos and don'ts to get you started on the journey to a neck pain free life:
Use a Firm Pillow with a loft of 4"-6".
Use a medium-firm mattress.
Place a Firm Pillow between your Knees.
Don't sleep with your chin tucked in towards the chest.
Sleep on a firm pillow to avoid shoulder pain.
Curl Knees inwards to reduce stress on the lower back.
Use a hypoallergenic pillow case such as one made of cotton or bamboo rayon fabric.
Use a cooling pillow if you experience night sweats.
Chronic neck pain develops over time. So take action now, even if you've not developed neck pain. A good pillow not only prevents chronic neck pain and disk herniation but also provides comfort so that you wake up rested and pain free.
FAQs
Q. What is the best pillow for side sleepers with neck pain?
A. A pillow with an ergonomic design or memory foam is considered the best, as it molds according to the shape of your neck.
Q. How should I sleep if my neck hurts?
A. It is considered best to sleep on your back or side if you suffer from chronic or acute neck pain. Sleeping on your stomach, however, creates extra stress on your cervical spine, exacerbating the situation.
Q. Do cervical orthopedic pillows contain memory foam?
A. It depends on the brand. Sleepsia orthopedic cervical pillows contain memory foam, enabling the pillow to mold and provide support.
Q. Do memory foam pillows smell bad?
A. Some brands don't take necessary steps to eliminate the odor of chemicals from their pillows. Pillows provided by both Sleepsia and Ronkoff are odorless.
Q. Would a simple neck pillow relieve pain?
A. Since a neck pillow is usually used by travellers, it doesn't provide good support for the head. Your cervical spine would have to do a lot of heavy lifting, leading to herniation overtime.
Q. What is generally considered the best pillow for neck pain?
A. As a general rule, cervical pillows are best if you suffer from chronic neck pain. However, if you're afraid of developing chronic neck pain or have experienced neck pain in the past few weeks, then a shredded memory foam pillow is the best option.
---
---