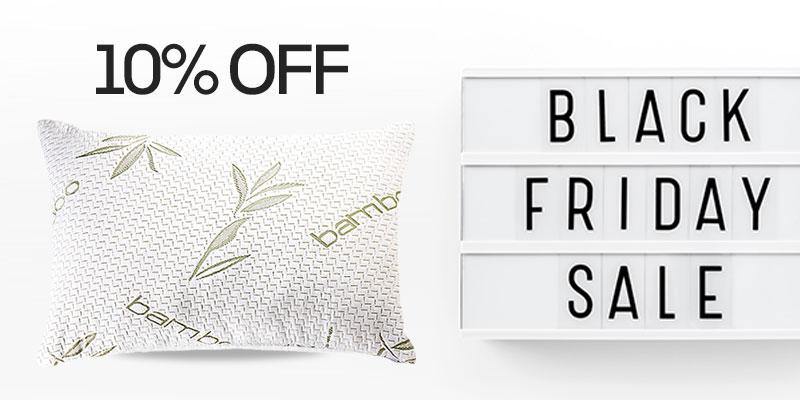 Knock Knock! Open the doors for the exclusive 'Black Friday 2020! Deals on Bamboo Products'. The stupendous offer is ready to enter your space. Make a pathway so that the amazing Sleepsia Bamboo Pillows can peep in your homes to make you all the more comfortable. On Sleepsia Bamboo Pillows, you get a 10% discount. Offer valid till the Black Friday lasts. Isn't it worth it? It is indeed. All that is to be done is- buying these shredded memory foam bamboo pillows with a great offer and start imagining a beautiful life. Say bye to a troublesome sleep and wave hi to a soothing and calm sleep!
Buying The Bamboo Pillows On Black Friday 2020 Is Something You Can Not Miss!
Sleepsia Bamboo Pillows are perfect for all age groups and all the sleeping patterns. These pillows need to be replaced with the old existing rigid pillows so that one feels the best sleeping experience.
Soft Pillows: These pillows are as soft as feathers. One sleeps as if one is sleeping in the air. Natural bamboo pulp is used in the making of these pillows. It doesn't feel breathless while sleeping.
Hypoallergenic Pillows: These pillows do not let the users struggle from the dust mites, itching, running nose, or allergic reactions while sleeping. The hypoallergenic properties make the bamboo pillows best!
Healing Foam Filling: These pillows have the filling of supreme quality healing foam that is the 'shredded memory foam'. This foam is available in the form of chunks. It makes the pillows malleable, flexible, and easy to mold.
Adjustable Pillows too!: Sleepsia Bamboo Pillows also come with a feature of being adjustable. 5" of the loft makes the pillows customizable. These shredded memory foam pillows retain their shape too. Users can easily pull the shredded memory foam out of the pillows or insert some more foam if they want to.
Now, imagine all these benefits offered to you with a great bonanza. 'Black Friday 2020! Deals on Bamboo Products' are not to be missed for sure. Bamboo Pillows happen to be the most wanted out of the other bamboo products. It is because people lack stress-free sleep these days. One needs to have healthy pillows to say bye-bye to cervical pains, ortho issues, breathlessness, irritability, insomnia, etc. These shredded memory foam pillows are indeed healthy.
Why Choose Bamboo Pillows With An Attractive Offer On Black Friday 2020?
A, it is all about the benefits of Bamboo Pillows, and B, it is Black Friday 2020 offer. Two best things altogether. Why not choose this wonderful collaboration?
These pillows are available in three sizes that are- bamboo king pillows, queen pillows, and standard pillows.
These are best to sleep sideways, to sleep on the back, and to sleep on tummy. Every sleeping position, every sleeping style is comforted by these pillows.
These shredded memory foam pillows or as popularly known as Bamboo Pillows give an anxiety-free sleep.
One needs to realize the bamboo touch available with these pillows. These are created naturally to heal.
These pillows cover up the hollow space between the head, the neck, and the shoulders. This hollow space is responsible for causing most of the pain and discomfort.
These bamboo pillows ensure neck alignment and spinal alignment.
Order The Bamboo Pillows Now! Before It Is Too Late On Black Friday 2020.
The clock is ticking, the time is passing by, and the moments of joy are running away. Immediately order the Sleepsia Bamboo Pillow with Black Friday Deals from www.SleepSia.com because you get a 10% discount. Offer valid till the Black Friday lasts. So, avail of this brilliant 'Black Friday 2020! Deals on Bamboo Products' and have a great sleep ahead. For any questions and queries, do not shy away from calling us. Team Sleepsia is available on phone number +1800-862-1084.
---
---