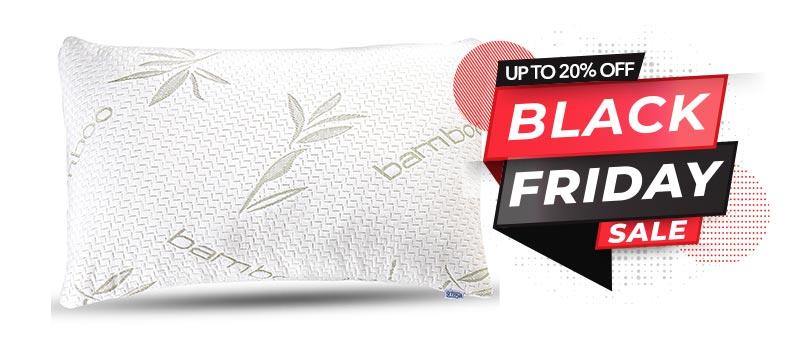 Sleepsia Bamboo Pillows are here for Black Friday 2022! Get up, gear up, and pop up from your uncomfortable zones to welcome the most comfortable bamboo pillows @ amazing prices. 'SleepSia Black Friday Offer' is here to turn the tables and give you the best! On this Black Friday, you get to buy the highly recommended SleepSia Bamboo Pillows on a discount of up to 20%. Hurry up! Offer valid for Black Friday.
Raising your eyebrows? Wondering why is there a deadline? It is because the exclusive shredded memory foam pillows are limited during this offer period. So, before they vanish away, immediately act upon and buy these. Still, thinking about why to buy them? Well, here is the answer!
Don't miss to check out Sleepsia's Black Friday offer! They're offering a set of their bamboo pillows! This is an incredible deal, and the quality of these pillows is amazing. They're made from high-quality bamboo, and they're sure to give you the best sleep possible.
SleepSia Hypoallergenic Bamboo Pillows during Black Friday 2022!
It is the best Black Friday deal of 2022. These pillows are hypoallergenic and for highly beneficial pillows such as these, the deal is worth praising.
Dust Mites Resistant Pillows: These pillows are dust mites resistant. The dust particles usually get trapped in fabrics of pillows, carpets, curtains, and mattresses. These dust mites trouble later on in the form of sneezing, running nose, watery eyes, cough, etc. The SleepSia Hypoallergenic Bamboo Pillows protects its users.
Hypoallergenic Pillows Be The Best: These pillows do not let allergens, pollen, bacteria, microbes, etc. cause irritability or sleeplessness. The issues of heat, skin burn, eczema, or rashes on the skin are also cured. It is because SleepSia Bamboo Pillows are hypoallergenic i.e these zero the devil effects of allergens.
Natural Bamboo Touch: These pillows are very natural and breathable. So, no chances of sweating either. On top of that, the chances of air circulation increase. Now, imagine the 'Sleepsia Black Friday Offer' along with all these benefits. Isn't it an appreciable deal? It is indeed!
These pillows are incredibly soft and gentle on your skin and also provide plenty of support for your head and neck. Get it without any second thought.
Black Friday Offer and Bamboo Pillows! Dual Benefits!
It is amazing to opt for SleepSia Bamboo Pillows this Black Friday because this is an opportunity not to miss!
Bamboo Pillows provide you relief during stressful times of life.
These pillows relax the hollow region of the head and neck.
These ensure the spine and neck alignment.
The high quality of memory foam stuffed in the form of chunks i.e shredded memory foam makes the pillows flexible and healthy.
The memory foam used is new, fresh, and clean. It is not recycled.
The bamboo covers come along with zippers. Those are removable and washable.
The pillows do retain their shape and are easy to fluff up.
The Bamboo Pillows are available as '2- pack pillows' too.
These are adjustable also. The feature of adjustable pillows is that these can be customized. The required amount of shredded memory foam can be stuffed in or pulled out.
Cervical, Insomnia, Spondylitis, Sleep Apnea, Stiffness, Orthopedic Issues, etc. witness relief.
These also comfort a pregnant woman.
These are available in three sizes- King, Queen, and Standard.
So, aren't the features and advantages limitless?? Imagine the bamboo power-house coming at your place @ lowest prices on this Black Friday 2022! Get Best Bamboo Pillow Black Friday deals only on SleepSia.
Contact is immediately to avail the Black Friday Offer!
'SleepSia Black Friday Offer' gives you upto 20% discount on your bamboo pillow. The offer is valid till Black Friday. So, why stay silent and keep living a boring and painful life? You deserve a sound sleep, a healthy sleep, and a stress-free sleep. If you are in need of a new set of pillows, then now is the time to get the best deal possible!
To have it, simply order SleepSia Bamboo Pillows from www.SleepSia.com, and Call us on +1800-862-1084 to know more about it. Hurry up before you miss this chance. Remember, team SleepSia is available for your help always! So, keep going and don't miss the grand Black Friday 2022.
---
---