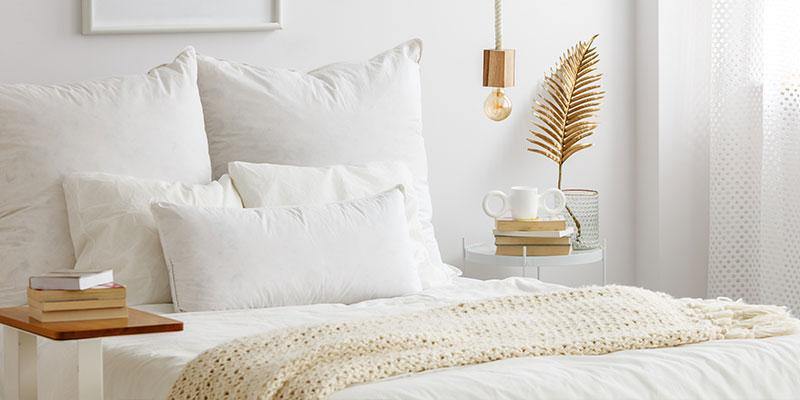 2020 has been a difficult year for the entire world. The only best thing about 2020 is the Sleepsia Pillows. The 'Best Hypoallergenic Pillows For 2020' come from the side of Sleepsia. This year came with a blast and changed our lives. Covid-19 situations turned our world upside down. It brought tons of stress, nightmares, constant thoughts of getting caught up with the virus, and what not! Seasonal cough and flu gained more concern as people feared it too. Work from home became a nuisance.
Constant deadlines, household chores, feeling of being trapped, and mental breakdowns made the lockdown even more difficult. The year 2020 witnessed real issues! Relationship problems, emotional breakdowns, tragedies, negativity, etc. But on a brighter note, lockdown gave us some time off from life to be at home. Some extracted beauties from it while some got ruined. However, what got affected the most was sleep and life routine. Any change in the sleeping routine has a deep effect. It is scientifically proven. Lockdown affected the sleep cycle a lot. We still have some time to rectify it.
Why not choose Bamboo Pillows for better sleep? Better sleep means a better life! Above all, Bamboo Pillows are known for being hypoallergenic which is the best benefit. Let us know how Sleepsia has gifted the best hypoallergenic pillows to all of us!
How Are Sleepsia Bamboo Pillows The Best Hypoallergenic Pillows Of 2020?
Not every pillow is hypoallergenic. It means not every pillow safeguards from allergens. A hypoallergenic bamboo product doesn't create chances for its users to catch allergies. 'Any specific item especially from the cosmetics family or textiles family that doesn't cause allergic reactions is said to be hypoallergenic'. It is amazing to know that Sleepsia Bamboo Pillows are hypoallergenic pillows.
No Dust Mites: These pillows do not trap the dust mites, allergens, bugs, microbes, bacteria, etc.
No Symptoms Of Allergies: There are no chances of the users sleeping on these pillows catching up symptoms like sneezing, coughing, flu, fever, headache, rashes, red eyes, itching, etc.
Best Pillows To Protect The Nostrils: These do not let the allergens reach the breathing pathway especially.
How Important Is A Hypoallergenic Bamboo Pillow During Covid-19?
It is highly necessary to opt for a healthy lifestyle these days. The year 2020 and Covid-19 times are challenging. One needs to build up the immunity and not let the allergens attack them. It is the major reason why hypoallergenic Bamboo Pillows are very important. Also, these pillows do not let the user stay breathless, or irritated. Moreover, the users might mistake the symptoms of allergic reactions like sore throat, fever, etc. to the virus attacking. So, why let the negativity attack?
Why not stay away from any sort of symptom that relates to this deadly virus. Another reason for opting for these high-quality pillows is that these promote peaceful sleep. Believe it or not, but a sound sleep is the most essential element in the Covid-19. It helps to manage stress and overcome the negativity. Sleepsia Bamboo Pillows are supportive in terms of providing the best sleep. These are truly the 'Best Hypoallergenic Pillows to Buy in 2020' and the years ahead!
What All Combines To Make The Hypoallergenic Sleepsia Bamboo Pillows?
These excellent pillows are created by the skilled and hard-working team. These pillows are made up of the natural bamboo pulp which after processing turns into bamboo fibers. These fibers at the later stage are used to make bamboo fabric. This fabric is then utilized to make the bamboo covers. These pillows are further filled with shredded memory foam which is the highly recommended stuffing for pillows these days. The supreme quality of shredded memory foam makes the pillows super soft and super healthy. So, we can say that these hypoallergenic Bamboo Pillows are made up of these elements-
Bamboo cover
Cover that includes zippers
Shredded Memory Foam
What Are The Exceptional Features Of The Sleepsia Hypoallergenic Bamboo Pillows?
These pillows are amazing in many ways. The design, the shape, the size, the benefits, everything is perfect!
Super Soft: These pillows are soft as feathers. Giving the feeling of a cozy lap, these hold the users like a baby!
Super Breathable: These pillows are highly airy. Managing the air circulation, these pillows do not let the users face breathlessness.
Available In Three Sizes: These are available in three sizes as well. The King, the Queen, and the Standard. The dimensions of a King Pillow are 20"× 35"× 5" while the Queen Pillow is of the size 20"× 28"× 5". These are available in 2- Pack pillows as well!
Feature Of Adjustability: These Hypoallergenic Bamboo Pillows also come with the adjustable loft of 5". The Adjustable Pillows provide an additional benefit of 'customization'. The shredded memory foam can be pulled out or pushed in the pillows as per the requirement.
Hygienic Pillows: These pillows have washable and removable bamboo covers that increase the hygiene level.
What Are The Benefits Of The Sleepsia Hypoallergenic Bamboo Pillows?
These come with tons of benefits. Physical and mental health is ensured by these pillows. The shredded memory foam makes it super easy for the pillow to mold as per body. Holding the head, neck, spine, and shoulders become easy. The spine and neck alignment is ensured. Back sleeping, stomach sleeping, and side sleeping is made comfortable by these pillows. No chances of sleep apnea and snoring as the pathway for breathing is clear with these pillows. No chances of cervical, spinal cord issues, muscular wear, and tear, irritability, etc. Above all, no stress! This is important, especially in Covid-19.
Conclusion
It is important to opt for 'The Best Hypoallergenic Pillows For 2020' which are Sleepsia Bamboo Pillows! To order these, go to www.SleepSia.com, and call us on +1800-862-1084 to know more!
Have a sneeze-free sleep!
---
---