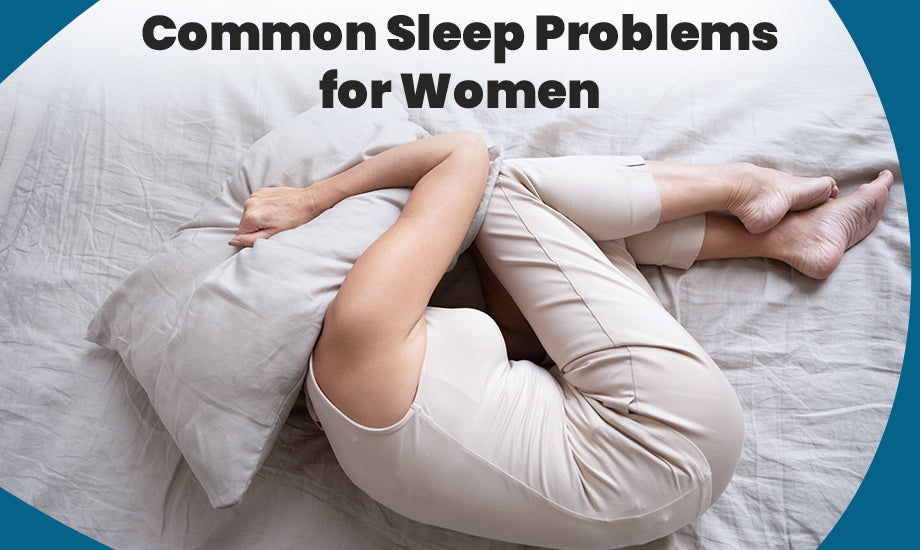 We all know how essential sleep is for our mental and physical health. We have all experienced sleep related issues periodically. However, it must be noted that women do suffer from sleep problems twice as much as men. There are various factors affecting women's sleep. Changes in hormonal levels, insomnia, stress, illness, and lifestyle and sleep environment may impact a woman's sleep. Caffeine, nicotine and alcohol near bedtime may also prevent a woman from falling asleep. Women who are over forty must look out for any sleep related anomalies.
Poor sleep quality and inadequate sleep affect job performance, concentration, social interaction and well-being. They also lead to depression, illness and decrease of cognitive function.
Read on to find out more common sleep problems in women
Insomnia
Insomnia can affect anyone, but women are more likely to experience insomnia than men. Insomnia causes trouble in initiating sleep, staying asleep, not being able to go back to sleep and feeling tired upon waking. Stress, health issues and personal problems are some of the things that affect our ability to sleep. There are five types of insomnia according to The National Sleep Foundation:
Acute Insomnia
Chronic Insomnia
Comorbid Insomnia
Onset Insomnia
Maintenance Insomnia
The primary reason for insomnia in women is due to hormonal changes. Hormonal changes can wreak havoc on sleep. At the onset of puberty, typically women start experiencing changes in hormones. These changes reduce following menopause. Insomnia is one of the most common symptoms of premenstrual syndrome (PMS). Hormonal changes during menstrual cycle, pregnancy and menopause symptoms can have profound effects on sleep. According to various studies, hormonal changes in the menstrual cycle can interfere with sleep quality for an average of 2-3 days per month for some healthy young women. During pregnancy, major hormonal shifts begin in the first trimester. The hormonal fluctuations during pregnancy can disrupt the sleep-wake cycle, and many women find sleeping problems to be the worst during the third trimester. Frequent urination, heartburn, low back pain, leg cramps and general discomforts keeps pregnant women from falling asleep.
Another reason for insomnia in women is health conditions, making things a little complicated such as PCOS, Fibromyalgia, Urinary incontinence, Depression and anxiety.
Restless Legs Syndrome
Restless legs syndrome, also known as Willis-Ekbom disease is a disorder that causes an uncontrollable urge to move the legs usually because of an uncomfortable sensation. Restless legs syndrome can begin at any age and usually worsens as you age. The sensations are described as creeping, itching, crawling, throbbing and burning. These sensations usually begin after you've been lying down or sitting for an extended time. The symptoms worsen mainly at night. Movement, such as stretching, jiggling the legs or walking has been known to lessen the sensation.
Restless legs syndrome is more prevalent in women than in men. Pregnancy and menopause increases the prevalence and severity of symptoms. Both iron and estrogen influence dopamine and glutamate transmission which makes women vulnerable to this condition. The estrogen levels are particularly high during the third trimester of pregnancy and that may be the reason why RLS frequently emerges during pregnancy. In some cases, RLS has been found to be a genetic syndrome, meaning parents with RLS can pass it down to their children. In addition to the genetic source, other medical problems are associated with the development of RLS, including:
Depression
Fibromyalgia
Parkinson's disease
Diabetes
Hypothyroidism
Kidney disease
Dialysis
Rheumatoid arthritis
Medications such as antidepressants, allergy drugs and anti-nausea also contribute to the development of RLS. Consumption of coffee, cigarettes/cigar, forms of tobacco, even alcohol might be responsible for an overall worsening situation than before.
Sleep apnea
Sleep apnea causes your breathing to stop or become very shallow for short bursts during sleep. This happens either because of blockage of your airway or because your brain doesn't correctly control your breathing. These are of two types 1. Obstructive 2. Central. Over time, this condition can cause serious complications.
Sleep apnea has traditionally been seen as a men's health problem, however women are unaffected, which can be an incorrect statement. Symptoms of sleep apnea in women are often different and subtler than they are in men. Ignorance of the fact that there could be differences between the two sexes and, unfortunately, led umpteen amounts of cases going absolutely unnoticed, and we fear also misdiagnosed. According to the National Sleep Foundation, due to the non-traditional sleep apnea symptoms, women are often misdiagnosed with the following conditions:
Anemia
Obesity
Hypertension
Insomnia
Diabetes
Fibromyalgia
Hypochondria
Fatigue from overwork
Cardiac or pulmonary illness
Snoring is still the strongest predictors of sleep apnea in both men and women. But women can also experience other symptoms such as: Fatigue, tiredness, morning headaches, depression, anxiety, trouble with focus and concentration, feeling sleepy during the day.
Narcolepsy
Narcolepsy is a sleep disorder that causes severe and persistent daytime sleepiness. People with narcolepsy may also suddenly fall asleep at any time, during any type of activity. Although narcolepsy is common in both men and women, women face additional burdens related to pregnancy, lactation and caregiving. Women were also more likely to be delayed in diagnosis.
Two various forms of Narcolepsy most common
Type 1 narcolepsy
Type 2 narcolepsy
Person with type 1 narcolepsy experience sudden loss of muscle control that causes weakness.
Type 2 narcolepsy doesn't have such muscle control issues.
Its main symptom is excessive daytime sleepiness because the brain is unable to properly regulate wakefulness and sleep. Besides this, other common symptoms include:
Automatic behaviors
Poor nighttime sleep
Sleep paralysis
Sleep-related hallucinations
Cataplexy
Narcolepsy can have a significant impact on a patient's health and lifestyle. It is estimated that people with narcolepsy are more prone to accidents, injuries or life-threatening situations. They are also at a higher risk of other health issues such as obesity, high blood pressure, depression, anxiety and attention-deficit/hyperactivity disorder (ADHD).
Stress
It's a known fact that high levels of stress can negatively impact your health and sense of well-being. Stress, it can be work, family, society or any form of extra load, might just be responsible for sleeplessness, or worse ill-health. The American Psychological Association believes that in comparison with men, females are more stressed. Many women reduce sleep to cope with work and their roles as mothers and wives.
Conclusion
With the number of points mentioned above, women must reconsider their existing lifestyle and find affordable yet practical solutions towards a better life. Better sleeping is one important factor, one cannot just ignore anymore.
---
---