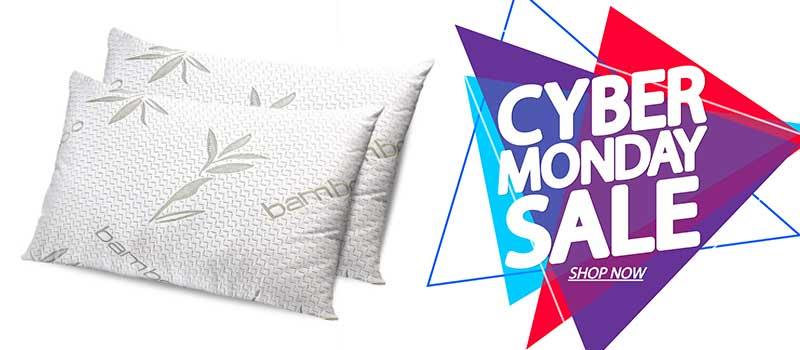 Three two one go! The race has started and all other pillows seem to sweat. And there comes the SleepSia Bamboo Pillow leading the race! With all the cheerleaders shouting for SleepSia Bamboo Pillow, it shows no signs of sweating and is still fresh and healthy! And there is the 'Best Sleeping Pillow For Sale On Cyber Monday' lifting the winning trophy! This winner pillow can be at your place with up to 20% discount by giving you the Best Cyber Monday Deal 2020!
Don't hesitate to bring this super-soft, breathable, hypoallergenic, and fresh pillow at your doorstep. It not only soothes the tiring nights of your baby but also weaves the magic of romance in your bedroom. All that you need is some peace, some cozy environment, and some comfort! SleepSia Bamboo Pillows @ affordable price is fit for you all.
Cyber Monday 2020 and Bamboo Pillows on Sale!
Catch these pillows that are all set to take over the market this year. Defeating the menace caused by the year 2020, the Cyber Monday Deal is all here to bring a positive change.
Pillows Fit For Your Bedroom:

After a tiring day, why wouldn't you want to sleep on a bed of roses? Why not let the SleepSia Bamboo Pillows as soft as roses and feathers make your bedroom the coziest space of all times? Grab the best deal and get romantic!

Pillows Fit For Everyone

: These are also the pillows that support side sleeping, stomach sleeping, and back sleeping too. These pillows support all types of users and all types of sleeping patterns.

Airy pillows

: These pillows are breathable too. One feels like flying in the middle of clouds while sleeping on it. It is a pillow that is hypoallergenic, breathable, and increases air circulation.
So, understand that the 'Best Sleeping Pillow For Sale On Cyber Monday' is none other than SleepSia Bamboo Shredded Memory Foam Pillow!
Don't Miss the Opportunity to Grab the Best Pillow @ Great Price on Cyber Monday 2020!
Make the most out of this opportunity and make your lives comfortable. These pillows are available in King size, Queen size, and Standard size too. The Bamboo Pillows having an adjustable loft of 5" can be customized accordingly. The finest filling of shredded memory foam makes the pillow malleable. Isn't it a great package???
Breathable Pillow- check

✓

Hypoallergenic- check

✓

Molds as per body- check

✓

Fine filling of shredded memory foam-check

✓

Washable and removable cover-check

✓

Durable pillow- check

✓

Ergonomic design- check

✓

Best pillow- double check

✓
Conclusion
You get to cherish the SleepSia Bamboo Pillow which is the 'Best Sleeping Pillow For Sale On Cyber Monday' @ 20% (Max.) discount. Why not avail of this biggest opportunity? To order these pillows, go to www.SleepSia.com and give us a call on +1800-862-1084 to know more!
---
---