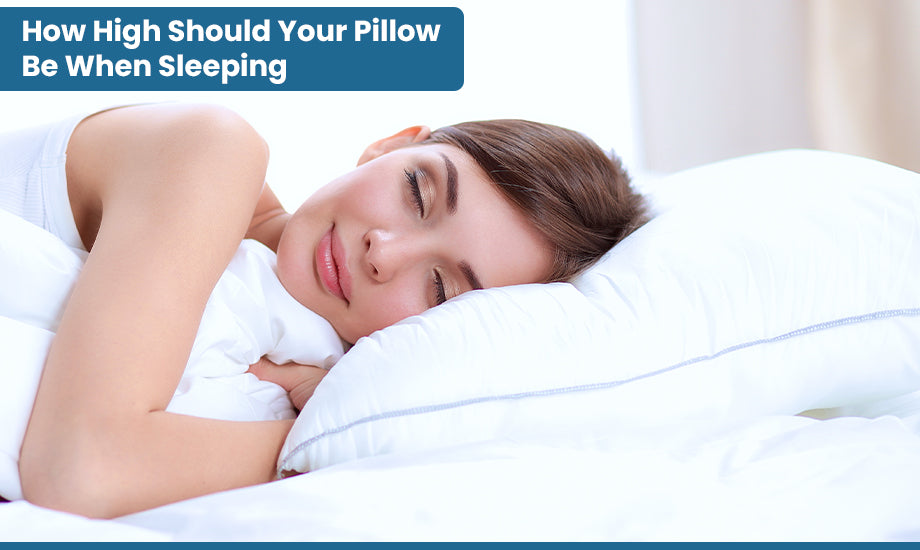 It is well known that a "good night's sleep can be the most effective cure for anything." Quality sleep happens when an individual is delighted with their sleep. When someone completes a proper sleep, it can have many effects on their body, such as feeling rested, cheerful and everyday functioning, whereas when not ended with quality sleep body might feel fatigued, irritable, and slowed response. It is essential to have quality sleep because poor sleep leads to various health conditions.
A good night's sleep is a basic human need. There are lots of factors that affect the quality and quantity of sleep, including irregular bedtime patterns. If you do not schedule proper rest time, you will always feel deprived of adequate rest. The use of caffeine, sleep disorders, and mental illness can also play a role. Where you sleep is one of the significant factors of sleep deprivation. Another essential factor to consider is how you sleep. Sleeping in a comfortable body posture is very necessary for quality sleep, and Sleepsia helps you to lunge into your dreams.
Body
The average person spends between three and four hours in bed every night, which means that if we all spend 7-8 hours in bed every night, we will have spent approximately 24 years of our lives sleeping. There is no right or wrong way to spend the next 24 years, but the price of sleeping for 8 hours a night and waking up with some discomfort or pain in your body may be too high for you. As most of us settle into bed, we do not take the time to think about our position and how it might affect us. Different sleeping positions can have other impacts on our bodies. Doctors and researchers say that sleeping on the stomach, back, or side affects our bodies differently. It can make a difference in terms of
Sleep apnea
Neck and back pain
And other medical conditions
If we do not follow proper sleep postures regularly, we can encounter many problems that can lead to serious health problems. Here are some of the most common issues associated with irregular sleeping postures.
Waking up with neck pain
Waking up with neck pain is quite common. Do you know what stimulates this ache in our body? Sleep position and the type of pillow we use while sleeping can cause sore necks and stiff neck problems. Our neck can be twisted for hours in one place when we sleep on our abdomen. This leads to strain on our neck muscles, which might become Stiff when we wake up. A pillow that doesn't support your neck for a long time can cause neck problems. Pillows that do not provide proper support to the head and neck Can cause tension in neck muscles and lead to neck pain. Sleeping on the back can be considered the best position to treat neck pain.
Wrong pillow and shoulder pain
Pillows can cause constant stress on our bodies. If adequately designed, ones are not chosen. Other than causing severe neck problems, the wrong pillow can also cause shoulder pain. If pillows are properly aligned with respect to the body and mattress, it may spasm in the trapezius muscles in our shoulder. The trapezius muscles are a very crucial form of muscle in our body. They perform varieties of functions, including:
To stabilize and move the shoulder blade, I.e., Scapula.
They form the upper layer of the back muscles.
They act as a platform for elevating the skull.
As the shoulder is compressed on its firm area, the scapula may be forced toward the junction of the upper spine and neck. This will lead to pain in the upper arm and pin and needles in the pinky finger or both.
In the case of excessive pressure applied to the C2 and C3 vertebrae, it may irritate the nerve sheath, sensitive muscles, and some joints.
Sleep positions and spine problems
In sleep, most of our joints, muscles, and bones are at rest and do not bear any weight, which means that we should not experience any type of pain after bedtime. However, if we wake up with the same issue, there is a problem with our sleep posture or pillow. As described earlier, the most harmful sleeping position is lying on the stomach. Another less ideal position to follow while sleeping is to side sleep with bent legs.
We can select two alternatives to avoid back and neck pain.
•Sleeping on your back - The ideal position to avoid back or neck pain is lying flat on your back. However, some people find it difficult to sleep for long periods of time in this position. To ensure your spine is properly aligned, it is beneficial to place one pillow under your head and one pillow underneath your knees.
•Side sleeping - Side sleeping and keeping our legs straight can be considered the second best position for sleeping. Keeping legs straight and putting a pillow between knees can be helpful options for optimal spinal alignment.
Here are a few ways by which you can prevent yourself from neck and back pain due to incorrect sleep posture.
Sleeping with your head elevated
It is also referred to as inclined head therapy. It means a person had it slightly above their feet while sleeping. A person can use a Special bed mattress or pillow to sleep in an inclined position. This position helps to prevent various health conditions such as sleep apnea, neck and back pain, and acid reflux. There are various benefits of sleeping in an inclined position.
These are as follows:
It significantly improves lung health by improving the saturation of oxygen. Researchers found that sleeping slightly elevated from the ground can decrease sleep apnea and improve sleep efficiency.
Studies suggest that slightly tilting your head upward Can help reduce snoring.
This posture can also help in improving blood flow. Studies suggest that elevating the head while sleeping can increase the Total stroke volume of the heart. Stroke volume is referred to as the total blood pumped from the heart during one heartbeat.
Researchers also found that sleeping in this posture can reduce eye pressure. Reduction in the pressure towards the eyes Will prevent the optic nerve and hence prevent glaucoma.
It is challenging to sleep when you are sick and especially when you are suffering from a cold, and your nose and head feel stuffed. Sleeping in an elevated head position Reduces pressure towards the head and allows you to sleep more comfortably.
People with chronic obstructive pulmonary diseases face breathing problems, especially while sleeping. Keeping the head slightly elevated helps ease the symptoms of chronic obstructive pulmonary disease.
When you lie flat, this mucus tends to gather at the back of your throat, making it even harder for it to drain. It is also possible to alleviate post-nasal drip by elevating your head because gravity won't pull the mucus backward when you keep your head elevated.
Using appropriate pillow
As discussed previously, we spend about 24 years of our lives sleeping, so it is essential to mark that we sleep on the right object. Pillows play a significant role in better sleep quality and health too. An ideal pillow is comfortable for better sleep and supports our head, neck, shoulders, Hips, and spine. A pillow is such an essential factor that it can stimulate or prevent our body from head, neck, shoulder, lower back, and back pain. Pillows can keep our bodies properly aligned while sleeping. A right below can reduce the pressure that can act on the body while sleeping. This supports our body and joints while sleeping and allows our spine to rest appropriately.
If pillows are considered such an essential aspect of our body, there might be many constant questions that strike our minds regarding pillows. Here are a few answers to the most essential questions regarding pillow choice.
What is the ideal height for a pillow?
Pillows should not be very high or very low for our bodies. If we are using a very high pillow, it can cause muscle strain on our neck and shoulder. It can also cause breathing problems. On the other hand, if the height is too low, it can also cause strain on our muscles. The height of the pillow can also vary along with different bodies.
Studies suggest that below should not be of more height than 4 to 6 inches for better support to our body. Pillow height from 4 to 6 inch provide optimal alignment of the spine.
Pillows for neck pain
The right below provides good neck and spinal alignment support during sleep. If the below does not provide adequate support to the body, it will leave the body under stress even after sleep. A proper recommendation is provided here, advising how to use your pillow to avoid neck and back pain.
You should always choose your pillow according to your sleeping position. For example
Low pillow is better when sleeping on your back. Along with the pillow also, add a small rolled-shaped pillow under your neck. It will provide extra support. It is recommended that when one is lying on their back, a pillow should be used that supports the natural curvature of the cervical spine, as well as provides adequate support under the head, neck, and shoulders. When sleeping on your back, putting a pillow under your knee is advised to avoid strain on your spinal cord.
It is recommended to use a higher pillow when sleeping on the side. It will allow the head and neck to rest straight over the shoulder. When one lies on one's side, it is critical to have a pillow supporting the head and neck. This will ensure that the spine maintains a straight and horizontal line, preventing the spine from twisting or bending. To avoid unnatural bending or pressure, the weight should be evenly distributed across the body.
User relatively applied below when sleeping on the stomach. It is also recommended to sleep without sleeping on the stomach. It is advised to keep a flat pillow under the stomach so that the spinal cord remains in its optimal alignment.
Conclusion
Stress, as they say isn't healthy – neither for your brain, nor for your body. Similarly, there are two types of stress one that is present mentally and the second that our body faces. It is advised to have a proper sleep to either reduce or eliminate any physical or mental stress. The study suggests that poor sleep affects our hormones, performance, and brain function. In recent decades both the quality and quantity of sleep have been reduced. For optimized health, it is essential to sleep better at night. Being comfortable during sleep is very important for getting an excellent relaxed sleep. Quality sleep provides:
Relaxing of joints
Muscular recovery
Removing pressure from bones
But what if sleep is only providing stress to our bodies? Waking up even after completing 8 hours of sleep can be stressful because our body has to deal with many pressures, anxiety, and strain on its joints and muscles.
Having a quiet bedroom is beneficial for having a good night's sleep. Noise and other disturbances should not be present. In addition to the bedroom environment and the bed, the pillow's quality can be considered the most significant factor in preserving quality sleep. Pillows from Sleepsia are professionals in it. According to your sleeping style, a pillow should be comfortable and at the appropriate height. A comfortable pillow and a sleeping posture also play a crucial role in getting quality sleep.
---
---