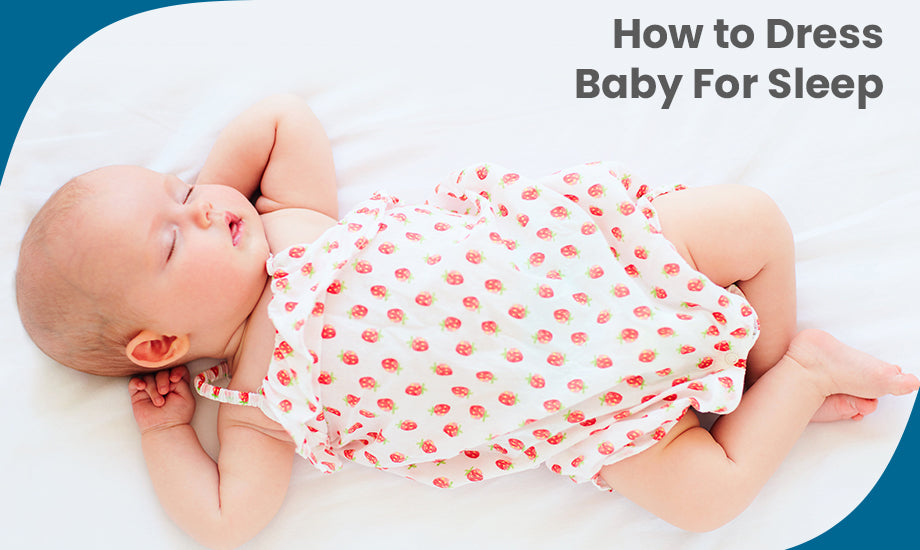 As a new mother, it is expected that worries about your neonate's well-being are always on your mind. And why wouldn't they be? Being new to motherhood is quite a challenge. You must be around the young one all the time, taking his care at every step. A baby's cries sound the worse to its mother. Being into motherhood for a few days would have made you realize how much your child's sobbing could worry you. Sleepless nights because of your crying baby can make you think about whether your child is sleeping in the right way, whether you have fed him properly, does his diaper needs a change. The answer to your restless nights might be in the way you are dressing your child for sleep. Many times it is the baby's draping that makes him uncomfortable and wakes him up from his sleep. If you are also concerned about the right way, you should put your baby to bed, the right way to dress him for a goodnight's sleep.
Follow along with this article and learn all you need to know about dressing a baby for sleep.
What climate is your baby living in?
The way of dressing depends on the climate you and your child are in. Don't let the old-fashioned beliefs about baby-loving warmth get the better of you. Your child has a keen choice of temperature preference. Too many clothes, swaddles, and drapings can make your child feel clammy and uncomfortable. To understand what dress should be put on your child before he sleeps, first, you must understand the ambiance he is to sleep in.
If you reside in a warm place, putting on a lot of clothes won't help. Infants prefer a cool breezy temperature for sleeping, against popular belief. If the place he is going to sleep will keep him warm, you can drape a swaddle and let him sleep. The best temperature range for an infant's sleep is from 20℃ to 22℃. If it gets too hot inside the baby's clothing, he might wake up due to discomfort.
Now, in case you live more toward the colder climate regions. The trick is to maintain the temperature within the optimum range. If the atmosphere remains cooler than necessary, consider putting different layers of clothing on the newborn. These layers can include a onesie over which you can put a socked pajama and a sleeping. A layer of a soft blanket over these will also work for colder climates.
For places that are hot, you don't need to put many clothes on your baby's body, Even just a diaper works. Your child won't feel cold but rather easy and free, leading to a good night's sleep. Still, if you are worried, just put a muslin baby sheet over him.
Suppose you use a thermostat to keep your room temperature optimized for you. You can set the temperature for yourself and dress your baby based on the above suggestions so he gets a night of good sleep, and so do you.
If your house is equipped with ceiling fans or table fans, a cool air breeze might be good for your child. With a onesie and a swaddle, your child will be most comfortable and busy sleeping the night through.
What clothes to choose for the baby's sleep?
There are a few things that your infant can wear while sleeping. Blankets, dry sheets, swaddles, onesies, and diapers are all that you should use for your child's sleeping outfit. But each of these also comes with different qualities. Choosing the ideal ones is quite important.
Thermal Overall Grade
Your child's clothing comes with a TOG rating that roughly tells you how warm the piece of clothing can keep your baby. TOG rating is a European system to measure the capacity of warmth a dress can hold. Higher TOG means better warming capacity.
For hot places, a TOG of less than one is recommended. In places with temperatures around 18℃ to 20℃, clothes of a TOG 1 can be used, and for colder places, you can go up to 3.5 TOG.
When you dress your child for sleep, it is handy to keep this technical bit of information in mind.
The fabric of the clothes
As we pick different clothes made of different materials for different seasons, the same should be done for your baby too. It is all about comfort, and comfort won't come from a cloth that keeps the temperature right but brushes the baby's skin. The material you choose should be soft and optimal for sleeping. Don't put your baby directly on a regular bedsheet, but lay down a soft cotton sheet before putting him to sleep. The swaddle, blanket, or any other clothing should also be lightweight, so the baby does not feel pressed down with them.
Using a swaddle while putting the baby to sleep
Swaddles are simple wrappings for a baby. They can restrict the child's movement during sleep and keep the child warm and comfy. When using a swaddle to drape your child for sleep, there are a few things you should keep in mind. Swaddle only works as a wrap around the baby. You might need to put some other clothes on the child first.
If you are using a swaddle in a hot place, You can wrap it just along a diaper. It won't keep the child warm a lot, but it won't keep him cold, either. For warmer and colder places, a swaddle can be used as a layer above other layers of clothes. If the temperature inside the room is lower than 18℃, you should put on a onesie with socked pajamas first and then use a swaddle over them. A blanket in colder climates over these layers won't hurt, either.
Another thing to keep in mind with swaddles is that you should not wrap them very tightly. This might cause discomfort to the child and again disturb his sleep, making him cry at midnight. Let the wrapping be loose but firm.
Dressing your baby if you're traveling
Your newborn can fall asleep anywhere and everywhere. If there are times when you have to travel with your child, you would like to ensure that your baby is still comfortable while sleeping, even if the surroundings are not cozy. You can not often control the temperature of the vehicle you are traveling in, especially if you are on public transportation. It is best to foresee your journey and plan accordingly. Check for the weather forecast and temperature of the place you are traveling to. Check the same for the journey too. Carry blankets, diapers, swaddle, and other clothing that might be needed.
If it feels windy or chilly, it is better to keep your baby warm. It might not be easy to put pajamas and onesies on while traveling, so rely on blankets and swaddles. If you get a chance to put them on, put on an onesie, then pajamas, socks, and gloves.
If the weather is hot instead, your child won't need a lot of clothes. Just a onesie and a swaddle or a lightweight blanket along with it, will do. Suppose your vehicle has a regulated temperature. Dress the baby accordingly.
Changes to dressing habits for sleep as the baby's growth
The temperature of an infant's body is not controlled autonomously, only up to a few weeks after birth. When the body of your infant can not regulate its temperature, a lot of care about keeping the baby warm is needed to prevent him from sickness. Keeping a child wrapped up properly in this period might be good practice. Layers of onesies, pajamas, and sheets will keep the infant's body warm.
As the baby gets about 11 weeks old, its body grows capable of regulating the body temperature. After that time, keeping a baby wrapped in loads of blankets is not something you should do. You should not try to regulate the temperature of your baby but let his body do a little work. Moreover, there is a downside to keeping your baby under such pampering conditions. Such habits might make the child intolerant to temperature changes and get ill easily. Though sudden and extreme temperature variations must be avoided but changing the clothing habits for sleep and daytime regularly will build the baby's temperature tolerance.
Bottom Line
A night of good sleep is very important for a newborn's health. Newborns sleep a lot. Most of the hour, we can find them enjoying a good nap. Well, whether the nap is good depends on how comfortable the baby feels. Things that cause discomfort to the baby are mostly hunger, their clothes, and the temperature of the place they are napping in.
For the clothing aspect, it is good to dress your child properly before you put him to sleep. Your child will enjoy a fulfilling nap if what he wears is according to the climatic conditions and temperature of the place. You should dress your baby while keeping the conditions of the room in which your baby is sleeping in mind. Choose the right number of layers and the right type of clothes to put on your child while you put them to sleep.
---
---