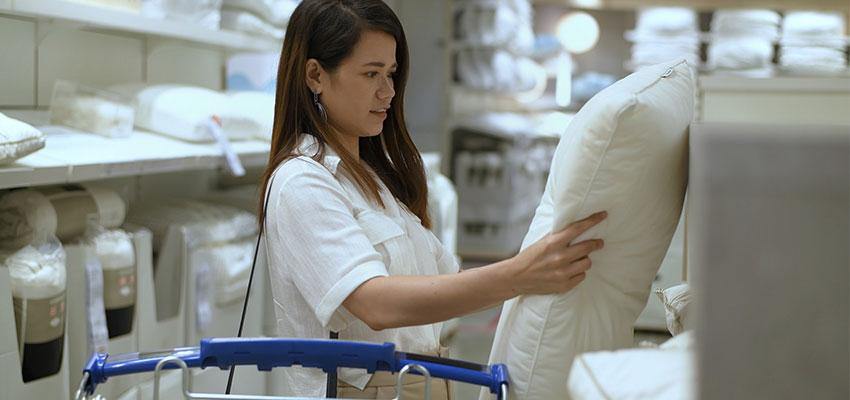 Pillows are merely not a part of our bedding. Pillows are more than that. These are the comfortable platforms that have the ability to build strong and peaceful sleeping conditions for us. Also, pillows have the power to cure us and heal us. Seems impossible? It is not! It is indeed a truth. The Bamboo Pillows are such pillows that have the ability to transform an unhealthy, unhappy, and anxious life. Therefore, it becomes necessary to choose a perfect pillow in our lives. Let us know how to pick the perfect pillow? These are only two steps. Read ahead to know more.
Step One: Compare Old Pillows And Bamboo Pillows!
Comparison between bamboo pillow and normal pillow is a must. It is important for us to know what are the indications of a good pillow. Bamboo Pillows are completely opposite to the old and rigid pillows. Know these features of Sleepsia Pillows and compare them on your own!
Shredded Memory Foam Healing Mind and Body: This foam is put inside the pillows. It makes the pillow flexible and malleable. The pillow molds and retains its usual shape. The moment a body part is exposed to the pillow, it feels relaxed. It is because the foam is not stuffed just like that. It is in the form of shredded. It is put in the form of pieces with extreme carefulness. In the adjustable Bamboo Pillows, the desired shredded foam can be kept aside and can be filled later, or can be removed as per wish.
Physical Relaxation: These pillows help to overcome health hazards like cervical, shoulder pain, muscle pain, spondylitis, insomnia, etc. It is because the body observes a tender and soft support. This lets the user feel immense deep sleep. The pain regions are attacked.
Mental Relaxation: Merely not beautiful pillows to be kept for interior design, but these Bamboo Pillows are stress removers too. A user dozes off to sleep with peace in mind. He/she immerses in deep sleep quickly. Every sleeping pattern, every sleeping posture is supported. Thus, anxious attacks or stress attacks minimize.
Bamboo and Shredded Memory Foam: Inside lies, shredded memory foam and outer is the Bamboo Cover. It is washable and breathable. It enhances and increases air circulation. So, isn't it wonderful?
Now think of your old pillows. Do they stand next to these pillows?
Step Two: Choose Bamboo Pillows!
After knowing all these benefits, the choice is clear. Bamboo Pillows are available in three sizes of King, Queen, and Standard. It has a 5" loft. The adjustable pillows have an adjustable loft. It can be used for the customization of the pillow. Use the inserted shredded memory foam as much as required to fluff it up. These are completely hypoallergenic pillows that target allergies. Unlike other fabric, the bamboo covers are protective of its users against the allergens. What else one needs to figure out in a good pillow?
Conclusion
The world is full of a variety of pillows. But it is in our hands to choose the best. Bamboo Pillows are highly beneficial in all terms. Look for all these benefits in a pillow and that is the best pillow. For sure, only Sleepsia Pillows have it in them! Now that you know how to pick the perfect pillow, then why waste even a minute? Within a few clicks, you can order these amazing Bamboo Pillows from www.sleepsia.com. Give us a call on 1800-862-1084 for any questions. We are here to help you!
Good luck!
---
---