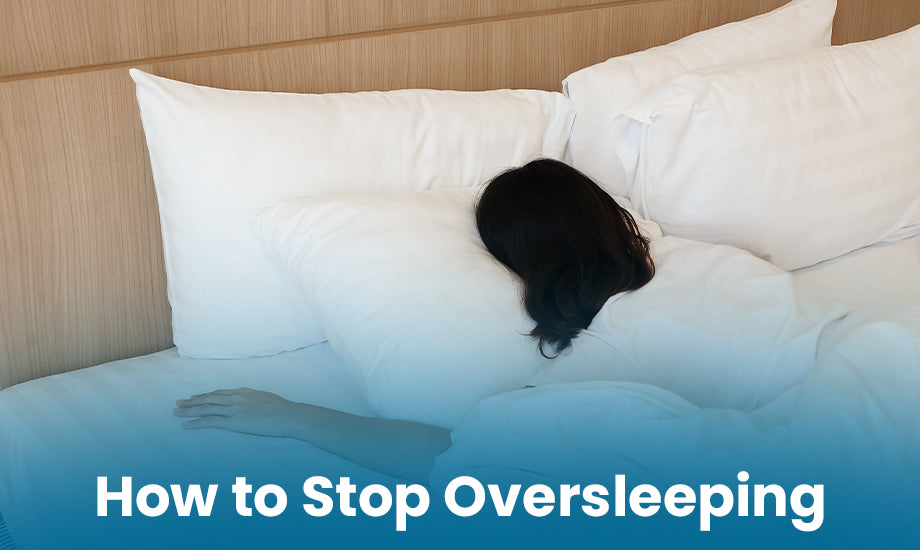 According to Dr James Ware, an expert from Eastern Virginia Medical School "It is not possible for a healthy person to 'overdose' on sleep. The person will instead lie awake in a hunt for sleep. We all know the importance of sleep in our daily lives. Sleep deprivation shows an immediate impact on our work efficiency and a long term impact on our health. To get an immediate taste, try to stay awake for more than 24 hours and you can see the decline of your energy, efficiency, stamina and body power.
One dilemma which most people will think about is whether getting more sleep will give us an added benefit or not? Let us examine this frame of sleep from a different perspective and discuss some quick remedies on how to stop oversleeping.
Overview
We all need sleep. It is our body's way of recharging and restoring itself. But oversleeping can lead to health problems, poor work performance, and even depression. So what causes us to oversleep? One of the most common causes of oversleeping is depression.
People who are depressed often sleep too much as a way to escape from their feelings. They may also have difficulty getting out of bed and staying awake during the day. Another cause of oversleeping is an irregular sleep schedule. People who do not have a regular bedtime and wake-up time may find that their body clock is out of sync, leading to excessive sleeping. Oversleeping can also be caused by certain medications. Many medications, such as sleeping pills, antihistamines, and antidepressants, can make you feel sleepy. If you take these medications, you should talk to your doctor about the best way to manage your sleep.
Finally, oversleeping can be caused by an underlying medical condition. Sleep apnea, narcolepsy, and thyroid problems can all cause excessive sleeping. If you are concerned that you may have an underlying medical condition, it is important to talk to your doctor.
Oversleeping as a disorder
If you are constantly exhausted and feel like you can never get enough sleep?
Do you find yourself oversleeping and having trouble getting out of bed in the morning?
You're not alone. Oversleeping is a common problem, but it can be difficult to figure out how to stop it. Fortunately, there are a few simple steps you can take to help reduce the amount of time you spend sleeping and get back on track with a healthy, restful sleep schedule. In this article, we'll discuss some tips and strategies to help you stop oversleeping and get your body back into a regular sleep-wake cycle.
What is oversleeping?
Oversleeping, also known as hypersomnia, is characterized by excessive sleepiness during the day. People with oversleeping may sleep for long periods of time — typically more than nine hours — during the night and may also take multiple naps during the day. While oversleeping is not typically associated with any major health risks, it can be a sign of an underlying medical condition or sleep disorder that should be addressed.
The exact cause of oversleeping is not fully understood, but it is believed to be associated with other health conditions, such as depression, anxiety, bipolar disorder, or sleep apnea. Other potential causes include drug and alcohol use, certain medications, and an endocrine disorder called hypothyroidism. In some cases, oversleeping may be caused by lifestyle factors such as an irregular sleep schedule or not getting enough exposure to natural light during the day.
Oversleeping can cause fatigue, irritability, and a decrease in overall productivity. It can also lead to physical health issues such as an increased risk of heart disease, diabetes, and obesity.
The recommended amount of sleep an individual should get is based on their age, lifestyle, and health. The National Sleep Foundation recommends that adults aged 18-64 get 7-9 hours of sleep each night, and adults aged 65+ get 7-8 hours of sleep each night. Children and adolescents should get more sleep, with the National Sleep Foundation recommending that infants aged 0-3 get 14-17 hours of sleep each night, children aged 3-5 get 11-13 hours of sleep each night, and adolescents aged 13-18 get 8-10 hours of sleep each night.
How to avoid oversleeping?
Oversleeping is when a person sleeps more than the recommended amount of sleep for their age group. It is usually considered to be sleeping for more than 9 hours per night for adults, or more than 10 hours for children and teenagers.
To avoid over sleep:
Develop a consistent bedtime routine: Establish a consistent sleep schedule that allows for 7-9 hours of sleep every night. Going to bed and waking up at the same time every day will help to regulate your body's natural sleep-wake cycle.
Exercise regularly: Exercise helps to reduce stress and can help you to sleep better at night. Try to do at least 30 minutes of physical activity every day.
Avoid caffeine, alcohol, and nicotine: Caffeine, alcohol, and nicotine are stimulants that can interfere with sleep. Avoid consuming these substances in the afternoon and evening.
Avoid naps: If you find yourself wanting to take a nap during the day, fight the urge. Napping can interrupt your ability to sleep at night.
Get out of bed if you can't sleep: If you're lying in bed and unable to sleep, get out of bed and do something relaxing until you feel sleepy.
Create a comfortable sleep environment: Creating a comfortable sleep environment can help you to get the rest you need. Make sure your bedroom is dark, cool, and quiet.
Limit screen time before bed: The blue light emitted from screens can interfere with your body's natural sleep cycle. Try to avoid screens an hour or two before bed to ensure you get quality sleep.
Get plenty of natural light: Natural light helps to regulate your body's internal clock, so try to get as much natural light as possible throughout the day.
Effect of oversleeping
Oversleeping has a number of negative effects. It can lead to physical and mental fatigue, irritability, and even depression. Studies have also shown that oversleeping can increase the risk of chronic health problems such as heart disease and stroke. Implications such as:
Low energy levels throughout the day
Increased risk of depression
Impaired cognitive function
Increased risk of diabetes
Increase in weight gain
Impaired immune system
Increased risk of heart disease
Interference with natural sleep cycles
There are some other top-ups or pitfalls of 'oversleeping'.
Can cause you to miss out on important activities of daily living
May miss out on important tasks like brushing your teeth, taking a shower, and preparing meals
Can negatively impact your productivity
Can cause you to be late to work, miss deadlines, and make mistakes
Oversleeping can also cause you to miss important social events
If you oversleep, you may miss out on spending time with your friends, family, or significant other. If you are an over-sleeper, you may also experience difficulty concentrating and focusing on tasks. This can lead to poor performance at work or school.
Lastly, oversleeping can cause you to experience a low mood and lack of motivation. This can cause you to become less productive and lead to feelings of unhappiness and depression.
---
---