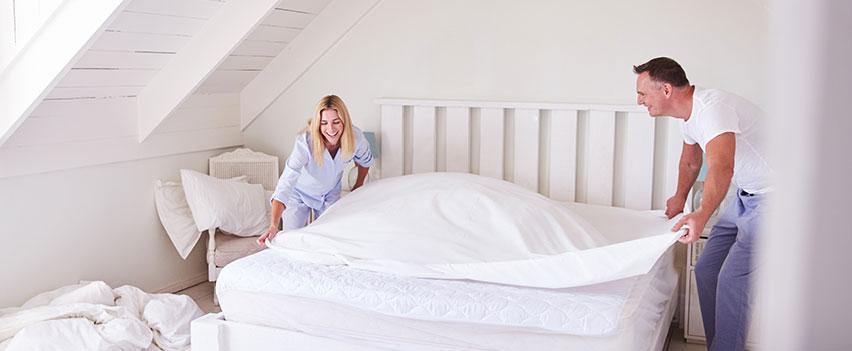 Interior Designing is a creative job. A designer is an artist who lets out the entire love and warmth in the form of his/her art. The most precious area to design or decorate in the bedroom. After all, it is the place to let go of all the stress, relax, be cozy, and be happy. Designing the bedroom, and arranging the stuff in the bedroom can be a bit tedious. There is a fine line between arranging the bedroom to make it look beautiful and comfortable and make it look disastrous. It is because balancing between the usage or accessibility and beauty demands wise choice. The more you beautify the bedroom and focus on its looks, you may lose the comfort. And comfort is the most important! And it is really interesting to know that pillows can be used to design an entire room. Don't believe it? Let us know how to make your bed the right way with Sleepsia Bamboo Pillow.
Rope In Bamboo Pillows To Make Your Bed Right!
These pillows are way too special. These pillows are a perfect combination of beauty and benefit. The dual power of 'B' makes it the best choice for bedrooms. It is because these pillows are available in King Size, Queen Size, and Standard Size. The pillows can be chosen as per the bed size. A combination of two sizes can also be chosen. One pack or two-pack is also a choice to be made. Next, these pillows come in a zip lock bag. The shredded memory foam is inserted in the first layer. Next comes the breathable and natural bamboo cover. This makes the pillows look refreshing and natural. Also, if required another set of colorful covers can be added. Consider the following tips to use Bamboo Pillows to make your bed right!
Place These Appropriately: These pillows are highly flexible and malleable. However, these retain their original shape. So these do not look suppressed or loose when used often. Hence, these high-quality shredded memory foam pillows can be placed erect on the back of the bed to give it a fine look. Other two-pack pillows of slightly smaller size can be added to complete the look.
Spread Hues: Colorful Bedroom looks stunning. It brings joy and keeps the person energetic. So, if white matches the theme of your bedroom, then fine. Otherwise, the Bamboo Pillows can witness a beautiful phase if hand sewn pillow covers of different shades and hues can be added. However, the original bamboo cover stays to be hypoallergenic and safeguard the user from allergens. It protects the user from unnecessary sneezing, coughing, itching, etc.
Place On The Couch: Have you heard of floor bedding? It also looks stunning! Use these lovely shredded memory foam pillows to design that area. If you have a couch or a sofa near the window pane, these are perfect for it as well. The comfort of the sofa or couch can be doubled up. Also, if you have a study table or work station in your bedroom, don't forget to place these super-healing bamboo pillows there. These will provide rest to the back, and release work pressure. Light exercise, stretching, etc, while working will also be at an ease with these pillows.
Bedroom
The benefits are endless. It has already been discussed how these are beautiful, durable, and usable. These advantageous pillows are perfect to decorate bed because:
The bedroom demands hygienic and comfortable sleeping elements. And these are the ones.
Issues like insomnia, sleep apnea, breathlessness, cervical, irritability, etc. are cured by these pillows. Remember, a bed should be a place of relaxation. Only then, the beauty of a bedroom can be cherished!
It is a fact that couples enjoy their cozy times when the environment is supportive enough. A bedroom can be easily converted into a romantic zone with the help of Bamboo Pillows. These comfort the love birds, cool down the temperature and make the bedroom look pretty.
These shredded memory foam pillows mold as per the body and are stress busters. Two of these qualities, do not let the user adjust according to the pillow, rather the pillow adjusts. So, this lets the user forget all the tensions. No stress, no pain means a happy heart. And a happy heart appreciates the beauty prevailing around.
Conclusion
Now that you how to make your bed the right way with Sleepsia Bamboo Pillows, why not buy these wonderful pillows from www.SleepSia.com.
Go ahead and call us on +1(800)862-1084 to know more!
Good luck!!
---
---