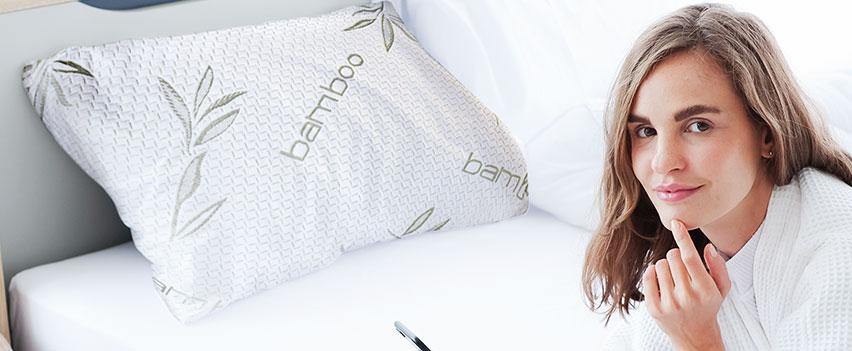 Just like cake and Choco chips are a great combination, similarly, memory foam pillow and bamboo pillow cover are a stupendous combination. These two things are inseparable. This combination creates a comfortable living experience for all of us. Sleepsia believes in the advantageous effect of pillows created with memory foam. So, it comes with a great variety of pillows. But the ones with bamboo covers are surely the highlight. It is because the list of their benefits is endless. Be it health, or mental wellness, these special pillows provide wellness in almost every arena. Let us gear up to know what memory foam pillow with bamboo cover is exactly known as. Also, let us know how this pillow actually helps!
Memory Foam Pillow with Bamboo Cover is the Key to a Healthy Sleep!
This pillow is known as the Bamboo Shredded Memory Foam Pillow. This name is a definition in itself. It explains how the pillow is made out of the beneficial elements such as:
Bamboo: The pulp from bamboo is used to make the bamboo cover of the pillow. This makes the pillow natural and authentic.
Memory Foam: The pillow is stuffed with memory foam. This filing is responsible for providing extreme levels of comfort.
Shredded Memory Foam: The memory foam is of a specialized type. It is shredded memory foam. This is the foam that is available in chunks. The shredded form of foam is put inside. This makes the pillow super flexible and lets the pillow heal its user.
It is because of these elements that the Memory Foam Pillow with bamboo cover is responsible for healthy sleep. To know more in-depth, read below!
Memory Foam Pillow With Bamboo Cover Unlocking Doors To A Better Life!
We can achieve a better life if we have a comfortable sleep. This might sound vague to many. But believe it or not, it is the ultimate truth. An interrupted sleep leads to an irregular life routine. This deeply affects the physical health and mental health. A loss is a loss! Losing health can never be a reason for leading a happy life. Amid such a scenario, Memory Foam Pillow with Bamboo Cover Helps in the following ways:
Provides Airy Conditions: The cover of the pillow is washable. Thus, it is hygienic. It is made out of natural elements. Therefore, it enhances air circulation. The user doesn't feel breathless. A good amount of oxygen and it's free flow is necessary for the user's brain to function. The pillow is hypoallergenic too. Isn't it an icing on the cake?
Provides Support To Body: The pillow has shredded memory foam. This helps the body relax and attain high levels of comfort. It molds as per the body and balances the entire body. It doesn't let the body face pain and pressure at one single point. No chance of cervical, or wear and tear of muscles. Complete relaxation!
Provides Peace: The memory foam pillow with bamboo cover ensures peace. Peace comes with good health, no sleep apnea, no allergic reactions, and good support to the body. Peace and mental wellness can be earned with the help of these pillows.
How To Reach Out To This Memory Foam Pillow With Bamboo Cover?
It is easy! It is because we are here to help. Sleepsia ensures satisfaction from your side. Therefore, we have made it easy for you to reach out to us. Just step ahead towards www.sleepsia.com, and order it now! We are here to take your feedback, solve your queries, and support you in every way possible. For that, do not hesitate to ring on the number 1800-862-1084.
Buy the Memory Foam Pillow with Bamboo Cover of your choice. There are three sizes Bamboo pillow available in the form of King Size Pillow, Queen Pillow, and Standard Pillow. Also, the adjustable feature makes it easy for you to put more shredded memory foam in it, and take out some of you want.
All these features in one pillow! Think about it!
Good luck!
---
---