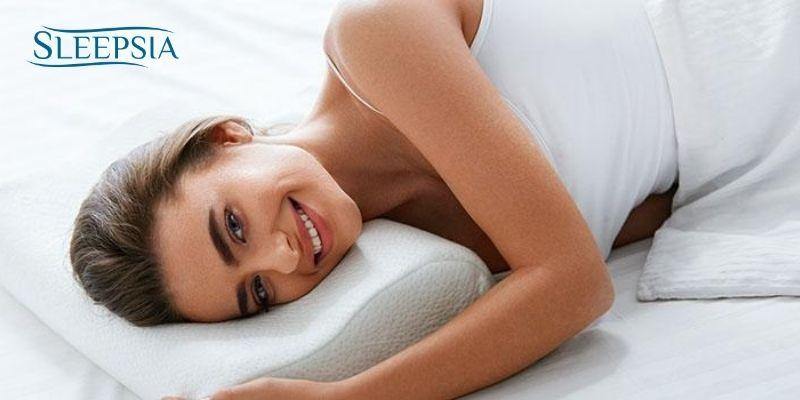 There can be many pillows in the market trying to emerge as supporters for you all. But what Sleepsia does for the body, no other pillow is capable of doing it. A Sleepsia bamboo pillow for sleeping is the best 'Orthopedic Neck Pillow'. Heard of a pillow supporting your neck?
If not, then it is the time to know how a good-quality bamboo pillow is responsible for giving relief during neck pains. Our routines are hard. We struggle everyday to achieve what we want. We do almost everything but what we fail to do is- provide some rest to our body. Our neck handles pressure the entire day. Our neck undergoes pain everyday but still we are unable to give it some relaxation. It is because we don't get best pillows for sleeping.
There can be many neck pillows to be wrapped around the neck for relaxation but what a grand and fluffed up bamboo pillow can do for the neck, no other pillow can do the same. That is why the pillows with the special touch of bamboo can also be termed as 'organic neck pillows' that help cure orthopedic pains. Let us know more about it.
Orthopedic Pain And Bamboo Pillows Providing Relief To Our Neck!
Sleepsia bamboo pillows are known to soothe the body and provide additional support while sleeping. These are known to provide spine alignment and neck alignment.

Limiting The Orthopedic Pains:

These pillows are filled with shredded memory foam that makes the pillows malleable. As a result, the pillow molds as per the shape of the body parts. When placed beneath the head, the pillow takes the shape of the neck and gives relief to the hollow space in between the head and the neck. It gives relaxation to the body and cures all the stiffness or pain in the muscles.

A Fresh Start!:

These bamboo pillows are responsible for making a fresh start. The user can begin the journey to a dreamy world without breathlessness, without snoring, and without insomnia! These pillows let the users breathe fresh and stay ventilated. What the users witness are the conditions of improved air circulation and no sweating!

Defeating The Allergens

: These pillows are hypoallergenic. The allergens fail to attack the users and aren't able to get into the nostrils. No chances of sneezing, coughing, or rashes!

Adjustable Pillows: There is an added feature with these pillows. The adjustable ones can be customized easily. Through the 'openable' cover holding the premium shredded memory foam filling, the desired amount of foam can be taken out. It can be kept aside and can be inserted again as per the requirement. It all depends upon the user. Isn't it a great option available? Through this, the user can customize the 'Orthopedic Neck Pillow' as per the need of the head and the neck.
Some Tips to Cure Orthopedic and Neck Pains Along with Bamboo Pillows!
It is important to take care of your neck as it gets affected the most. We keep our heads down for using phones, we sit in the wrong postures for watching TV, we spend time working on our laptops for long hours, and we don't let our neck rest at all. All these continue to deteriorate our physical health. This in turn, puts pressure on our minds and our work starts getting affected. Later on, our mental health too faces issues. So, before it is too late we should,
Set our sleeping cycle right. Sleeping and getting up early is important.

We should choose wisely. Sleeping on bamboo pillows is necessary. These are the great neck pillows too! So, why not?

We should exercise everyday with neck rotation exercises and yoga poses for stretching.

We should sit straight and continue our work. Bad postures means bad health!

We should avoid sitting in the same posture for long hours. Shift, get up, walk a bit, stretch yourself, and then come back to the previous state!

Occasionally sleep on hard surfaces like the floor with bamboo pillows and good mattresses. Floor bedding are usually helpful. Follow this only if your doctor approves of it.

Cervical is a horrible state of the body. Take care and don't let your initial neck pains, back aches, and orthopedic pains turn into the cervical. So, keep a check on yourself and have a good routine.
Final Words
Our final words suggest you all to take a pause for a while in this busy life. Give proper time to your sleep and grab the best 'Orthopedic Neck Pillow' i.e Sleepsia bamboo pillow for sleeping. To order it, go to
SleepSia and bring home your share of joy! Also, don't forget to contact us on
+1800-862-1084 in case of any queries. Team Sleepsia is available for your help and support, always.
---
---