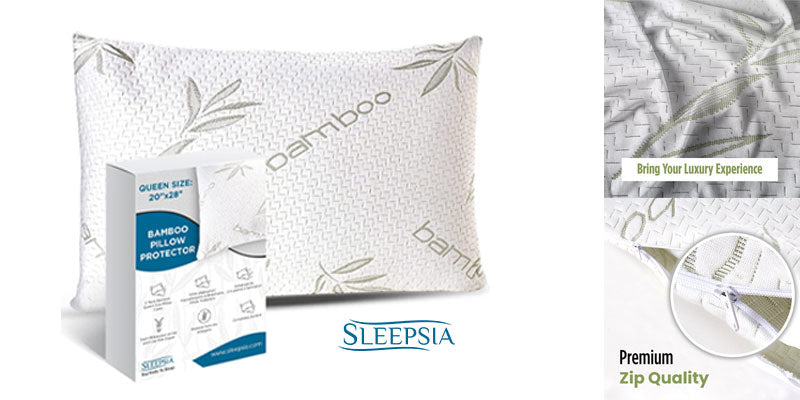 Pillow Protectors are the minimum attention given 'sleeping essentials'. Disturbed sleep, irritated night, and flips and flops can happen due to a wrong pillow protector on the pillow. Just the way a lid along with the pan forms a perfect combination for better cooking, an appropriate pillow along with an appropriate pillow protector forms a better combination for sleep. Usually, one searches for the best pillows for sleeping but fails to know if those pillows come along better pillow covers or not. Thankfully, Sleepsia gives such options to its users. A pillow indeed needs to be chosen considering many factors but one should not deny how pillow covers hold a similar amount of importance.
Bamboo Pillows are 'in' these days! It is because these pillows provide better hypoallergenic sleep and other benefits too. But why are these pillows called bamboo pillows? It is because these pillows come along with pillow protectors extracted from bamboo naturally, safely, and in an eco-friendly way. Sleepsia makes these pillow covers that have shredded memory foam filling and still, these pillows are famous with the name of their pillow covers and not just the filling. That's the point! Pillow covers have actually become the identity of the pillows these days and not just the filling.
Why Use a Pillow Protector While Sleeping?
Using a pillow protector is important not while sleeping, but is important 24×7! These pillow covers form a barrier against any sort of destruction that might take place to harm the pillows. The life of pillows increases. Not to forget, these covers directly provide benefits to the user and the pillow covers are the first thing that comes in direct contact with the user and not the pillow.
Helps in Protecting the Pillow
Pillows are delicate for sure. They need to be protected if one desires for long time usage. The covers are made to safeguard the pillows from many attacks.
Pillow Protector With Zipper: A pillow protector with a zipper helps to keep the pillow intact. The pillow doesn't come out unnecessarily while sleeping in different positions. Sleepsia bamboo pillows for sleeping come along with specialized zippers that are easy and smooth. Zippers protect the pillows from popping out and getting dirty in any manner.
Pillow Protector Waterproof Benefits: A pillow protector which is waterproof gives the benefits of protecting the filling of the pillow. Many pillows on getting exposed to water, form clumps in their filling. A high-quality pillow cover helps to soak liquid that can be splashed on pillows due to accidental spill of drinking water or paint colors. Not to forget, Sleepsia Bamboo Pillows for sleeping have a fresh bamboo pillowcase that supports to soak sweat and keeps the user fresh.
For Additional Barricading: A pillowcase is no less than an additional barricading! It comes between the external exposure and the pillow to safeguard it from all possible harm. Be it direct heat or sunlight which is not at all good for some tender pillows or be it some dirt flowing!
Helps in Making the Pillow Hypoallergenic
An allergen-protecting pillow protector helps in making the sleep, a hypoallergenic one. Minute allergens, bacteria, bugs, and other particles that irritate the breathing pathway can be asked to stay away with hypoallergenic pillowcases.
These allergens may cause skin rashes, irritation in the eyes, sneezing, coughing, and other symptoms while sleeping.
Better is the quality of the pillowcase, better is the protection from allergens.
Sleepsia hypoallergenic bamboo pillow covers are created with the vision of supporting the users from such allergies.
It is better to choose natural, eco-friendly, and hygienic pillow protectors to be able to have a healing sleep.
How to Choose a Pillow Protector?
Making a choice is the most difficult yet easy task. Difficult in terms of deciding from the wide choices available in the dynamic market and easy in terms of having a clear vision of 'what you want.' The moment one knows about the requirements, the battle of 'choice' is already won!
Size is the First Priority for Buying a Pillow Protector
Size is important! What is the use of buying loose pillow covers that let the pillows dance in them? What is the use of short pillow covers that squeeze the pillows inside?
An appropriate size is a must.
Try and buy pillows that come along with their pillow covers. A pre-existing combo already comes with the appropriate size.
Sleepsia Bamboo Pillows come along with their covers which makes it easy for the users to cherish their sleep. Not only this, the cervical support pillows and other gel-infused pillows also have covers that have a designer and appropriate size.
Freshness in the Pillows and Pillow Covers
Breathability plays an important role. A breathable pillow cover will always help in letting the user sleep fresh and get up rejuvenated.
A soft and breathable cover helps sweat stay away.
Usually, while stressful sleep or anxiety, a user sweats and feels uneasy. Better pillow covers help to calm down the users.
A fresh flow of air, good air circulation, and a cool sleeping environment can be provided by breathable pillow covers. Sleepsia makes such pillows and their pillow covers.
No Compromise With the Comfort
Comfort should not be compromised. Any pillow cover that feels harsh, isn't easy to wash, feels of low quality on touching, has bad fabric, or isn't up to the mark from the requirements point of view, should be said a bye-bye!
Nothing is more important than comfort.
How would it feel after spending money on expensive pillows and pillow covers and still getting up all irritated?
How would it feel flipping sides throughout the night and witnessing harshness on the face?
Therefore, if one is attracted to the beauty of the pillow protector just because of its color but the pillowcase feels harsh, then it should be a big no!
Washing Instructions of a Pillow Protector
Every good thing remains good till you take good care of it. Similar is the case with pillow protectors. These are capable of holding tender pillows but it is the responsibility of the user to take good care of these too.
Avoiding Harsh Chemicals
A pillow protector needs to be protected from bleach and any other similar harsh chemicals for washing. Hand washing is always preferred as the user knows how much pressure is to be applied. But even if pillow covers are machine washed, one needs to use a mild liquid detergent for it.
Wash them frequently but in a limit for letting them stay hygienic.
But in case, it is just a spot on a small area, simply rub mild soap and run through normal water at that spot. Do not over-wash the whole pillow cover again and again. If possible, wash the stain and if not, then wash the whole pillow cover.
Also, don't forget to read the manual before washing!
Avoiding Heat
Any form of heat in excess should be avoided. High heat in the washing machine while washing and drying should be avoided. Direct sunlight should also be avoided. Yes, pillows and their pillow protectors can be kept in fresh air and sunlight for letting go of some gassing-off odor, if any. Also, for making them fresh. But, one must cover them or try to keep them under some shade.
Best Pillow Protector
Just One Name!
There shouldn't be any confusion as Sleepsia pillow protectors are simply the best! With superior quality zippers, better fabric, breathable surface, easy management, and long-lasting quality, Sleepsia pillow protectors- the bamboo pillowcases are absolutely amazing!
---
---