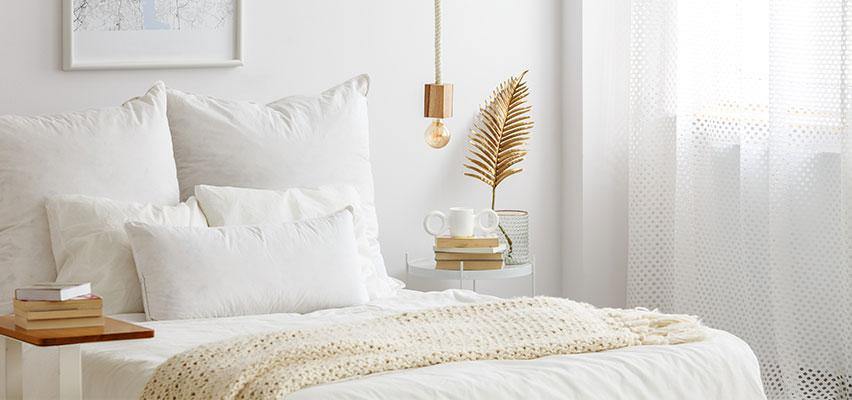 Mattress and Pillows are two such sleeping essentials that affect the life of the user deeply. One tends to change pillows more often than the mattress as pillows are easy to change and replace. But what about the mattress? The reality is that changing mattress might not bring in much difference. It is because a mattress is a flattened surface where the body rests straight. But a pillow is way more flexible than a mattress. Especially the Bamboo Pillow. It is created to take the shape of the curved body parts like the neck, spinal cord, etc. But this doesn't mean that a mattress isn't important.
A user needs to invest in a high-quality mattress and pillow for sure. It is the combination of a good mattress and a beneficial pillow that makes the user witness a deep and comfortable sleep. A single mattress prevails for a longer time but there can be a one-pack pillow or two-pack pillows in various sizes that can be used to gain comfort. So, not just one but there can be more than one pillow to provide benefits to its users.
So, if someone asks which is more important: your pillow or your mattress? Don't get confused! Simply answer," Both are vital but for the quick benefits, I am going to replace all my old pillows with original Bamboo Pillows. It is easy and much more feasible."
Why Is Bamboo Pillows A Sleeping Essential?
Along with a good quality mattress, this special type of pillow is a sleeping essential. It is because:
It Supports Peaceful Sleep: This pillow lets the user fall into the peaceful trap of sleep. Probably the first-ever trap where one wishes to stay trapped!
It Supports Healthy: This pillow supports good health. Have you heard of an increase in cervical, or migraines, or insomnia? For sure yes! It is because of the increase in the hectic and irregular lifestyle. This pillow is capable of supporting the user amid these issues and the muscular wear and tear.
It Supports The Breath: The bamboo pillow is supportive of the breath of the user. This pillow is hypoallergenic and doesn't create allergic reactions. Also, the pillow is super breathable. The soft and washable natural bamboo pulp cover enhances air circulation. This leaves no chances of sweating.
It Supports Stress-Free Life: This pillow is user friendly, highly durable, hygienic, and natural that leaves no chances of stress, panic, anxiety, or depression. The pillow ensures mental wellbeing as the user completes its deep and quality sleep forgetting all the nuisance of life.
A Good Mattress + Sleepsia Bamboo Pillows = Deep Sleep!
This combination is really important to have a deep and peaceful sleep. Now the question is why to have a sound sleep?
Sleep rejuvenates us!
Sleep prepares us for the next set of hurdles!
Sleep restores energy and prepares our body to work.
Sleep is important for memory and cognitive functions.
Sleep is necessary for emotional, mental, and physical well being.
With Bamboo Pillow, it is all possible! This pillow is supportive of all types of sleepers and their sleeping patterns. Where a mattress lets the user fall flat and straight to sleep, bamboo pillows, on the other hand, let the user submerge into them. These have shredded memory foam pillows in them that takes up the shape of the spine, back, shoulders, etc.
This foam is available in the shredded version and makes the pillow highly adjustable and malleable. The desired amount of foam can be put in and removed. Sleepsia's Bamboo Pillow is known for being a superhero! It safeguards the users, allows them to live life to fullest without fearing from the evils of health hazards, stress, and allergies, and lets the user sleep while being protected from all sides. Isn't it amazing?
Embeded this Infographic on Your Site:
Note: copy above code press "Ctrl + C"
How To Reach Us?
Reaching us takes only a few clicks and it is super easy! You are just a step away from the highly advantageous Bamboo Pillows from Sleepsia! Order these now from www.SleepSia.com and call us on 1800-862-1084! Now that you know which is more important: your pillow or your mattress, why not proceed ahead? Why change the entire mattress when a Bamboo Pillow can serve the purpose?
So, go ahead and have a fantastic sleep ahead!
---
---